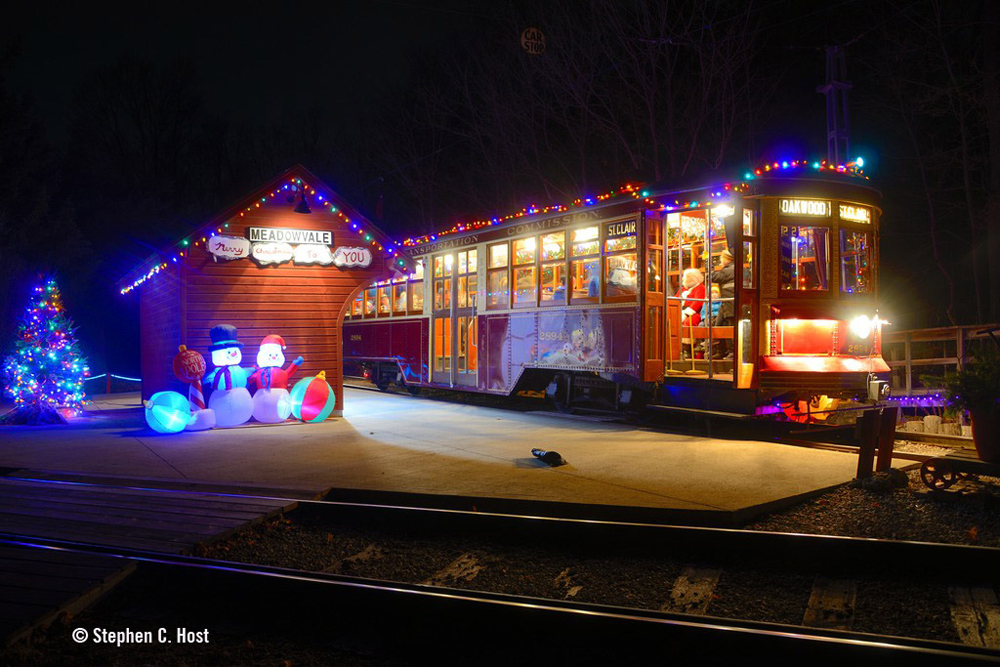 ---
MILTON, Ontario —  The Halton County Radial Railway Museum closed its 2022 season with its "Christmas On the Rails" event Dec. 10-11, operating multiple cars from its collection of more than 50 pieces of 19th- and 20th-century equipment.
Among cars in operation were London & Port Stanley Railway interurban car No. 8 (built in 1919 and fully restored, down to the stained-glass-window accents); Toronto Transit Commission Peter Witt car No. 2894 (built 1923 and fully restored);  TTC PCC Car No. 4600 (built 1951), and 1970s-era TTC light rail vehicles, retired in 2019 and donated to the museum. An event highlight is the former 1945 National Steel Car TTC snowplow which only comes out for Christmas.  This was the last weekend of operation for the Peter Witt car, expected to spend a few years undergoing restoration for floor replacement along with other work.
Cars, decorated with holiday lights, operated between Meadowvale, a restored Toronto Suburban Railway shelter, and the restored Grand Trunk Railway Rockwood station. The museum, near Rockwood, just west of Toronto, was formed in 1954. It will reopen for the 2023 season in May.