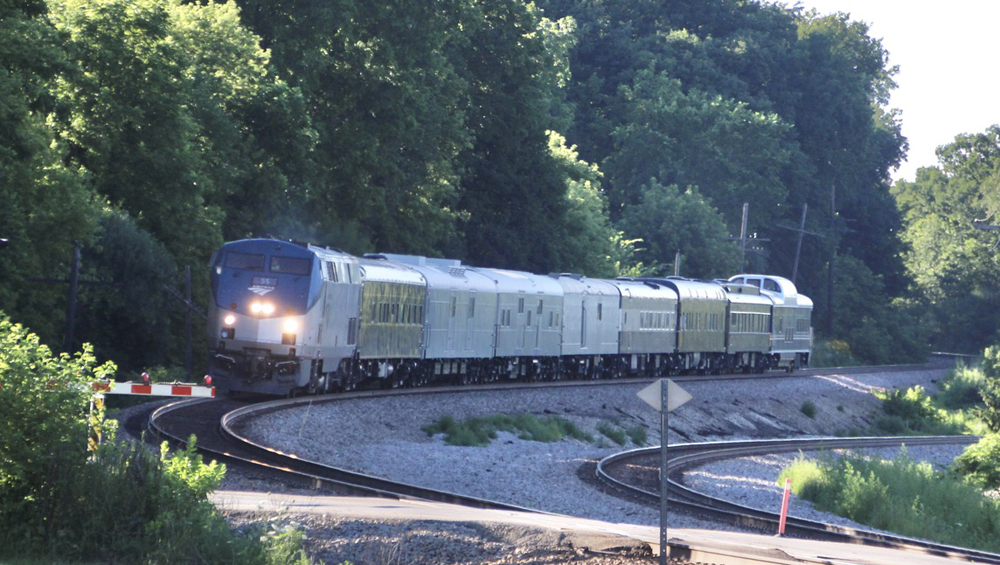 ---
ELM GROVE, Wis. — In an unusual and unheralded move, Amtrak moved an eight-car train of privately owned legacy equipment from the Twin Cities to Chicago on Thursday, July 28. The train, scheduled to originate at Midway in the Twin Cities at 11:45 a.m. and arrive in Chicago at 8:30 p.m., was photographed in the Milwaukee suburb of Elm Grove at 6:10 p.m. The train was reportedly organized by the group Friends of the 261 for an investment firm.
The consist behind Amtrak P42 No. 55 included several cars with no lettering or other visible markings. Those that have been identified are:
— Oliver Hazard Perry, wearing Louisville & Nashville paint. According to the American Association of Private Railroad Car Owners website, the car was built in 1954 by Pullman-Standard for Canadian National's Super Continental and has rebuilt to include three bedrooms, kitchen, dining room, and lounge with observation windows;
— Three former baggage cars now known as "passenger support cars," the third is PPCX 800751;
— Pullman business PPCX 800034, formerly Southern Railway business car No. 1, still wearing that number;
— Heavyweight car Missouri-Kansas-Texas No. 403, built in 1913 and rebuilt to a business car in 1948.
— At the rear dome-sleeper, formerly the Rail Ventures car Belle Vista but now privately owned. That car is a former Union Pacific dome-lounge remodeled to include a rear platform.
The complete consist is shown below.
— Updated at 7:20 a.m. CDT to include additional information on consist.