---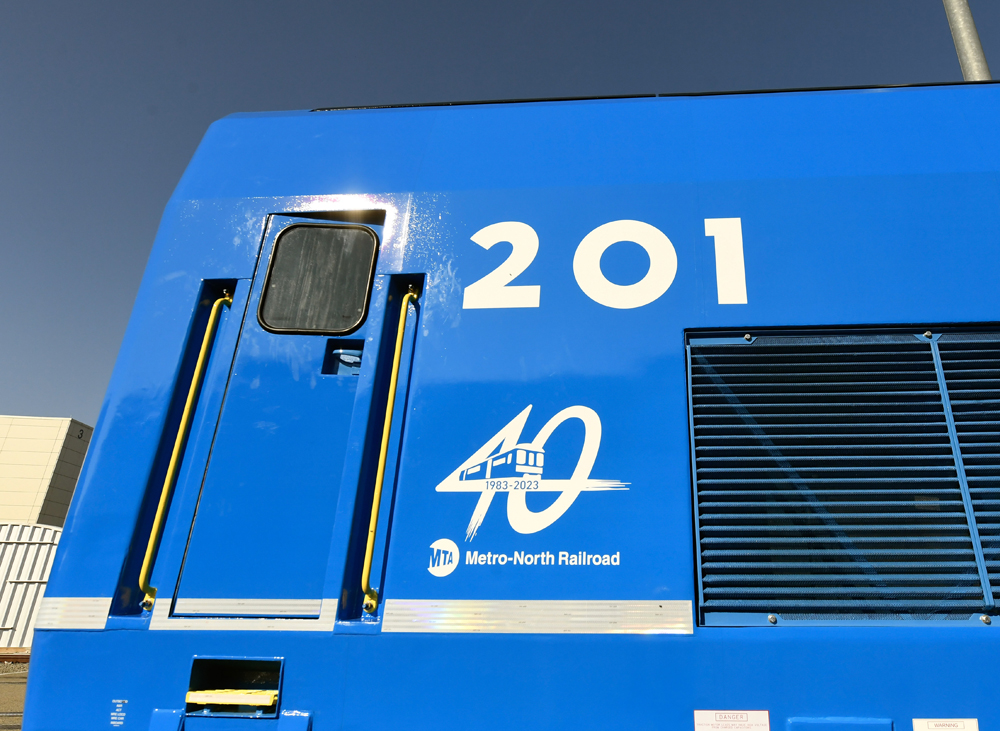 CROTON-ON-HARMON, N.Y. — The Metro-North Railroad has released the second in its series of heritage locomotives celebrating the railroad's 40th anniversary and honoring its predecessors, this time with a scheme worn by Conrail FL9 units between 1976 and 1982. Conrail granted Metro-North permission to apply its name, logo, and colors to the unit in March.
The locomotive, P32AC-DM No. 201, was wrapped at Metro-North's North White Plains shops and revealed Friday at Metro-North's Harmon Shops. It joins P32AC-DM No. 208, unveiled in May in a wrap of the original silver, blue, and red Metro-North scheme dating to 1983 [see "News photos: Metro-North introduces heritage unit …," Trains News Wire, May 16, 2023].
Metro-North has previously indicated up to five locomotives could receive such heritage wraps.
"There is no better way to evoke Metro-North's roots than to bring back some of the classic colors of our predecessor railroads," Metro-North Railroad President and LIRR Interim President Catherine Rinaldi said in a press release. "We are proud of our history and looking forward to debuting the other Heritage Series-wrapped locomotives later this year."
The unit is scheduled to make its operating debut on the Hudson Line on Monday, Aug. 14, departing the Croton-Harmon station at 7:31 a.m., and arriving at Grand Central Terminal at 8:26 a.m.
— Updated at 10:05 p.m. CDT with additional details.