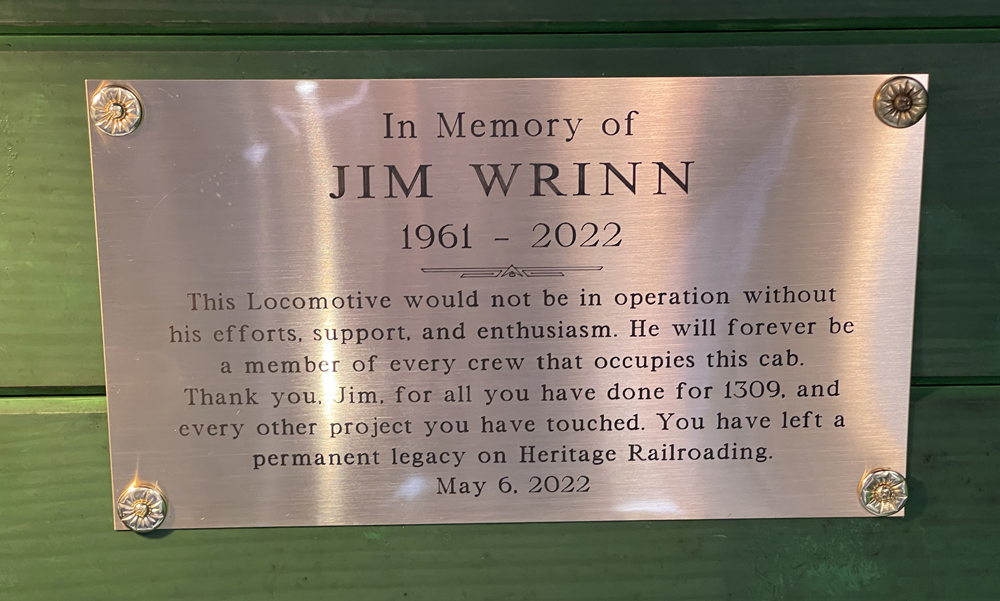 CUMBERLAND, Md. — A plaque added to the cab of Western Maryland Scenic Railroad 2-6-6-2 No. 1309 honors the contributions of late Trains editor Jim Wrinn to both the restoration of that locomotive and rail preservation in general.
Howard Pincus, president of Connecticut's Naugatuck Railroad and a friend of the Western Maryland Scenic operation, reports he added the plaque above the engineer's window on Thursday. It reads: "In memory of Jim Wrinn, 1961-2022. This locomotive would not be in operation without his efforts, support, and enthusiasm. He will forever be a member of every crew that occupies this cab. Thank you, Jim, for all you have down for 1309, and every other project you have touched. You have left a permanent legacy on heritage railroading. May 6, 2022."
Wrinn was instrumental in the selection of the 1309 restoration project as Trains' first "preservation partner," promoting fundraising efforts to complete the locomotive [see "Donations pour in to steam the last Baldwin," Trains News Wire, Feb. 28, 2020]. The project had previously been awarded a $10,000 preservation grant from the magazine.