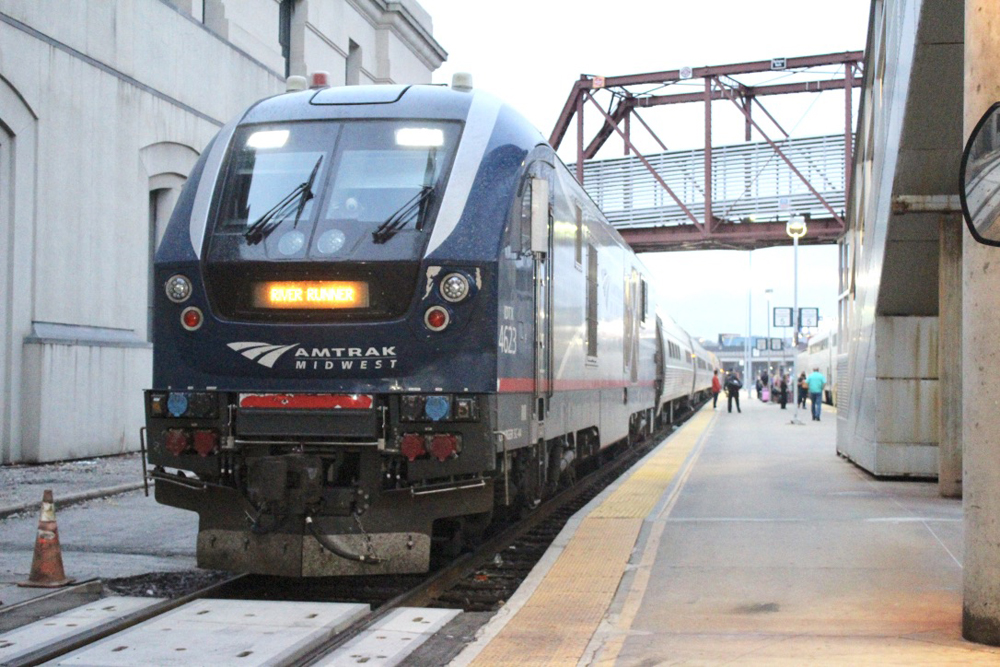 ---
JEFFERSON CITY, Mo. — The Missouri River Runner, Amtrak's state-supported St. Louis-Kansas City, Mo., train, is facing a reduction from two daily round trips because of a budget cap imposed by the Missouri Legislature.
The $10.8 million limit imposed by the legislature is for the fiscal year ending June 30, 2022, but that will not fund two daily trips past the end of calendar 2021.
Troy Hughes, Missouri DOT's Administrator of Railroads, told the annual meeting of the  Midwest Interstate Rail Commission last week that some kind of a service reduction will be necessary, to continue at least one daily round trip through the January-June, 2022, period.
"MoDOT and Amtrak are working to find the level of service that minimizes disruptions and maximizes ridership and revenue," Hughes told the group.
The lawmakers set the figure in May, about the time an executive summary of a state-commissioned Cambridge Systematics economic impact study revealed that the four trains each day provide $208 million in annual economic activity, and more than $22 million in tax revenue Missouri would not see if the Runners didn't run.
Hughes tells Trains News Wire, "Exceeding the budget is not an option. At this point we can't really determine what form the service reduction might take. It could [involve)]running the second round trip only on certain days each week, depending on what cost adjustments Amtrak comes up with."
He says another possibility is negotiating with Amtrak and Illinois to run one Chicago-St. Louis-Kansas City through train, similar to what Amtrak operated as the Ann Rutledge before both states rebranded their service. At the time, Missouri's second round trip offerings were named for their destinations, respectively the Kansas City and St. Louis Mules. This would eliminate changing trains and reduce layover times at St. Louis, but would disrupt existing Lincoln Service equipment utilization. Hughes says it isn't yet clear what cost savings could be achieved.
Amtrak spokesman Marc Magliari tells Trains News Wire, "This through service has potential to improve ridership by making it a quicker one-seat ride than it is today between Central Illinois and mid-Missouri and it can improve utilization of equipment. The value of these improvements is what is being calculated and approval from both states will be needed."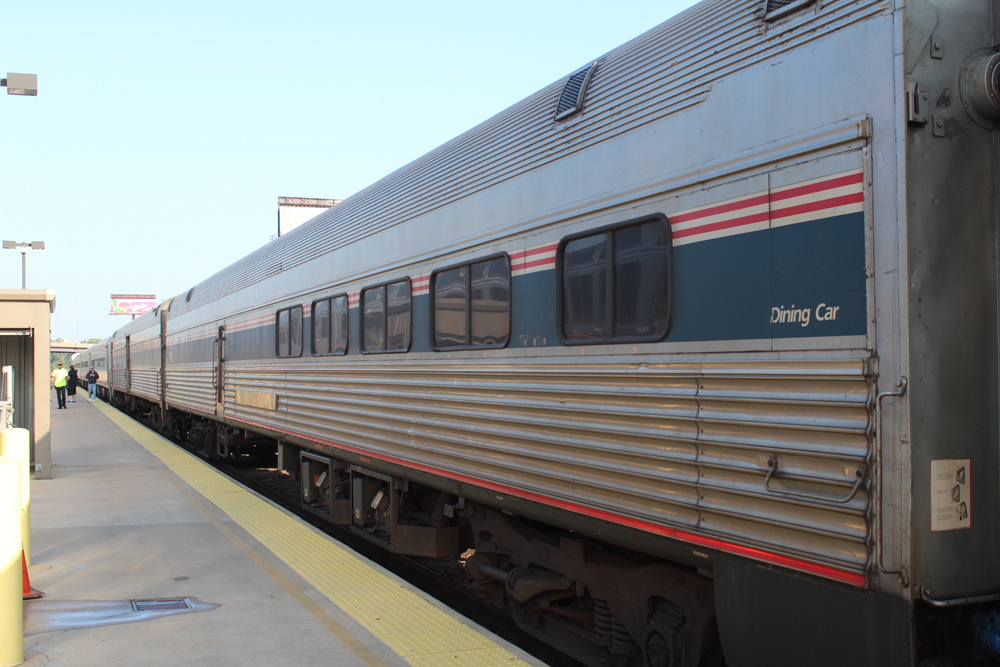 During the fiscal year affected by the pandemic, Hughes says the legislature scaled back its contribution to $8 million when service was reduced to one round trip. The second frequency in each direction resumed on July 19, 2021.
But he notes that for the past three years, his department has also endured "the financial strain of paying for axle-count cars" in each consist to make sure track circuits are activated. This problem currently afflicts several corridors and adds to states' costs for equipment usage and fuel without commensurate revenue contributions. Amtrak, the Federal Railroad Administration, and host railroads have shown little urgency to resolve the "failure to shunt" issue since it surfaced in 2006 — although Amtrak's Magliari takes issue with that characterization. "Amtrak, Illinois DOT and others … are working on a resolution as fast as circumstances allow," he says.
Analysis: Funding issue ignores ridership strength
Even through the pandemic, River Runner patronage and ticket sales have remained comparatively strong despite annual fare increases of 5% each year from 2017 through 2020. Even with only half its usual service offered in June 2021, revenue was off only 6.7% compared to 2019.
The round trip retained was the morning eastbound from Kansas City turning to the afternoon westbound out of St. Louis. These trains connect at their endpoints with both Lincoln Service and the Southwest Chief, which resumed daily operation that month.
In contrast, on a national level, state-supported ticket revenue dropped nearly 48% from the same month in 2019. For September, Missouri River Runner ridership and revenue were both down 25% from 2019, but this compares favorably with other routes at a time when COVID 19 was resurgent in the region.
Although Congress appropriated relief funds to cap state costs of maintaining service during the pandemic, the money went directly to Amtrak and not the states to offset their expenditures; it remains unspent if operating authorities opted to not restore service. Missouri could use those funds now, yet is not able to access them.
The full Cambridge Systematics report is expected to be released soon, according to Hughes. But the failure of lawmakers or anyone in the state's executive branch to take its findings into account illustrates the pervasive disconnect between passenger rail transportation's benefits and funding required to operate the trains. It also demonstrates the inherent weakness of any plan that relies on state legislatures or governors to reliably provide capital infrastructure matches or ongoing operating support necessary to run their systems.
— Updated at 10:05 a.m. CDT on Oct. 22 with comments from Amtrak.