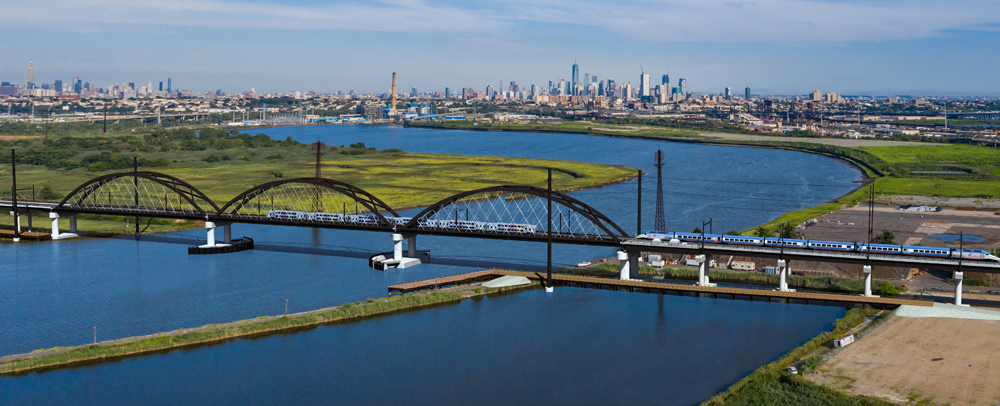 ---
The governors of New York and New Jersey have signed an agreement detailing how the two states will fund their portion of the Northeast Corridor's Gateway bridge and tunnel projects.
The Memorandum of Understanding signed by New York Gov. Kathy Hochul and New Jersey Gov. Phil Murphyaddresses funding for the Portal North bridge over the Hackensack River in New Jersey and the Gateway Tunnel project to build two new tunnels between New Jersey and New York's Penn Station, then rehabilitate the existing bores.
The federal government will provide approximately 60% of the funding for the bridge project; the states will split the remaining cost 50-50. They will also evenly split their portion of the tunnel project.
"The Gateway Hudson Tunnel Project is vital to the Northeast corridor, and today's announcement is a critical step forward in turning this vision into reality," Hochul said in a press release. "By signing the Phase One Memorandum of Understanding, we are establishing the framework to get this project over the finish line and are making good on our promise to modernize the state's transportation infrastructure and create a mass transit system worthy of New Yorkers." Murphy called the agreement "a pivotal milestone toward the completion of the most significant transportation project not just in New Jersey, but in the entire United States."
NJ.com reports the agreement is a major step toward completing federal funding this year, which could allow construction of the tunnel to begin in 2023, although a former Federal Transit Administration official told the news site that the funding agreement might not be completed until 2024 because of its complexity.