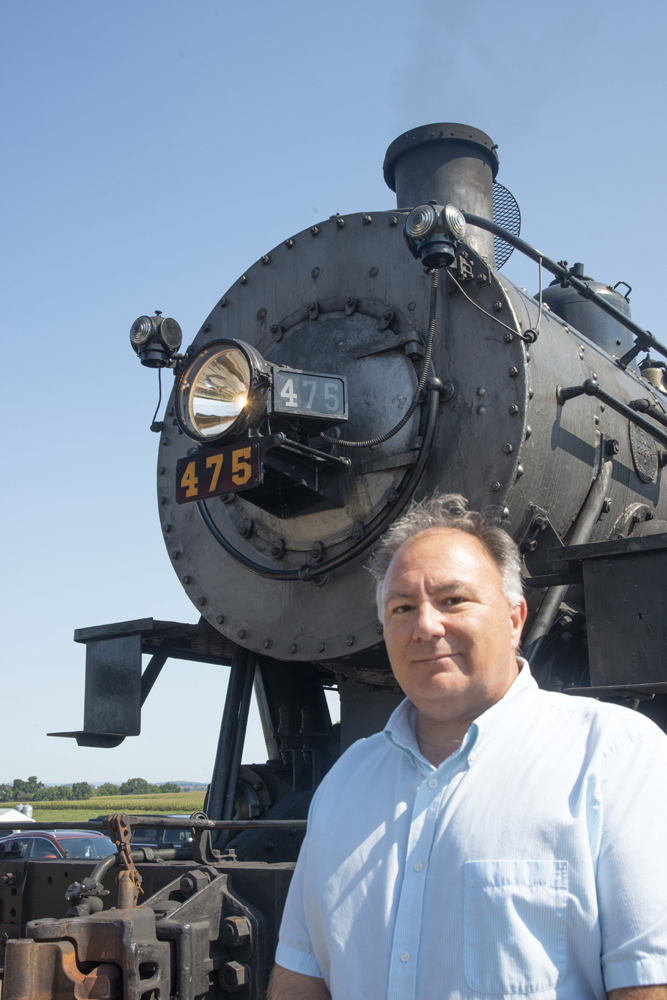 STRASBURG, Pa. – Jim Hager brings a host of skills and experience to his new job as general manager of the 190-year-old Strasburg Rail Road, America's oldest short line and now one of the country's busiest and longest-running steam tourist railroads.
A New Jersey native, he started hanging around the Black River & Western, another steam tourist road, as a middle-school student. Since then, the now 55-year-old has worked on several short lines, doing everything from train-and-engine service (he's qualified to run steam and diesel locomotives), to designated supervisor of locomotive engineers, to trainmaster, to training and testing officer, to mechanical work. Those roads include the Southern Railroad of New Jersey, the Black River and its affiliates (Belvidere & Delaware River, Chesapeake & Delaware, and others), and the Morristown & Erie. He has also served as a transportation consultant.
He also knows something about handling large numbers of passengers and managing staff and budgets. At age 22, he started his own school-bus company with one coach and grew it to 45 buses. He comes to Strasburg from a job as general manager with the Krapf Group, overseeing a $10 million school-bus operation with a fleet of 156 buses.
Hager is a bona fide railroad historian as well, holding membership in the Philadelphia Chapter of the National Railway Historical Society for 36 years, as well as having held positions with the non-profit Black River Railroad Historical Trust and the New York, Susquehanna & Western Technical & Historical Society, both of which operate passenger excursion service.
He's also written articles and books on railroad topics, as well as fire apparatus, another interest. He and his wife Brenda live in Ringoes, N.J., with their back yard bordering the BR&W tracks.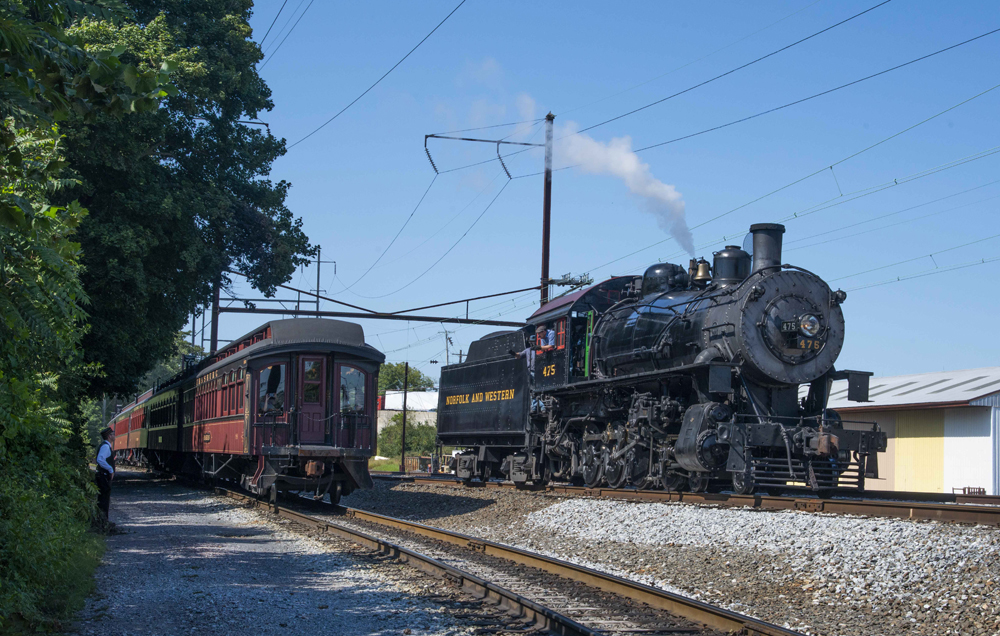 All of Hager's rail and non-rail experiences have led him to the top post at what he calls "the crown jewel of tourist railroads on the East Coast."
"It's the right time," he says. "Timing is everything. Everything's aligned. The railroad industry has been a lifelong interest, and I've always thought I'd like to run or own a short line.
"I've run trains, had management experience, and owned equipment. I can bring my business experience, customer-service experience, and people skills and run with it."
He's registered his own reporting mark, PVRX, and once owned two Alco diesel units, an RS1 and a C425. He's run a variety of other diesels as well as BR&W No. 60, a 1937 Alco 2-8-0. Hager intends to keep his engineer's qualification at Strasburg and maybe occasionally use it, "even if just on a diesel freight run."
He has a clear vision of his role in leadership at Strasburg, which employs about 60 full-time people and 100 part-timers, and carries 300,000 passengers a year. He wants to maintain the road's historic character while still "grow[ing] the guest experience, adapt[ing] to trends [and] changing events without reinventing the wheel." This includes widening the appeal of food and beverage offerings — now catering exclusively to Strasburg's passengers — to local residents as well.
Another direction is building up the mechanical department's ability to handle outside contract business, which, he says, covers "rebuilds, fabricating, parts, boilers, [and] restoration."
He'd also like to increase the railroad's freight business, which is poised for expansion with the addition of a new yard at Leaman Place Junction in Paradise, Pa. That's the site of an interchange with Norfolk Southern locals operating on Amtrak's Philadelphia-Harrisburg Keystone Corridor.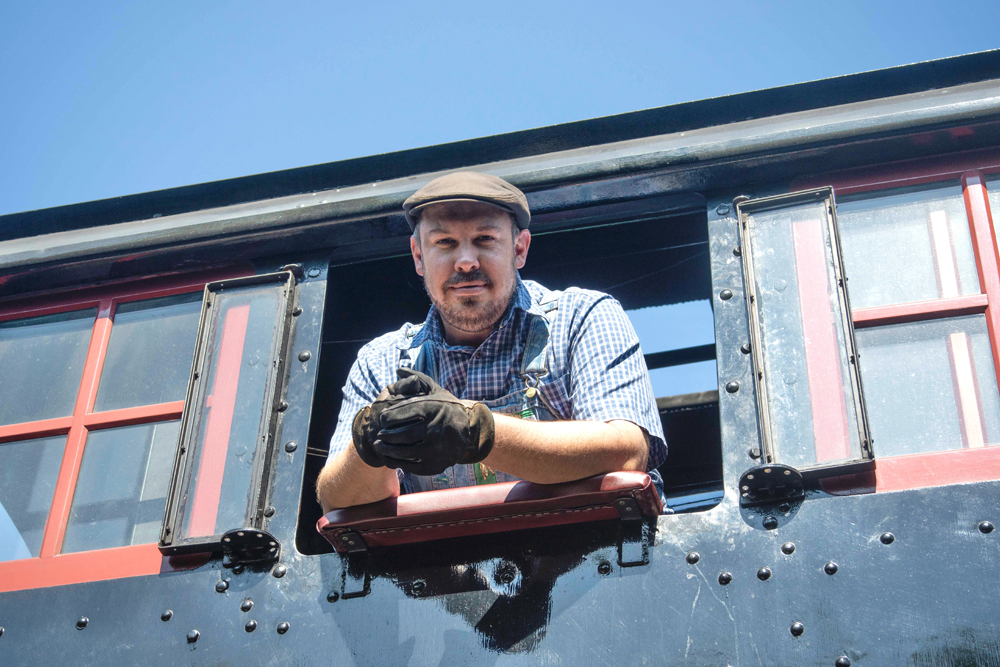 Hager looks forward to working with his leadership team, whom he describes as "enthusiastic and knowledgeable:" Brendan Zeigler, chief mechanical officer; Steve Weaver, vice president of counsel and roadway; Sandy Kramer, services and guest relations; and Mary Porr, controller.
He faces a tall task of rebuilding at Strasburg, which has seen a series of unplanned leadership changes and staff departures since 2018. The stable, 18-year presidency of Linn Moedinger (who had 51 years on the railroad) ended when he retired in December 2018. Moedinger's groomed successor, longtime SRC employee Craig Lefever, died of cancer at age 52 when he was only six months into his term.
Lefever was followed in late 2019 by Tony Gebbia, previously an event planner at Florida's Walt Disney World who brought some of the culinary and theatrical flourishes of that industry to SRC. His term was marked by what one former employee described as "heavy-handed personnel policies," and the elimination of pay raises. Personnel in several departments soon left for Reading & Northern, East Broad Top, Amtrak, and non-railroad employment. Financial and personnel issues also surfaced, and Gebbia departed abruptly last spring.
Hager has a firm vision for how to manage both people and trains: "I'm hands-on, but don't micro-manage," he says. His goal is "a family-friendly oriented workplace but business-minded, because at the end of the day it's a business."
"People are important, regardless of their position," he says. "Whether it's in the shop, T&E (train & engine service), entertainment, everybody is on the same playing field. Everybody . . . in every department makes the place successful. You treat people with respect and keep them engaged in the business. You get the right people in the right seats."
"The more I walk around here, the more I smile," he says. "It's nice to be able to come to work with a smile and go home with a smile."
Upcoming projects include: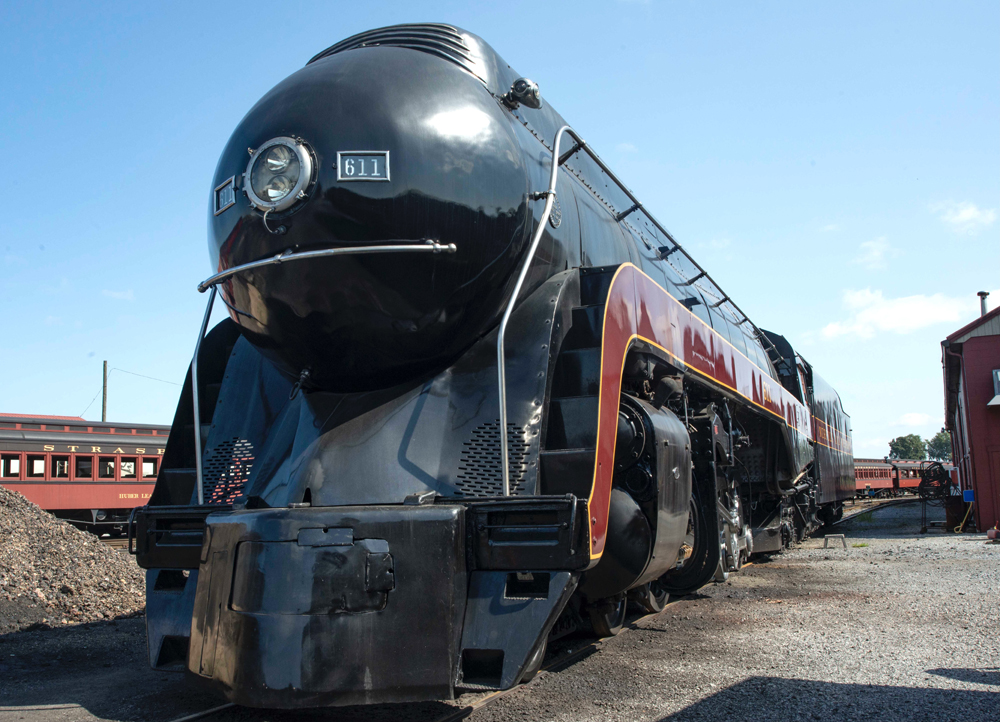 — Trips and in-cab experiences this fall with Norfolk & Western Class J 4-8-4 engine No. 611 (Roanoke Shops, 1950), which is visiting from the Virginia Museum of Transportation.
— Possible throwback winter consist in January and February with Plymouth Locomotive Works 20-ton unit No. 1 (1926) pulling a single coach, as Lancaster, Oxford & Southern diesel-powered railcar No. 10 is down for repairs.
— Restoring SSB1200 diesel switcher No. 1235 (former Santa Fe SW9, 1953) to augment the railroad's existing freight unit, SW8 No. 8618 (former New York Central 8618, 1952).
— Restoring 0-6-0 engine No. 31 (Baldwin Locomotive Works, 1908) to service. It was SRC's first steam engine, arriving in 1960, but has been out of service for years as the road's other steamers have shouldered passenger duties. One of those, No. 90 (Baldwin, 1924) is due to go down soon for its federal 1,472-day boiler inspection.