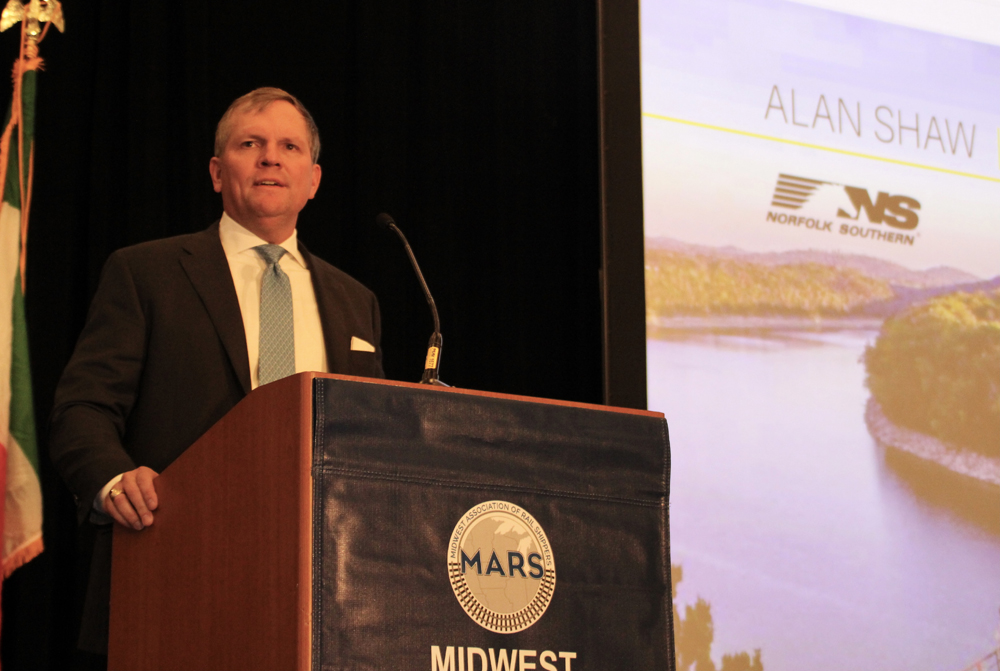 ---
LOMBARD, Ill. — Alan Shaw introduced himself to the Midwest Association of Rail Shippers with a statement he clearly would have preferred to avoid.
"We don't have a good product right now," Shaw said.
"That's unacceptable to me, that's unacceptable for our employees, and it's unacceptable to our customers," continued the new president of Norfolk Southern, addressing Wednesday's joint luncheon of MARS members and the Traffic Club of Chicago. "We're all dealing with the labor shortages and COVID … But you know what? We're not a victim, and frankly, our customers don't care. Our customers want us to provide solutions."
And so Shaw, who will become the company's CEO in May, began outlining how NS would address the service problems that have drawn the attention of the Surface Transportation Board. On the manpower front, they include:
— Increased hiring. December's conductor training class was the largest of 2021, he said, and the January class will be four to five times larger.
— Bonuses. The railroad is offering hiring bonuses, retention bonuses, referral bonuses, and availability bonuses, he said, and buying back vacation time to increase crew availability.
"I myself have actually referred someone to our conductor training program," he said, joking, "Now, I didn't ask for the bonus. I didn't think that was right. But we're all doing our part."
— Supervisor efforts. Some supervisors have made short-term moves to the railroad's training facility to help educate those new hires. Others have helped address the shortage of crew taxies by driving crews; still others have returned to their original crafts to move trains. "That shows you the dedication they've got to get this fixed," he said.
To address supply-chain constraints, NS is collaborating with the Georgia Ports Authority to create a "pop-up" container site to open up space at the Port of Savannah and move cargo closer to its ultimate destination [see "'Pop-up' inland port in Atlanta …," Trains News Wire, Dec. 27, 2021]; is working with Alabama on a $231 million rail infrastructure project [see "Alabama launches new rail projects," News Wire, Jan. 6, 2022];
"We're going to get it fixed," Shaw said. "I guarantee we're going to get it fixed. That's the foundation of everything we do."
He is not quite ready to offer a timeline, however.
"I'm not in position to tell you when we'll get all the pieces in place," he says. "But we will, fairly soon, be in a position to tell you that. And then we'll have very candid and very direct conversations with our customers. Because you need to know that."
Shaw also contends the issues NS has experienced are not related to its implementation of Precision Scheduled Railroading.
"We could be accused of not recognizing the increased attrition soon enough last year," Shaw says. "But PSR is actually designed to improve the efficiency of your crew base. And if that's your limiting factor, then PSR is the right thing to do."
In recognizing that the workforce and lifestyle changes from the Great Resignation have had a huge impact ("Our jobs are hard … I get it," he says), he says NS must "do a better job of demonstrating the value of working in the rail industry. … Nobody who's retired from the railroad says, man, that was a bad thing. We've got a really good benefits package. It's maybe kind of back-loaded to the end of your career, and maybe people don't use that in their calculus as they're making choices on jobs.
"We have to do a better job of showing the value of working for rail. And we all have to do a better job of showing appreciation for our employees, and showing the value they bring to NS."