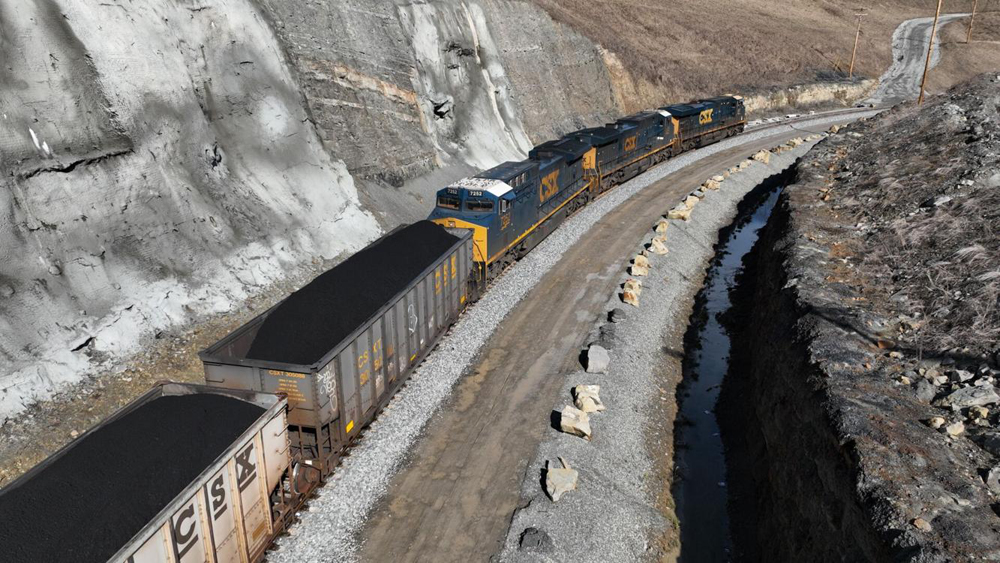 ---
VOLGA, W.Va. — Allegheny Metallurgical Coal, a new company to be served by both CSX Transportation and Appalachian & Ohio, moved its first train of high-grade metallurgical coal earlier this month.
The company, located along U.S. Route 119 between Buckhannon, in Upshur County, and Philippi, in Barbour County, moved the first train Feb. 8. Its loadout is designed to minimize loading time and traffic disruptions on the busy highway. Each train of 130 empty coal hoppers will cross Route 119 to enter the property and will be split into two equal halves. After 65 cars are deposited on a siding, the other 65 empties will moved through a continuous loadout. The motive power will then exchange the two cuts, load the second 65 cars, and reconnect the two halves. According to the company, this entire process will require no more than 4 hours; the loadout design is considered innovative for West Virginia rail-haul operations.
Allegheny Metallurgical President Keith Hainer told the Elkins Inter-Mountain newspaper the system is "unique in West Virginia. This allows a 130-car train to cross Route 119 without having to stop.  This increases the efficiency of filling the train cars and keeps traffic interruptions to a minimum so we aren't disrupting commuters, buses, and other travelers along the road. We have explored many options to move this product in the safest manner, with the least amount of impact, and the best value, and rail meets these criteria."
Loaded trains will move to the CSX interchange at Grafton, W.Va., then to domestic customers or to CSX's Curtis Bay facility in Baltimore for export.
Allegheny Metallurgical invested more than half a billion dollars over the past three years to develop the new mine, processing plant, and loadout. It expects to earn three times that amount and permanently hire more than 400 operating employees. Appalachian & Ohio provided a train for a Jan. 18, 2023, trial run to test the site's rail infrastructure, while CSX provided the motive power for the first trainload of coal.
Allegheny Metallurgical has not publicly specified the coal seam or seams to be mined, but the new facility is located in an area where the premium Sewell seam has been mined in the past. More information is available at the Allegheny Metalllurgical website