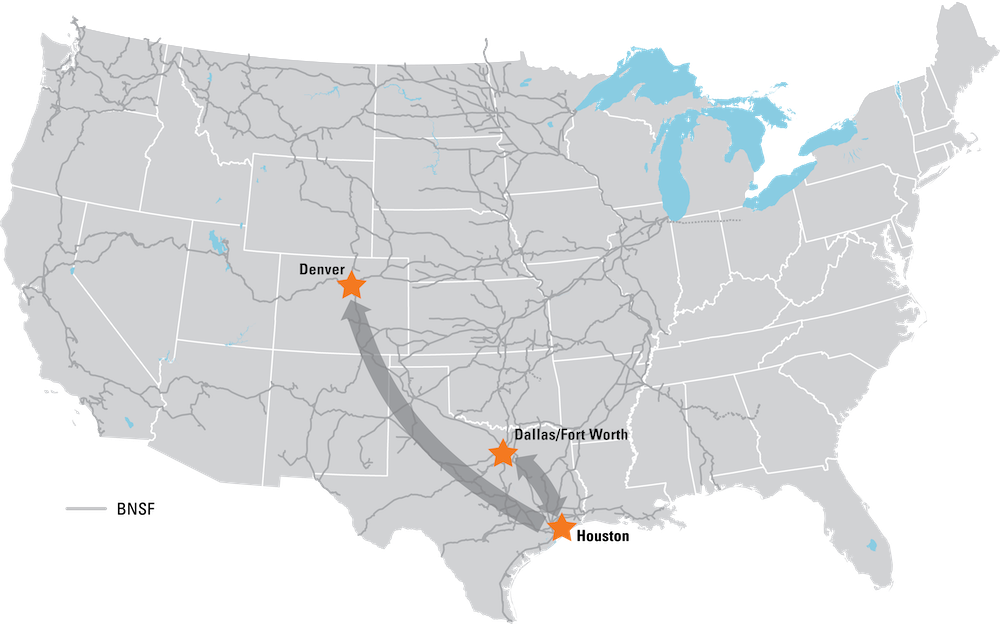 ---
FORT WORTH, Texas — BNSF Railway will add service from the port of Houston to Alliance, Texas, and Denver next month.
"As part of our continued commitment to adjusting to our customers' and the marketplace's needs to enable growth and the efficient movement of shipments, BNSF is expanding our network of lane offerings with new intermodal service options from the Barbours Cut Container Terminal at the Port of Houston," BNSF said in a service advisory on Monday. "Taking advantage of the live lift capabilities and other expanded capacity and technology advancements at our Alliance, Texas, Intermodal Facility, this new on-dock terminal rail option will serve the greater Dallas/Fort Worth and Denver markets."
Service between Barbours Cut and Alliance, as well as from Barbours Cut to Denver, will begin on June 2. Alliance-Barbours Cut service will operate on Tuesdays and Thursdays, while the Denver service will operate on Fridays.
"Based on vessel arrival, these new intermodal service schedule updates have the potential to increase in frequency to meet growing intermodal demand at the Port of Houston," BNSF said.
Port Houston jumped from No. 7 to No. 5 in the ranking of top U.S. container ports in terms of TEUs (twenty-foot equivalent units) handled in 2022, Port Houston Chairman Ric Campo announced at the Port Commission of the Port of Houston Authority regular meeting on May 2.
"Our import and export volume reached record numbers in 2022 and is considered one of the fastest growing ports in the U.S. in loaded imports and loaded exports, and Houston now owns a 7% market share of the total U.S. container business," Campo said.
According to the Journal of Commerce, Port Houston ranked No. 5 in loaded imports and No. 3 in loaded export containers for 2022. Transpacific was the top trade lane for loaded imports and grew 25.7% in 2022. Transatlantic was the top trade lane for loaded exports, increasing by 20.5% in 2022.