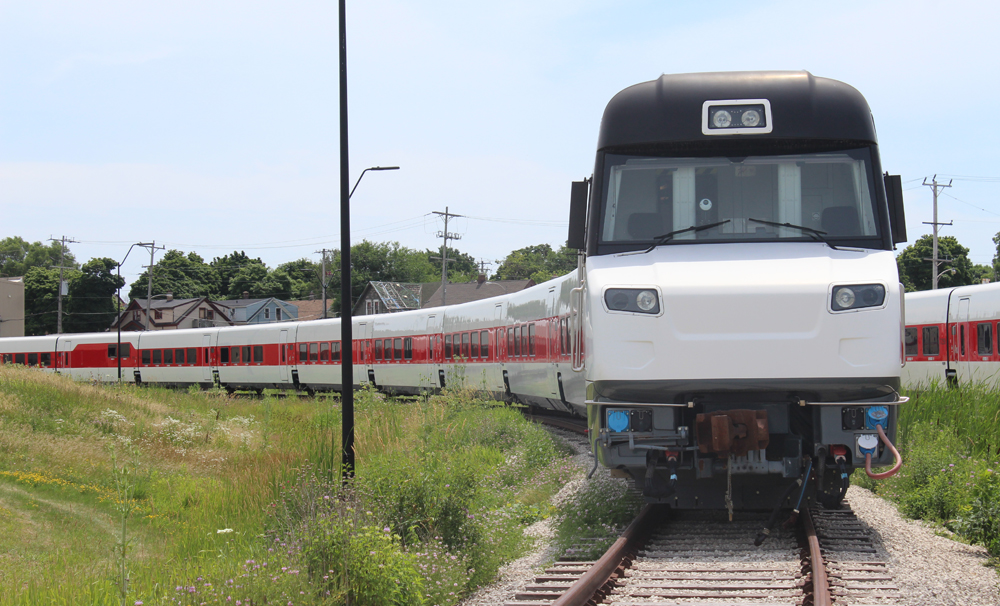 ---
MILWAUKEE — The long-orphaned Talgo trainsets built but never used for extended Hiawatha service to Madison, Wis., have finally found a home. In Nigeria.
The website Urban Milwaukee reports Talgo will sell the equipment to the Nigerian government. According to a press release, it will be for a new 23-mile, 11-station commuter line in the Lagos area slated to begin service later this year, with a capacity of 500,000 passengers per day. Lagos, with a population of 27 million, is one of the most densely populated cities in Africa, and by 2025 is projected to be one of the world's five largest cities.
The governor of Lagos State, Babajide Sanwo-Olu, was scheduled to visit Milwaukee today (Tuesday, Jan. 18) for a ceremony to mark purchase of the equipment.
The two 14-car Series 8 trainsets were ordered in 2009 by Wisconsin Gov. Jim Doyle for $47 million as part of the plan to extend the Hiawatha route from Milwaukee to Madison. But after Republican Scott Walker won the 2010 election, he turned back the federal funding for route improvements and attempted to cancel the agreement struck by Doyle, a Democrat, for the equipment. Talgo sued and received about $50 million in payments and settlements, the Milwaukee Journal Sentinel reported in 2015, while retaining ownership of the equipment. Under that settlement, Talgo agreed to return 30% of the net proceeds of any sale of the equipment to the state, up to a limit of $9.7 million.
The trainsets were eventually moved to Amtrak's Beech Grove (Ind.) Heavy Maintenance Facility for storage, receiving maintenance from Talgo every few months to keep them ready for operation [see "What Happened to Talgo," September 2021 Trains]. Interest from Michigan and California never turned into sales, but the fatal 2017 Amtrak Cascades accident involving a Talgo Series VI trainset in Washington state revived interest in the equipment.
Washington had sidelined and subsequently disposed of its other Series VI trainsets, like those involved in the accident, while Oregon-owned Series 8 trains remained in Cascades service. That left the need for more equipment, and — believing the Wisconsin trainsets could address the issue — Amtrak had them returned to Talgo's Milwaukee plant for modification for Cascades operation. Ultimately, however, the Washington State Department of Transportation would not agree to lease, purchase, or maintenance agreements offered by Talgo.