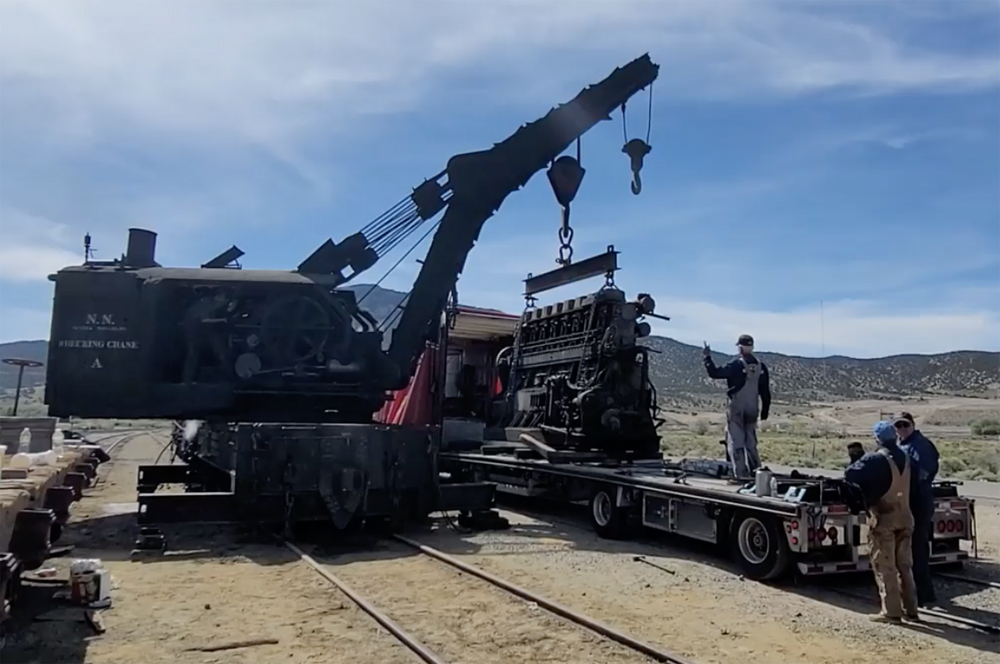 ---
ELY, Nev. — The Nevada Northern Railway has acquired a Baldwin VO diesel prime mover to be used in restoration of the railroad's VO1000 locomotive built in 1942.
In a series of posts on the Nevada Northern Facebook page, the railroad says it found the engine, built in 1945, at a New Jersey firm that had purchased it as a standby power generator, thanks to SMS Railway, the New Jersey short line operator noted for its continuing use of Baldwin locomotives. The engine, which was no longer needed and was to have been scrapped if not purchased, is low in hours of usage.
After the engine was trucked from New Jersey to Ely, the railroad fired up its 1907-vintage steam-powered crane to lift the 34,000-pound prime mover from the truck trailer onto a flatcar.
The engine will aid in the return to operating condition of locomotive No. 801, built for Bingham & Garfield Railway and later used at the Kennecott Copper Co. Chino Mines before coming to Kennecott's Nevada Mines Division in September 1963. The railroad says No. 801 is "in pretty good condition" but it had no spare parts.
For more information on the locomotive and video of the steam crane moving the diesel, visit the Nevada Northern Facebook page or the railroad's website.