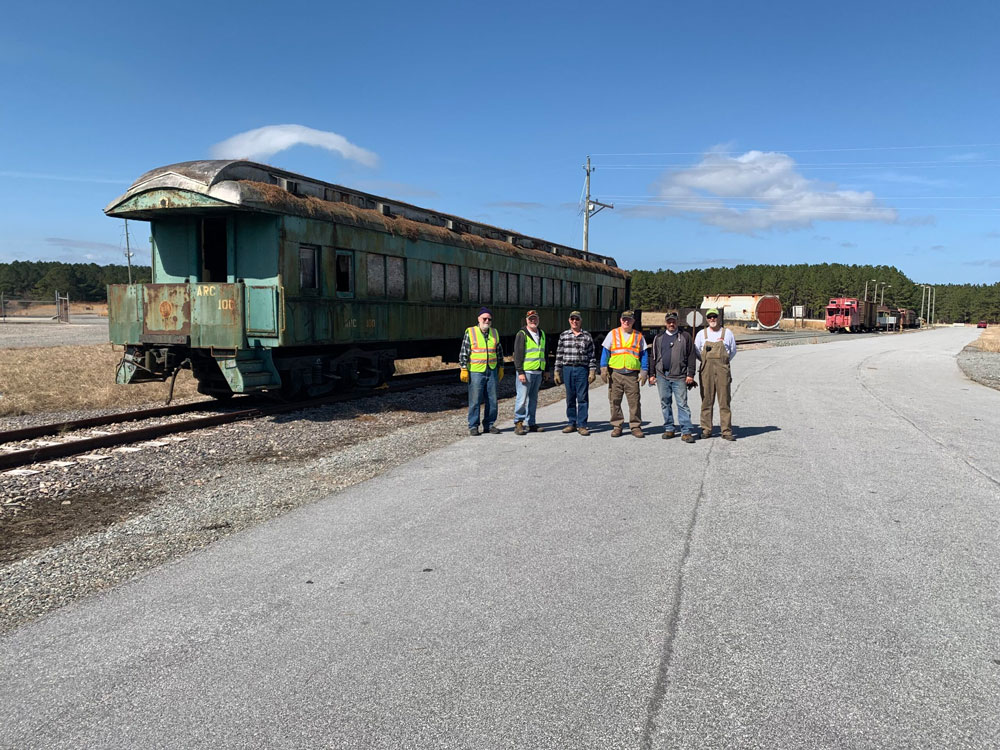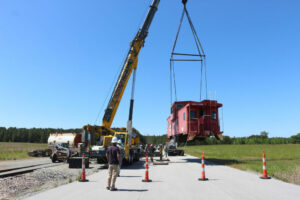 BONSAL, N.C. – The North Carolina Railway Museum is orchestrating the 5-mile highway movement of 10 landlocked railroad cars — both passenger and freight — from a nuclear power plant site to its headquarters here.
The cars were the subject of NCRM's "Save the Ten" campaign, which successfully raised nearly $200,000, $50,000 of which came from a grant from the state legislature. Additional grants came from CSX Transportation and the National Railway Historical Society.
It is costing more than $10,000 per car for rigging and flat-bed truck movement from Duke Energy's Shearon Harris property to the museum's operating subsidiary, the 4-mile-long New Hope Valley Railway. The amount raised over $100,000 will be used to begin restoration.
NCRM's campaign began in the 1990s, when it acquired four cars that were on the nuclear plant property. Tightened security after the Sept. 11, 2001, terrorist attacks, fundraising issues, and the COVID-19 pandemic all delayed the project. The pandemic also steeply cut public ridership on the museum's railroad, depriving it of its main source of revenue.
In the meantime, the utility announced that it had six more cars that it was planning to scrap — all of them operational — but was willing to donate to the museum. In 2019, CSX severed the connection to Duke Energy's siding, but undeterred, NCRM officials continued to pursue the campaign until reaching the goal for all 10 cars. That set the stage for the museum to schedule a week-long move.
On May 9, cranes, heavy-haul trucks, and rubber-tire dollies were gathered to begin the move over Old U.S. 1. Bonsal is located about 25 miles southwest of Raleigh on a former Seaboard Air Line main line, now CSX, which still sees passage of Amtrak's New York-Miami Silver Star.
In a press release, the museum noted that "many of the cars are weathered and more than 100 years old. Some are the last surviving relics of their kind, but all in solid condition and salvageable."
Victor Varney, an NCRM volunteer and project manager for the "Save the Ten" campaign, said, "The roadblocks and logistics involved in transporting the railcars have been challenging but the move is finally happening. Saving these railcars and having them as part of our rolling stock will help us preserve and share North Carolina railroad history, which is our mission."
The cars are:
The 1916 Pullman sleeper Alexandria, formerly named Calais. SAL acquired it in 1947 for use as a foreman/cook car on maintenance-of-way trains. One end was later modified to resemble an open-end observation car.
An Atlantic Coast Line baggage-express car, which will be adapted for museum display space.
A baggage-Railway Post Office car, built by Pullman in 1913 for the Denver & Rio Grande Western Railroad and later acquired by the original Norfolk Southern, a regional carrier operating in Virginia and North Carolina. NS refitted it with bunk beds, seating, a kitchen, and toilet for use as a camp car. It was used with another piece in the NSRM collection, former NS crane tender car No. 711. "Being the oldest, it has suffered some damage, [with] leaks in the roof and broken windows, but it can be restored and be a real history lesson for folks," Varney told a local newspaper.
An ex-Chesapeake & Ohio 60-foot plug-door boxcar. Varney said it could be used for storage or a conference room.
Two extended-vision cabooses, both used by Carolina Power & Light (now Duke Energy). Equipped with kitchen, air conditioning, toilet, and electric generator, they are a top priority for use on the New Hope Valley Railway. "Historically, they're very important for the Carolinas," said Varney. "They're exactly the way they were when the last crew left them." These two and the four cars listed below were the ones destined for scrap.
Four depressed-center flatcars, used by Duke Energy for plant operations. Some or all could be converted to carry passengers, the museum said.
More information on NCRM, the New Hope Valley Railway, and the campaign to "Save the Ten" is available at Triangle's Train | New Hope Valley Railway.