Minnesota Transportation Museum's Osceola & St. Croix Valley Railway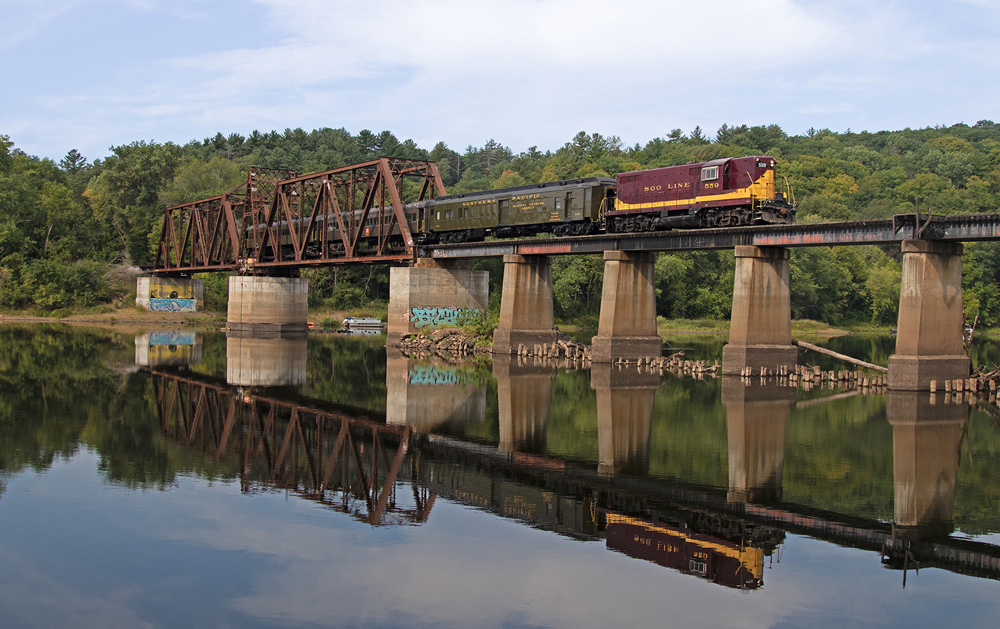 ---
OSCEOLA, Wis. — If you were at the restored Soo Line depot in Osceola on Sept. 11-12, you'd be hard pressed to know what railroad operated there. That's because the Minnesota Transportation Museum's Osceola & St. Croix Valley Railway operated three trains representing three different railroads for a photo charter sponsored by Trains Magazine. Despite battling weather issues and a mechanical problem with Great Northern SDP40 No. 325, riders where able to obtain a variety of photos during the two-day event.
MTM's Osceola & St. Croix Valley Railway operates over Canadian National's 25-mile former Soo Line Dresser Subdivision. Sept. 11 was scheduled to be the day to show off the Museum's Great Northern streamliner: five GN passenger cars pulled by recently repainted GN SDP40 No. 325. Unfortunately an electrical issue sidelined the unit, so it was decided to "swap" days: the two trains set to run Sept. 12 were rescheduled to operate Sept. 11 instead.
In vintage Soo maroon and gold, Soo Line GP7 No. 559  pulled former Northern Pacific triple combine (RPO/baggage/coach) No. 1102 and two Rock Island "Al Capone" commuter coaches, all recently repainted. Behind the passenger train was a freight train that replicated a Burlington Northern local freight of the 1970s, pulled by BN SD9 No. 6234. The Cascade green unit led a GN "Big Sky Blue" boxcar, a tank car and hoppers trailed by a BN caboose. Several runbys were held at the St. Croix River Bridge west of Osceola.
---
In the meantime the Museum brought in a diesel expert who diagnosed No. 325's problem as a broken wire and repaired it. On returning to Osceola the Soo Line and BN trains train were parked and the GN streamliner operated as originally intended. The remainder of the day was spent with photo runs with No. 325 and its train. For many the highlight of the day was just before sunset, when the sun popped out on the St. Croix River Bridge, this time photographed from the remote Minnesota side of the river.
That evening saw a night photo session with the GN passenger train conducted by Chris Guss, photographer and Trains Magazine correspondent.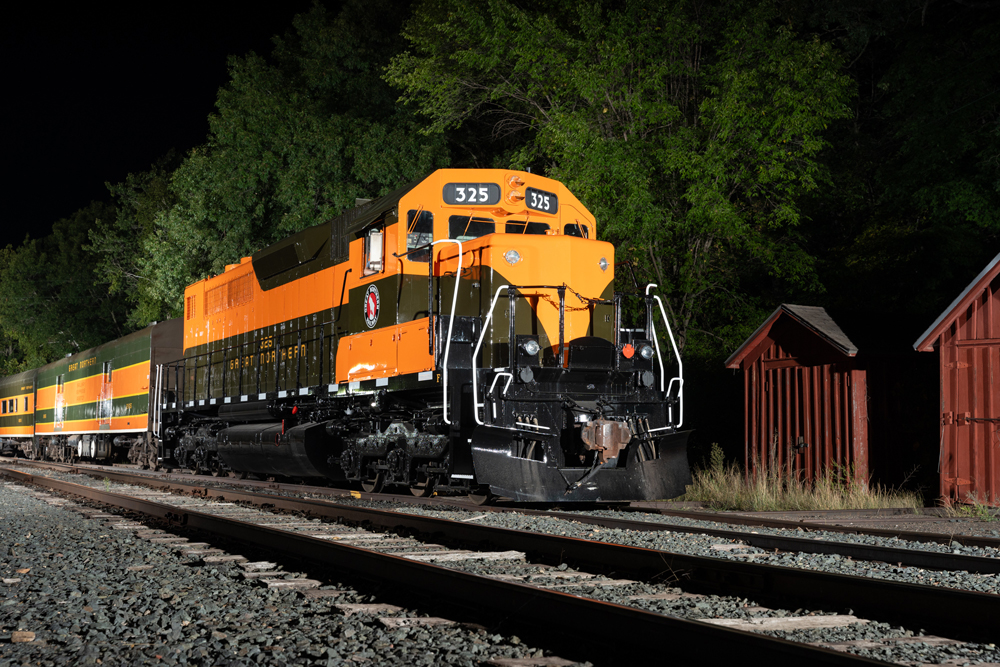 ---
Sept. 12 again saw two trains operated: the GN streamliner and the BN freight train with No. 6234 on the head end. While the day was plagued by cloudy weather, there were occasionally sunny periods as the trains operated in tandem. At one point the GN train posed with a 1957 DeSoto owned by an MTM member. A highlight of both days was a recreation of the time-honored tradition of handing up train orders to the crew using an authentic train delivery hoop with a Y-shaped fork at one end, to which the orders were attached with a string. On both days enginemen snatched the orders by ripping the string from the fork held by MTM's Kurt Mahre posing as the "operator" at the Soo Line depot in Dresser, Wis.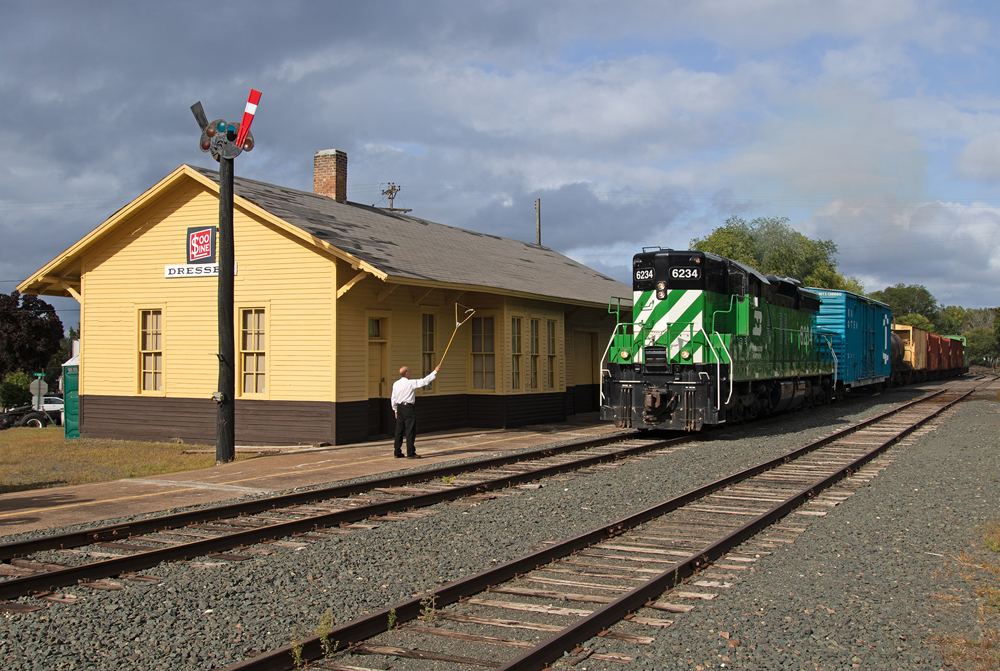 ---
The charter had the full cooperation of MTM. They repainted several passenger cars for the event, provided two crews each day so photography could go on uninterrupted, and even painted over graffiti on the hopper cars. MTM Executive Director Scott Hippert gave his full cooperation, while the Museum's Bob Puelston and Kurt Mahre worked long hours to make the event a success. Inside the depot, Manager Billie Rocarek also went out of her way each day to make sure everyone was comfortable and fed along this journey.
The charter was the first full-time operation of repainted GN No. 325. It was built by EMD in 1966, one of six 3,000-horsepower SDP40s GN purchased for passenger service. Only 20 SDP40s were built between 1966 and 1970 for GN and National Railways of Mexico. BNSF donated the locomotive to the museum in 2009. It was professionally repainted this summer to its as-built Great Northern Omaha Orange and Pullman Green colors by RELCO at Albia, Iowa. No. 325 will pull trains out of Osceola for the remainder of the fall season, which runs through Oct. 29.
Trains Magazine is planning more steam and diesel-powered photo charters in the future. Watch Trains.com for future announcements.