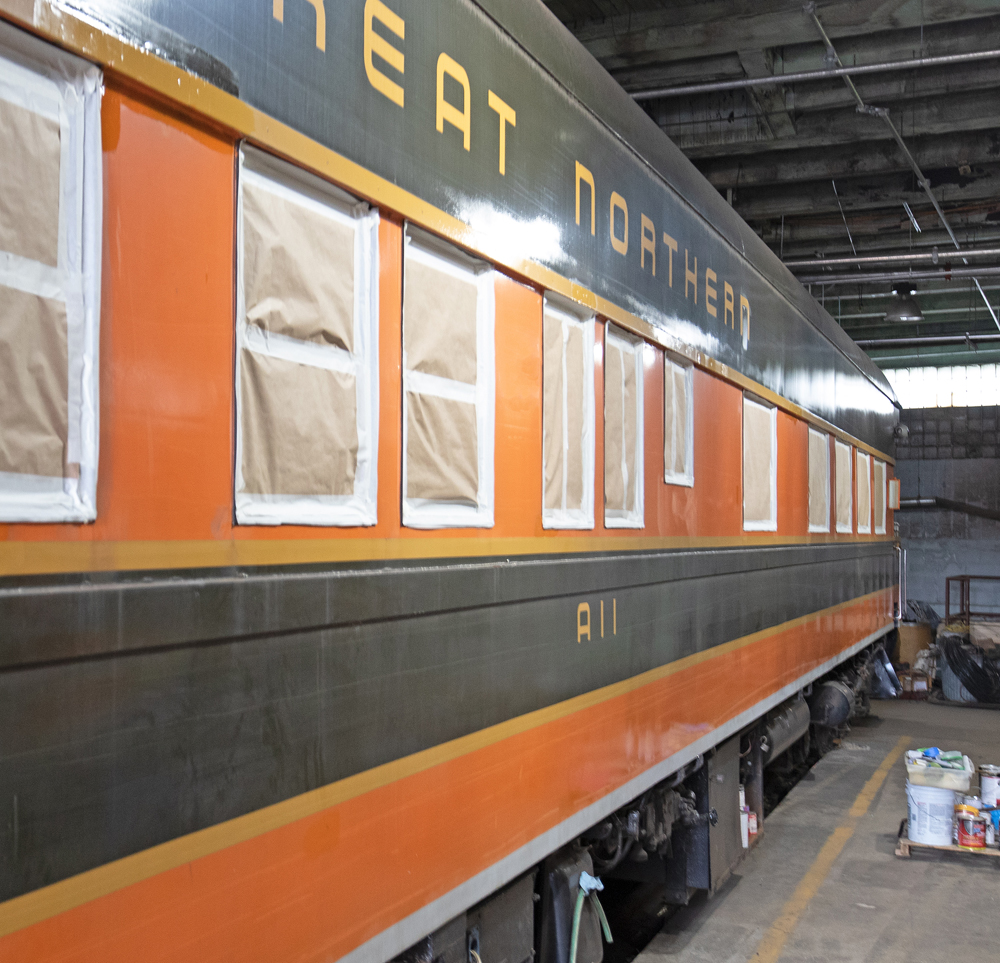 ST. PAUL, Minn. — The Minnesota Transportation Museum is moving ahead with plans to repaint several pieces of passenger equipment at its Jackson Street Roundhouse Museum in St. Paul. If plans come to fruition, MTM will achieve a long-time goal of assembling a Great Northern streamliner in Omaha orange and Pullman green.
MTM operates the former Great Northern Jackson Street Roundhouse in St. Paul and the Osceola & St. Croix Valley heritage railroad based in Osceola, Wis. Over the years, MTM acquired several former Great Northern streamlined passenger cars, but the group struggled to keep up their maintenance, with the result being a mismatched consist. Some cars were faded, some looked tired, while others had fresh paint. This winter, a painting program began with the goal of creating a matched train. The group hired a painter, Tim Grube, who along with volunteer Kurt Mahre has been working on the cars at the Roundhouse over the winter. Two other cars are being professionally painted by outside contractors.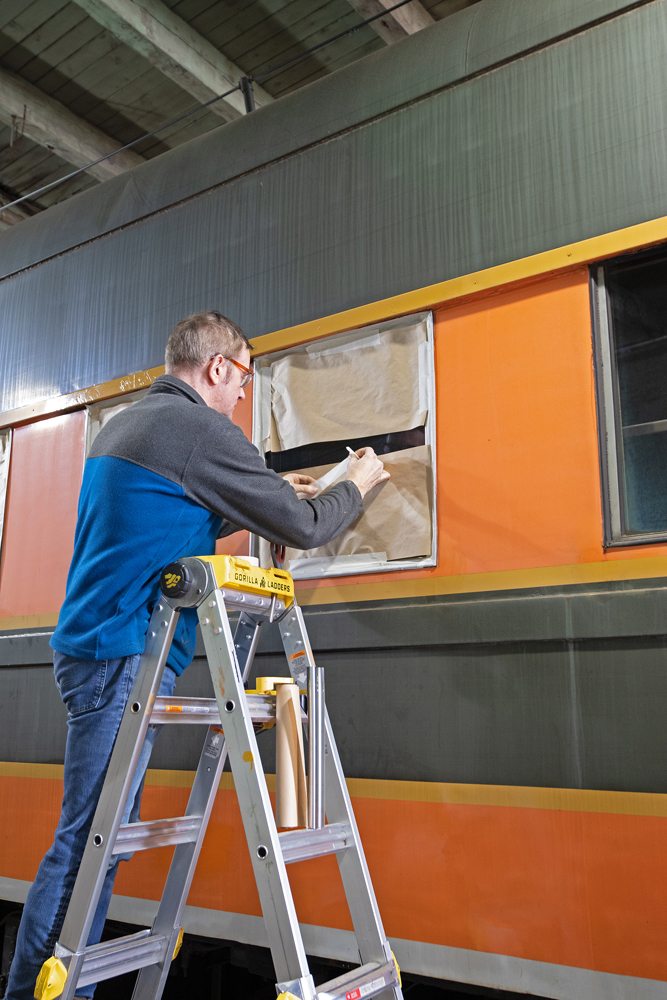 Among them is Great Northern (Chicago, Burlington & Quincy) Baggage-Railway Post Office No. 41, recently donated to MTM by Minnesota Commercial Railway. The car is being repainted and repaired by Northern Plains Rail Services in Erskine, Minn., with funds provided by relatives of James J. Hill, the "Empire Builder" who founded the Great Northern Railway. The car was built by American Car & Foundry in 1951 as part of Burlington Route's contribution to the "Mid-Century" Empire Builder, which operated over CB&Q from Chicago to St. Paul.
In Albia, Iowa, ex-GN coach No. 1096 is being repainted by Relco along with GN SDP40 No. 325. No. 1096 was built by Pullman Standard for Chicago & North Western in 1947 as No. 3453. Great Northern acquired the car in 1962. No. 325 is being repainted into GN's simplified orange and green color scheme. A museum member has agreed to fund the over $60,000 cost to have the engine repainted [see "Minnesota museum to repaint Great Northern diesel," Trains News Wire, Feb. 24, 2023).
Grube, Mahre, and other volunteers have also repainted Great Northern baggage car 265, which had badly faded, and coach 1215. This will mark the return to service of No. 1215 for the first time in several years, since it did not have operational air conditioning. Also receiving paint is open-platform GN business car A11.
In addition to the GN cars, rare Northern Pacific triple combine (RPO/baggage/coach) No. 1102 has been repainted Pullman green, as has Rock Island commuter coach No. 2608, which also has been equipped to handle handicapped passengers. The black paint for the cars roof's has not been applied but will be painted before the cars move to Osceola later this month.
MTM Executive Director Scott Hippert told Trains News Wire this winter has seen "The most progress since I've been here." Volunteers who are employed by railroads such as Canadian Pacific and Minnesota Commercial have been coming to the roundhouse on weekends, when up to 50 volunteers have shown up. Special events have been a big draw, exceeding the capacity of the parking lot. The newest exhibit is "Twin Tracks," which showcases the work and lives of African American railway workers in the early 20th century.
A priority for 2023 is to secure funding to rehabilitate the aging infrastructure of the roundhouse. Among needed repairs are replacement of the roof and some of its substructure and supports, and masonry repair. MTM has made a request to the Minnesota Legislature for $3.5 million in capital investment funds in the hopes of gaining public support for the roundhouse restoration. The request, made through the Minnesota Office of Management and Budget, has been passed to the Capital Investment Committees in the House and Senate, and been sent to Gov. Tim Walz. State Sen. Sandy Pappas has been working with other legislators to gain approval.
For more information visit the museum website.