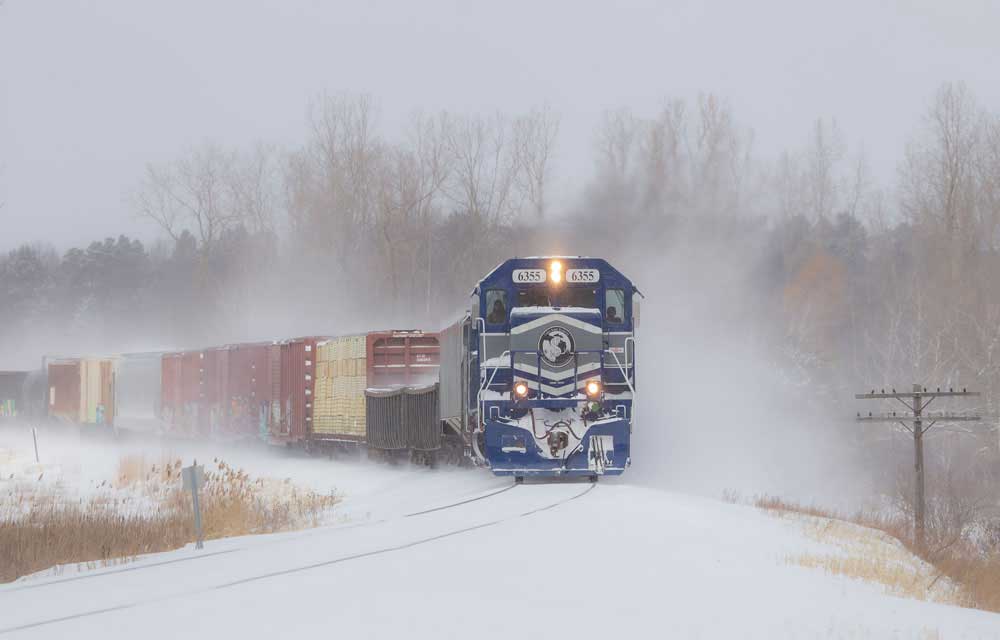 ---
LANSING, Mich. — Ten railroads will receive a total of $19 million for a dozen projects as the first round of recipients for the Michigan Rail Enhancement Grant Program announced today (Friday, June 9). The 2023 projects funded by the state Department of Transportation, selected in a competitive process, will improve rail safety, operational efficiency, accessibility, capacity, and condition.
The grants cover up to 70% of project costs for projects associated with track, bridges, grade crossings, rail weight scales, and intermodal and transload facilities. Rolling stock and movable equipment is eligible if plans provide adequate controls for Michigan-specific use.
"From farmers depending on rail to haul their crops to market to auto manufacturers shipping finished products across North America, rail creates jobs and serves communities across our state," Gov. Gretchen Whitmer said in a press release, adding that the funding will "ensure our rail system is safe, efficient, and meets Michigan's economic and transportation needs."
Grants awarded in 2023 include:
— $5 million to Norfolk Southern for intermodal facility improvements in Detroit, a project with a total cost of $40 million;
— $2.5 million to the Huron & Eastern Railway for rail, tie, ballast replacement, and track surfacing in Saginaw County, a $4.61 million project, and another $2.5 million toward purchase of 44 covered hopper cars at a cost of $5.5 million;
— $2.5 million to Mid-Michigan Railroad's Grand Rapids & Eastern in Kent County for ties and ballast replacement, track surfacing, and bridge improvement, a $5 million project;
— $1.8 million to Canadian National (Grand Trunk Western) for track rehabilitation and crossing improvements in Oakland County, a $4 million project;
— $1.598 million to Hamilton Northwestern Railway in Allegan County for a transload facility and tie replacement, a $2.283 million project;
— $875,000 to the Delray Connecting Railroad in River Rouge toward $1.75 million in bridge repairs;
— $769,860 to the Mineral Range Railroad in Marquette County to relay 4 miles of rail, a $1.1 million project;
— $424,841 to the Lake State Railway in Bay County for tie replacement and track surfacing, a $606,915 project, and another $194,352 for hot box detector and automatic equipment identification in five counties, a $277,645 project;
— $611,520 to the West Michigan Railroad for siding construction and crossing improvement in Hartford, an $873,600 project;
— $507,7000 to the Michigan Southern Railroad for tie replacement and track surfacing in St. Joseph County, a $1.02 million project.
"We are honored to be selected to partner with MDOT as they work to improve, expand, and rehabilitate freight rail corridors throughout Michigan, Mike Hnatiuk, director of marketing for the West Michigan Railroad and the Hamilton Northwestern Railroad, said in the state release. "Once completed, these projects will deliver an immediate benefit to local communities and the region. These infrastructure enhancement projects will significantly minimize the amount of time railroad crossings are blocked, as well as provide public access for companies to utilize rail, who currently do not have access to freight rail services. The new public access site is expected to take as many as 8,000-10,000 long haul trucks off Michigan roads each year, which will reduce congestion and road deterioration on Michigan highways, as well as eliminate unnecessary truck CO2 emissions."