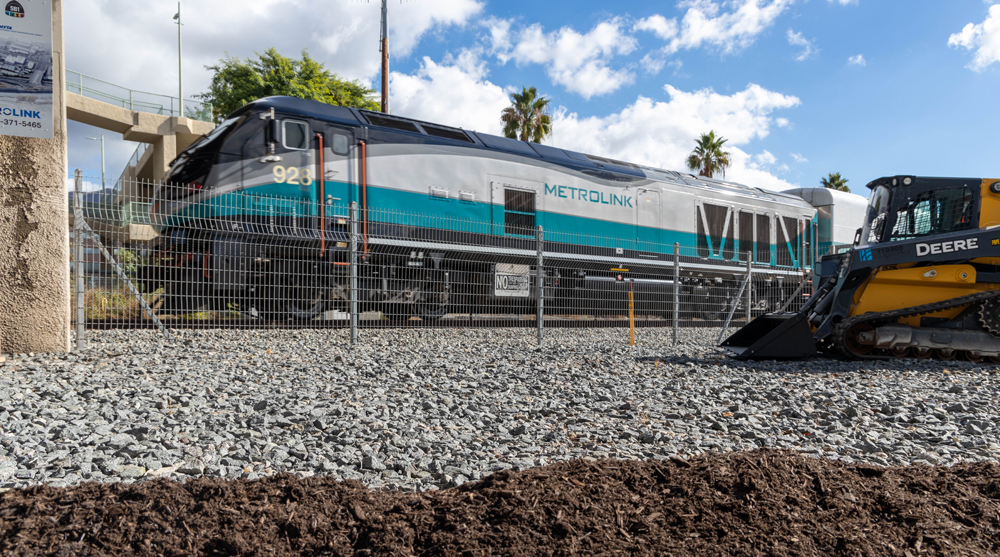 BURBANK — LA-area commuter rail operator Metrolink broke ground Wednesday (Nov. 9) at its Burbank-Downtown station for its Burbank Junction Speed Improvement Project. The work will improve operations at the spot where its Ventura County and Antelope Valley lines meet.
The Burbank Junction Speed Improvement Project, located north of the Burbank-Downtown Station, will realign a portion of existing main line track, reconfigure and lengthen track, improve and replace approximately one half-mile of existing track and install new fencing.  It will allow for increased train speeds and reduced headways between trains. It is part of the Southern California Optimized Rail Expansion (SCORE) program; when combined with other SCORE programs, it will shave up to a minute and a half off train travel times through the area.
"It's an exciting day for Metrolink as we begin work on this project that will eventually deliver more efficient train travel in the region, especially for riders along our Antelope Valley and Ventura County lines," Metrolink CEO Darren Kettle said.
SCORE is a $10 billion series of capital projects including grade-crossing, station, and signal improvements, as well as double-track and siding project, in preparation for the 2028 Olympic and Paralymic Games. More information is available here.
"Every day our service takes thousands of vehicles off our highways and local roads. But we have only scratched the surface of what Metrolink can achieve," said L.A. County Supervisor and Metrolink Board Member Kathryn Barger. " Our service will play an ever-increasing and important role in people's ability to move around the region. So, I view this project as a first step in a great leap forward and I am so proud to celebrate it."
The Burbank Junction Speed Improvement Project is funded by the California State Transportation Agency through Transit and Intercity Rail Capital Program. Construction is scheduled to be completed in summer 2023.