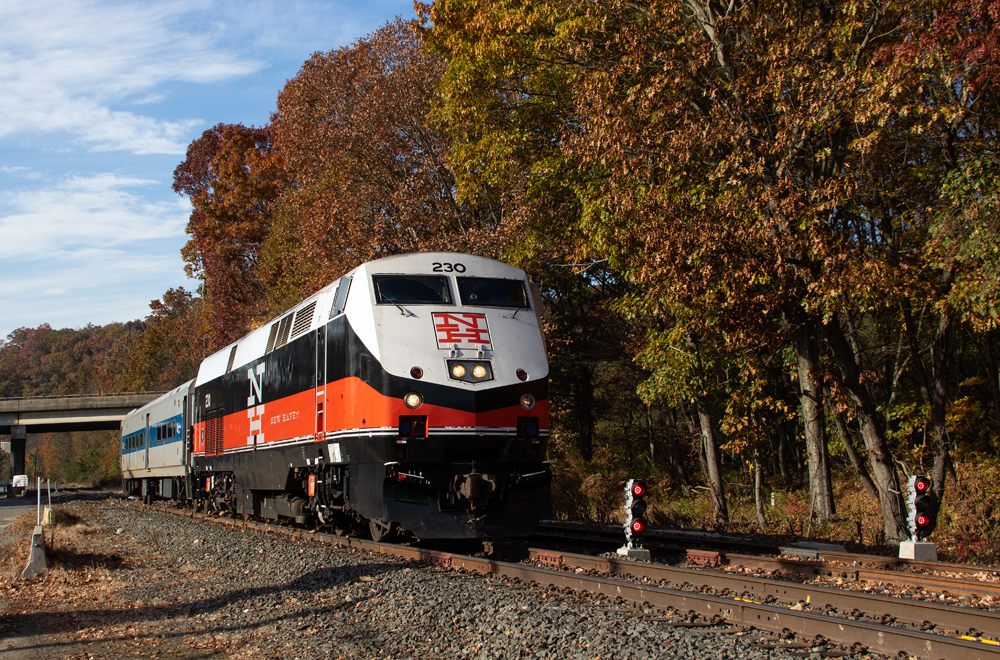 ---
WATERBURY, Conn. —  Metro-North Railroad has eliminated the last "dark territory" Manual Block System segment on its 271-mile commuter rail system, activating Centralized Traffic Control on its 27-mile branch between Devon and Waterbury.
The system was activated at 6 a.m. on Nov. 7. After a weekend shutdown of the line for final testing, regular revenue passenger service began today (Monday, Nov. 8) at 5:25 a.m., with the departure of southbound train No. 1925 from Waterbury. Previously, all Waterbury Branch trains operated under "Form M" manual block authority issued by the Rail Traffic Controller (Metro-North's term for train dispatcher) in New York.
Metro-North operates all commuter routes north and east of New York's Grand Central Terminal, covering former New York Central and New Haven Railroad lines in New York and Connecticut. Each state owns its track, which is operated by Metropolitan Transportation Authority's Metro-North runs all of it as an interstate system. Over the past two decades, Metro-North replaced earlier automatic block signal systems on its Hudson, Harlem, and New Haven main lines with a bidirectional Centralized Traffic Control system, using ground-mounted signals only at interlockings. Locomotive engineers rely on cab signals between interlockings. This system also has been installed on the railroad's previously unsignaled single-track Upper Harlem Line, and the New Canaan and Danbury branches in Connecticut.
"Having all lines and branches signalized and operating with positive train control is a tremendous achievement for Metro-North, because it increases passenger safety and operational flexibility," an MTA representative told Trains News Wire.
Design for this project began in May 2016, with installation beginning in April 2019. Signaled passing sidings were added at Beacon Falls and Derby. Existing sidings just south of Waterbury and just north of the branch's junction with the New Haven Line at Devon also will be signaled and controlled by the Rail Traffic Controller.  More than 13,000 new crossties were also installed during the project, which was funded by the Connecticut Department of Transportation.
Metro-North Waterbury Branch trains use the busy four-track New Haven Line for 5 miles between Devon and Bridgeport, Connecticut's largest city, where connections are made with trains to New York's Grand Central Terminal or New Haven. The first morning Waterbury departure continues 22 miles beyond Bridgeport to Stamford, permitting passengers to transfer to express trains to New York stations.  All other branch trains are Waterbury-Bridgeport shuttles. Maximum authorized speed on the branch is 60 mph.  Crews and diesel-powered push-pull equipment are based at terminals on the main line.  The first two morning trains deadhead to Waterbury before their scheduled runs, and the last northbound night train deadheads back to its terminal.
The CTC installation will allow expanded service.  Even in the final days of the New Haven Railroad in the late 1960s, the branch saw just four round trips a day. Although service frequency has increased under Metro-North and track owner Connecticut Department of Transportation, no passenger-train meets have been scheduled for decades. Current schedules show eight southbound and seven northbound trains each weekday, with buses adding two northbound trips over the route during afternoon rush hours, and regular service on weekends. The Metro-North representative said plans are to increase the current 15 weekday trains to 22 in July 2022. At that time, expect to see trains meeting at CTC interlockings.