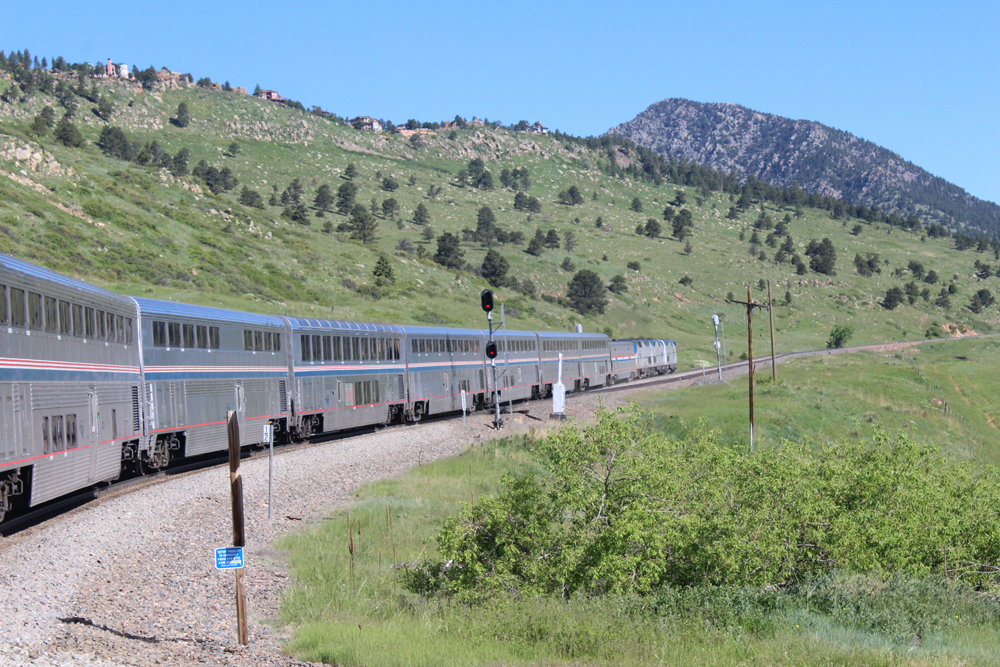 ---
CHICAGO — Some Amtrak long-distance and regional trains outside the Northeast Corridor experienced rare detours and extraordinary delays prior to and during the Memorial Day holiday weekend. On most routes, though, trains were operating on time as a result of lighter freight traffic.
California Zephyrs rerouted
 Early Saturday, May 27, a washout on BNSF Railway's main line east of Denver forced a rare, last-minute California Zephyr detour over Union Pacific's Overland Route between Denver and Omaha while causing cancellation of the following day's trains east of the Mile-High City. Each diverted train lost more than 4hours on the detours, which operated via Cheyenne. Both arrived into their terminals almost 6 hours late.
The previous week, on May 17, another washout further east of the Saturday incident forced both Zephyrs to take another overnight Denver-Omaha bypass, this time through Alliance, Neb., over BNSF's Brush, Angora, Sandhills and Ravenna subdivisions.
Passengers traveling on eastbound train No. 6 that had left Emeryville, Calif., May 16 had already been bus-bridged between Grand Junction, Colo., and Denver as a result of a rock slide on the UP's ex-Rio Grande Moffat Tunnel line. Then they endured another 8-hour detour delay before rejoining the CZ's regular route at Lincoln, Neb. The train was almost 11 hours late when it reached Chicago at 1:42 a.m. on May 19.
Sunset truncated
Another significant Memorial Day weekend disruption occurred when a vehicle blocked and apparently damaged Union Pacific tracks east of Del Rio, Texas. The eastbound Sunset Limited limped into San Antonio almost 10 hours late Sunday after what had been a mostly punctual journey from Los Angeles. The train terminated in Houston, where the westbound Sunset originated Monday; passengers were bused to and from New Orleans. The Texas Eagle, held for the Sunset's Chicago-bound coach and sleeping car, departed San Antonio 6 hours late.
State-supported setbacks
Meanwhile, four Amtrak trains in the past week suffered significant mechanical difficulties; three returned to their originating terminals, resulting in long passenger delays or outright cancellations: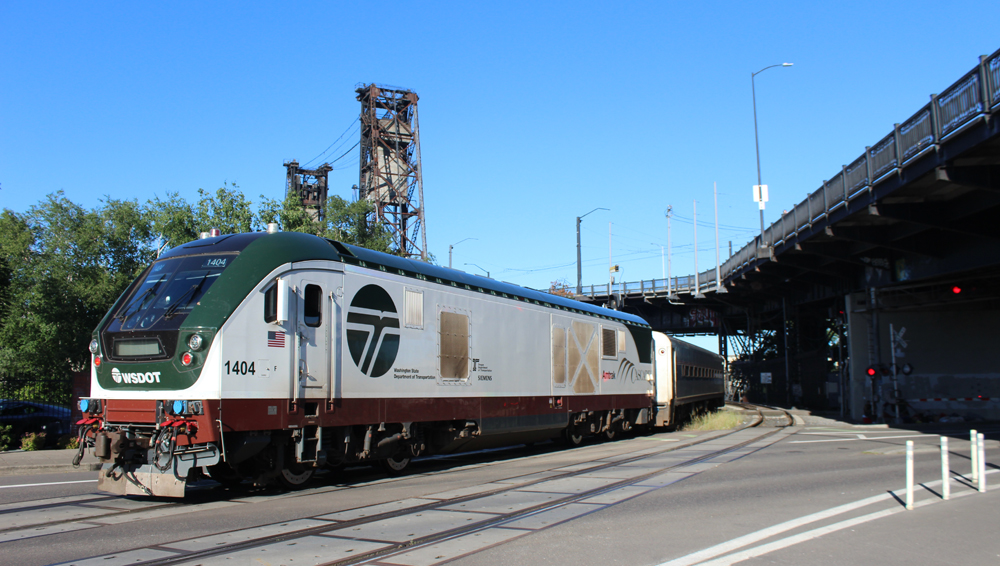 — On May 23, the southbound Chicago-Carbondale, Ill., Illini returned to Chicago's Union Station and departed 3 hours late after an unspecified mechanical failure developed.
— On May 25, eastbound Missouri River Runner No. 316 encountered mechanical problems that caused it to terminate at Warrensburg, Mo. It was towed back to Kansas City, Mo. by River Runner No. 319 from Chicago. With equipment out of position, westbound No. 311 out of St. Louis was cancelled on May 26.
— Northbound Cascades No. 504 with Horizon equipment and a SC44 Charger locomotive broke down north of Kelso-Longview, Wash. on May 26. It was towed back to Portland, Ore. by train No. 517, which had already been delayed more than an hour out of Vancouver, B.C. by "unforeseen trackwork."
— The same day, Wolverine No. 354 for Pontiac, Mich. departed Chicago more than 3 hours late and didn't arrive in Detroit until after 3:30 a.m. Saturday morning.
Empire Builder improving
Although the California Zephyr and a small percentage of regional trains encountered a variety of problems over the holiday weekend, the Empire Builder appears to have returned to relative reliability. The eastbound train arrived into Chicago almost 3 hours late Sunday after being delayed by track obstructions in North Dakota and Minnesota. But for the last two weeks, Builders operating over the 2,200-mile route have used recovery time to counteract most routine operating setbacks.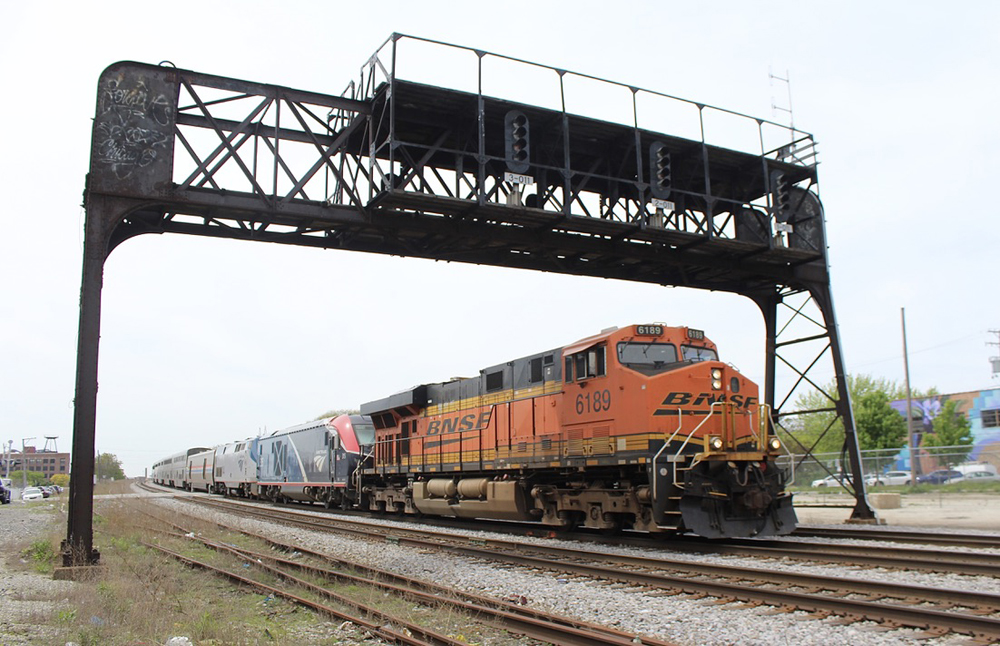 Earlier in May and other months since the beginning of the year, lengthy delays attributed on the "Amtrak Alerts" Twitter feed only to "freight train interference" and "mechanical issues" occurred. The tardiness of both eastbound and westbound Empire Builders was so severe in some instances that it resulted in round-trip cancellations over the entire route.
In an attempt to understand the challenges and causes of disruptions to a daily service rural communities rely on, Trains News Wire had asked Amtrak and BNSF Railway to explain specific operating decisions and delay incidents for Builders leaving their terminals on May 10 and May 12, as well as what both operator and host were doing to improve performance.
One example News Wire asked about was the eastbound Builder arriving Chicago 22 hours late on May 15, led by a BNSF Railway freight locomotive. Without enough available standby equipment, the day's westbound departure was cancelled as a result.
A BNSF Railway spokeswoman didn't reply. Amtrak also declined to provide specifics, but did offer this statement more than a week after the inquiry:
"Amtrak and BNSF meet regularly and our operating teams are in constant touch daily. The host railroad report card can be seen as an indicator of the intent of the host railroads … BNSF continues to be a strong performer with the second highest 'GPA' of the carriers. While there will be days that are more difficult to stay on schedule, the aggregate data reported monthly paints the most accurate picture of how our trains are performing. Anecdotal information does not."
The report card does, however, only measures delays attributable to the host railroad, not Amtrak or its equipment. The BNSF power leading two Amtrak locomotives suggest that at least in this instance, the host railroad was likely part of the solution rather than the problem.