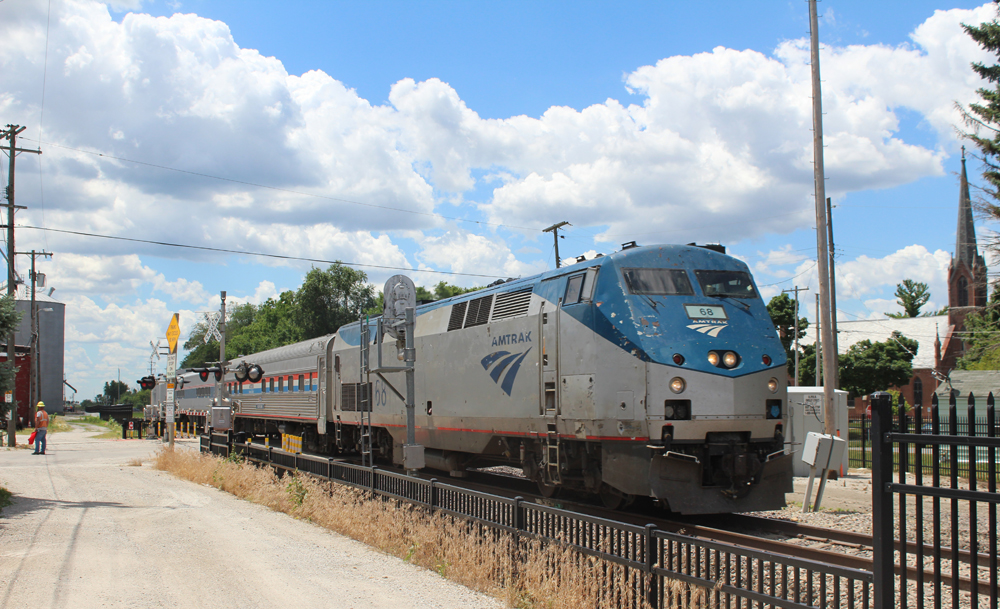 CHICAGO — As of today, top speeds are rising from 79 to 90 mph on much of Amtrak's Chicago-St. Louis Lincoln Service corridor.
With signal system testing complete and certified for reliability by the Federal Railroad Administration, the higher speed will be allowed between Laraway Road, south of Joliet, Ill., and CP Wann, two miles south of Alton, Ill.
According to a Union Pacific general order effective at 3 a.m. today, trains can operate at the new upper limit if they are led by Amtrak locomotives equipped with both Alstom's Incremental Train Control System (ITCS), to monitor the status of highway crossings, and the Wabtec Interoperable Electronic Train Management System (I-ETMS).
Since federal money for right-of-way and signaling improvements became available in the 1990s, Illinois has sought to shorten travel times on what had devolved from a Gulf, Mobile and Ohio two-track speedway into a deteriorated single-track line, with slow speed or out-of-service passing sidings under four subsequent.
More than $2 billion spent to upgrade the Joliet-Alton segment to 110 mph operation was accompanied by several failed attempts at devising signaling to support that speed and interface with highway crossing equipment. Illinois has required from the outset that crossings be equipped with obstructed-vehicle monitoring sensors in the pavement.
In 2015, a short segment between Dwight and Pontiac, Ill., which required locomotives specially equipped with both ITCS and UP cab signals, was tested on certain Lincoln Service trains. The technology ultimately was deemed unreliable and incompatible with UP's decision to switch to the I-ETMS positive train control format throughout its network. That paved the way for the current setup.
I-ETMS is only currently certified as a vital system at speeds up to 90 mph. To get to 110 mph, the FRA requires more reliability testing and perhaps additional technological tweaks, which will require cooperation with the Union Pacific and additional expenditures by Amtrak or Illinois.
Although travel times will only be marginally reduced and schedules are not being immediately adjusted when Amtrak brings back its full slate of Lincoln Service trains on July 19, the corridor possesses state-of-the art crossing protection and signaling that are ready to accommodate the higher speeds once money becomes available.
The fastest Chicago-St. Louis schedule resuming in a few weeks is train no. 301, a 7 a.m. Chicago departure with limited stops that reaches St. Louis at 12:20 p.m. This 5-hour, 20-minute trip only matches what GM&O's Abraham Lincoln achieved in 1965.
Travelers on the route still must contend with potential freight train interference delays in the Chicago-Joliet and Alton-St. Louis terminal areas and situations such as one inflicted on St. Louis-Chicago train No. 300 on July 1.
Trains News Wire learned from a Union Pacific source that the Norfolk Southern dispatcher, who controls a shared UP-NS double-track segment between the Hazel Dell and Iles control points south of Springfield, Ill., ignored passenger train priority. The dispatcher failed to hold two NS east-west trains instead of allowing train No. 300 and UP intermodal ZG4MQ to first pass each other where the UP dispatcher had set up a rolling meet. As a result, the passenger train was 1 hour, 19 minutes late into Joliet after waiting for the NS and UP trains to clear.
Such delays negate any gains made possible by the latest speed increases.
For more on the Chicago-St. Louis signal installation see, "Still seeking speed," December 2020 Trains.