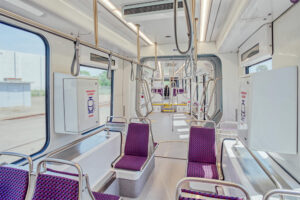 BALTIMORE – Maryland's Purple Light Rail Line would begin carrying passengers in the Washington suburbs over four years late and cost an additional $1.4 billion to build under a proposed contract to complete the project, Maryland transportation officials said this week. The state's cost of a broader agreement for a private concessionaire to build, operate, and maintain the line for several decades would climb from $5.6 billion to $9.3 billion.
The Washington Post reported if the Maryland's Board of Public Works approves the new construction contract and broader financial agreement Jan. 26, a private concessionaire would need to secure financing in February. Construction on Maryland's largest transit project would then resume this spring, state officials say.
The Purple Line was one of the first U.S. transit projects to rely on private financing as part of a public-private partnership. Purple Line construction started in mid-2017. It stopped in October 2020, when the private consortium's contractor withdrew after a court fight and a feud with the state over what the companies said were 2½ years of delays and about $850 million in cost overruns. The line initially was scheduled to begin carrying passengers in March of this year.
Maryland transit administrator Holly Arnold told the Post the original contractor's claims didn't reflect dramatic pandemic-era construction cost increases, such as for materials and insurance, or the pandemic's severe effects on the labor pool and supply chain.
The Purple Line will be the first direct suburb-to-suburb rail line in the Washington region. It's designed to provide faster, more reliable mass transit than buses and to attract economic development around its 21 stations. It will connect to Metro's Red, Green, and Orange lines but, unlike the subway, will run single-vehicle trains mostly along local roads and a recreational trail.
Under the new construction contract, the entire line would open at once – not in two phases as previously planned. The additional $3.7 billion for the long-term financial agreement would include the additional construction costs, as well as a $250 million legal settlement previously paid to the original contractor. The total $9.3 billion would cover the line's operations and maintenance for 30 years, the expense of refurbishing tracks and rail vehicles as they age and debt service payments that would balloon as part of financing the more expensive construction. The concessionaire also would make a profit.
The new $3.4 billion construction price is an almost 80% increase that includes about $1.1 billion of construction costs already paid. In addition to the pandemic-related expenses, the new contractor also priced in the additional financial risk of completing work started by other companies, the Post said.