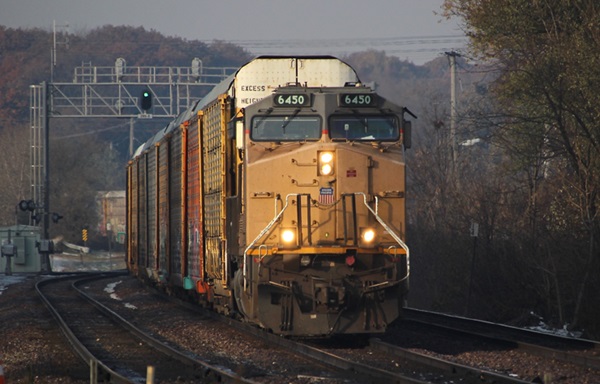 ---
LOMBARD, Ill. — A few notes from the recently concluded winter meeting of the Midwest Association of Rail Shippers:
Oberman's frustrations: During his Q&A session led by Eric Jakubowski of Anacostia Rail Holdings, Surface Transportation Board Chairman Martin J. Oberman talked a bit about the processes under which the board works. One interesting note regarded how the full board is able to meet with its staff for briefings without violating public meeting laws, as it is allowed to do under its 2015 reauthorization. The key, he said, is that board members cannot express any opinions in such sessions.
"It gets very frustrating sometimes," Oberman says. "Our general counsel literally has a bell, and when somebody says, 'Well, in my view …,' the bell rings and he says, 'No, you can't say that.' But they're very productive discussions."
Oberman also expressed some frustration about the ability to get shippers to comment on matters before the board.
"Whether it's real or not, and every rail executive denies it, and every customer says it's very real, there is at least a perception that, and I believe a reality, of a fear of retaliation if customers come forward and testify at a board hearing about their problems with a railroad." When the board was preparing to hold its hearing on Union Pacific embargoes in December, Oberman said, he encouraged testimony from some customers that called the board . "Some did, and they were very helpful. And many did not, and said they couldn't, and wouldn't, because either the person we were dealing with at the shipper would say, 'Either my boss will punish me or the railroad will punish me. And it happens frequently, and I think it's a sinister part of our industry … So we don't get directly all the customers we'd like to have, but we get enough that I think we a pretty good idea of what's happening."
Posner on graffiti, investors: Henry Posner III, chairman of Railroad Development Corp., had some interesting, and fairly strong, thoughts on railroading's graffiti issues.
"I think that the most shocking thing about graffiti is that we as an industry tolerate it," Posner said. "We consider it background. There are a couple of things that graffiti does. It portrays us as an unsafe industry, because if somebody can paint a train, that's not good. It portrays us as a badly maintained industry. And mostly, it shows that we do not have pride." He mentioned a documentary on railroad graffiti, "Rolling Like Thunder," which he said offers "some glimmers of hope" on how the tide can be turned.
"But it is an industry problem that we do not acknowledge. … We need to address it. And there is a cost to it, because it discounts the value of rail transportation, because it makes us look like a low-quality, unsafe industry, which is bad."
Posner also talked about the value RDC and its U.S. property, Iowa Interstate, have found through investment partner iCon Infrastructure, which bought a stake in the railroad in 2020 [see "iCon Infrastructure becomes 40% partner …," Trains News Wire, Dec. 31, 2020].
"It's exposed us to bigger markets," he said. "I'm embarrassed to admit this, but if the Iowa Interstate were to call, for example, a global ag products company, it's not the same as getting a call from our partner. So they've been able to make connections that we would not have been able to make on our own.
"They also have different viewpoints. For example, governance is key, and as a result of iCon becoming a shareholder, we got John Friedmann, former head of network planning for Norfolk Southern, as a board member. What we wanted was diverse and complementary viewpoints. We recognized that we were a fairly narrow group of people that needed outside influence. So that helped us with both governance and outside perspectives."
Sticking to internal matters: Canadian National CEO Tracy Robinson was asked how her railroad will respond if the Canadian Pacific-Kansas City Southern merger is approved. An STB decision on the merger, which had been tentatively scheduled to come down during the MARS meeting has been pushed back while the environmental impact statement is completed [see "Environmental review holding up final decision …," News Wire, Jan. 19, 2023].
"If it does get approved," Robinson said, "then CP is going to be very busy on the integration and execution. We have our own game plan. CN has an incredible network. We have a very tremendous growth story, which we're looking forward to lay down at our investment day in May, and when we are on our game, when we're playing our own game, we're very tough to compete with. So we're not worried about that. We're pretty focused on us."