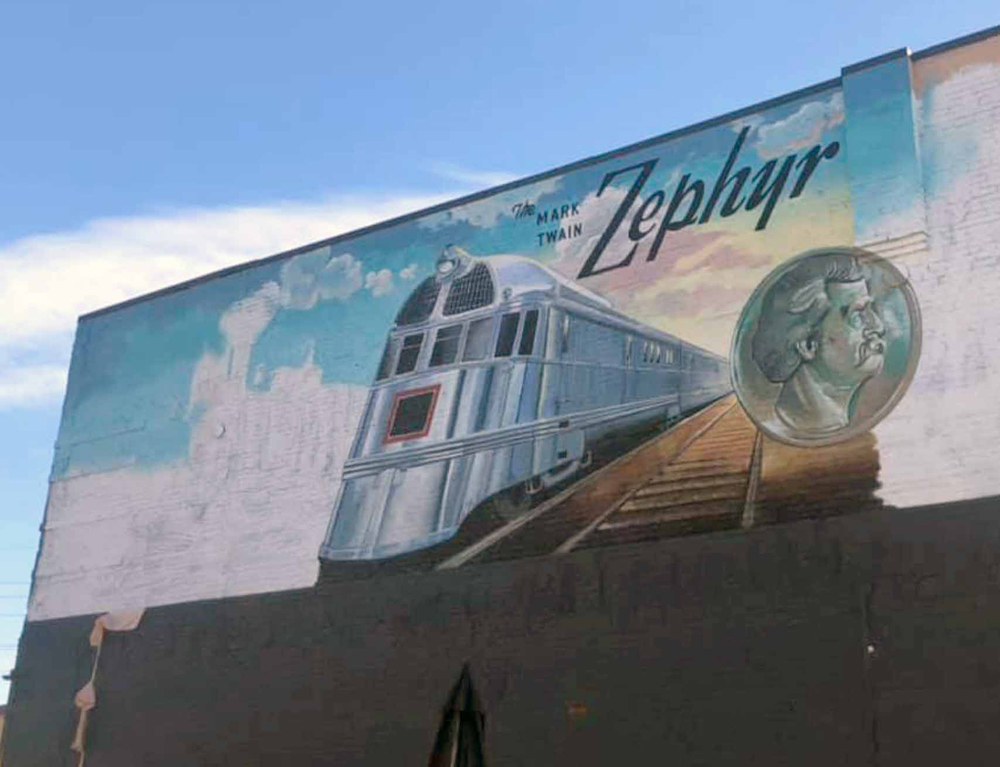 ---
HANNIBAL, Mo. — While the Wisconsin Great Northern Railroad is home of the under-restoration Mark Twain Zephyr, the city of Hannibal, Mo., is getting its own version of the streamliner — a 60-foot-by-14-foot mural.
For a couple of weeks, muralist Ray Harvey of surburban St. Louis has been perched on a manlift above the corner of 3rd and Broadway, painting a lifelike depiction of the train. Harvey, a freelance illustrator and muralist for the past 35 years, has created over five hundred public, residential, commercial, and industrial murals around the Midwest. He has been commissioned by cities, mayors, corporate executives, and celebrities, and has completed numerous large mural projects in Hannibal, including one for Hannibal City Hall.
The Mark Twain Zephyr mural was made possible by generations from about 20 individuals, with donations ranging from $20 to more than $1,000. One of the main benefactors is Deborah White of Nashville, Tenn., who grew up in Hannibal. Another is Archie Hayden, who worked for the Chicago, Burlington & Quincy Railroad as a trainman and still calls Hannibal home.
"Believe it or not, I have actually never actually ridden on a train before," Harvey says. "People are surprised sometimes when I tell them that … but I just never really had the opportunity even though I live in a town that has an Amtrak train to Kansas City.
"But I don't need to ride on a train to be able to paint one. I can get the visual for something without having the experience. With that said, I really hope my first train ride can be on the Mark Twain Zephyr when it's restored at the Wisconsin Great Northern. …. I will be planning on making the trip up."
Harvey says even though he uses the best materials around, most murals last about 15 years due to harsh winters and thunderstorms of the Midwest. "The murals I paint are really with us just for a short period of time," he says. "They are for people to enjoy now … and then in 15 years or so … they will come down or it's time to paint over them with something new."
The mural is expected to be complete in a week or so, depending on the weather. An extremely rainy October in Hannibal meant that the painting wasn't quite done by its dedication on October 16.
More information on the mural is available at the Ray Harvey Art Facebook page or the Ray Harvey Art website. — Robert Tabern, Wisconsin Great Northern director of passenger development