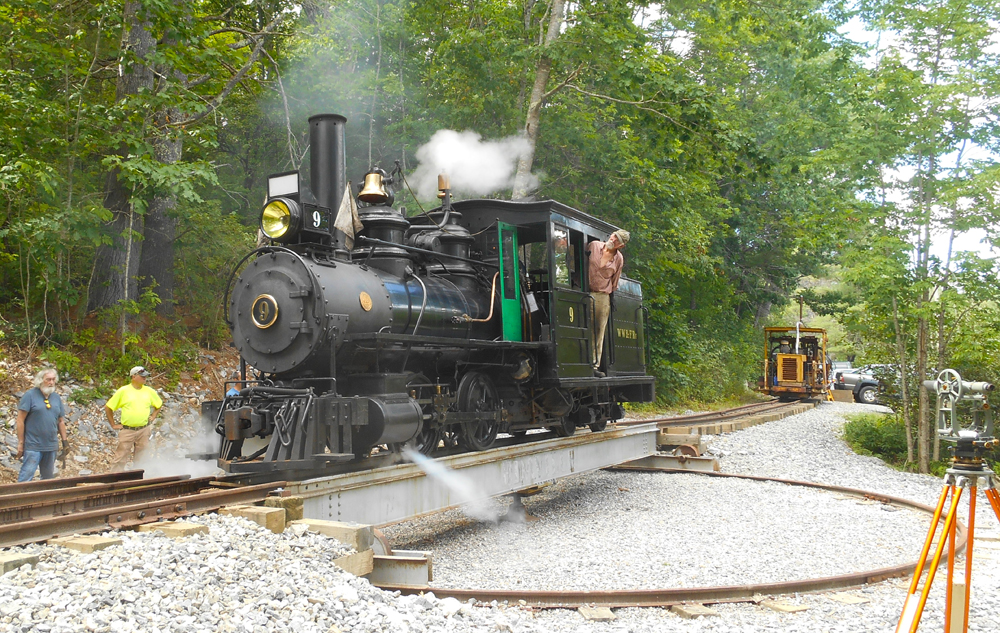 ---
ALNA, Maine — Volunteers have been working nearly non-stop for several weeks, finishing a number of last-minute details leading up to the Saturday, Aug. 6, 2022, opening of the Wiscasset Waterville & Farmington Railway Museum's Mountain Extension and Trout Brook Station.
Two special trains will make the first official runs over the three-quarter-mile extension of the 2-foot-gauge railroad. The track drops downgrade from Top the Mountain, the long-time end of track, following the topography of the mountain through numerous curves. At the foot of the mountain, the line will cross Trout Brook on a wooden Howe pony truss covered bridge before arriving at Trout Brook Station, the current end of track, 3.5 miles from Sheepscot.
The first train, scheduled to leave Sheepscot at 1:00 p.m., will carry members of the Massachusetts Bay Division of the Railroad Enthusiasts, who have supported the extension of the railway financially. The group rode a fan trip across the Trout Brook bridge several years ago, when it was on a Boston & Maine branch line in New Hampshire.
The second train is for invited guests and members of the WW&F Railway Museum. A ceremony at Top of the Mountain, including remarks by several guests, will conclude with the removal of the red flag that marks the end of operation track.
Work on the extension has been under way for several years. Volunteers, helped at times by contractors, cleared trees and regraded the right-of-way, which has been abandoned since 1933. They installed a number of new culverts, repaired others, and rebuilt a fill that had slipped downhill over the years, then laid track and ballast. A new passing track was constructed at Trout Brook Station, and a turntable, on long-term loan from the Maine Narrow Gauge Railroad and Museum, was placed at the north end of the new siding.
Trout Brook Station marks the northern extent of the railway for the time being. It is surround by the 125-acre Trout Brook Preserve of the Midcoast Conservancy, and the new station building will serve a dual purpose for the railroad and the preserve. The railroad and the conservancy cooperate to bring visitors to the preserve to hike several scenic trails.
The Mountain Extension will formally open on Aug. 13, with trains scheduled on the hour from 10 a.m. to 4 p.m. On Sunday, Aug. 14, a special photo train will offer multiple opportunities to photograph the train on the Mountain Extension.