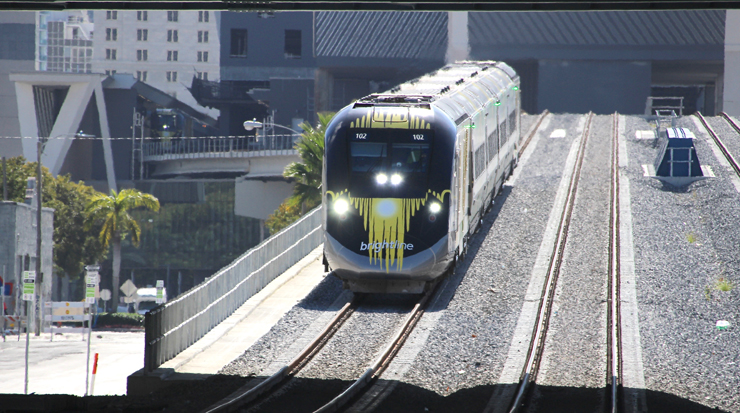 ---
MIAMI — Tri-Rail and Brightline are each suggesting the other party is at fault after Tri-Rail management told the agency's board last week that the commuter agency's trains would not clear the platform at Brightline's MiamiCentral station [see "Tri-Rail service to Brightline's Miami station faces clearance issues …," Trains News Wire, Dec. 13, 2021].
The website Florida Politics reports Tri-Rail Executive Director Steve Abrams told the Miami Herald his agency "did have an oversight role" in platform construction at MiamiCentral, "but we're not pouring the concrete." But in a letter to Abrams released Wednesday, Brightline President Patrick Goddard said his company believes "the most significant impediments" to Tri-Rail service "are issues related to the rolling stock, not the physical plant of the station." It notes that both sides have been aware of the problem since April and that changes to the cars would be the easier solution.
"We understand and acknowledge that, as constructed, there are clearance envelope intrusions that we must resolve," the letter reads. It further says Brightline believes, "and you and your engineering team concurred, that the most logical, expeditious, and non-destructive solution to remedy this conflict would be … slight modifications to the step structure in order to accommodate the variance within the Station.
"Brightline acknowledges our obligation to remedy the imperfection and the Brightline engineering team continues to stand ready to work with [the Tri-Rail agency] to develop and implement a solution to the clearance issue."
The letter also suggested questions over the weight of Tri-Rail's cars, and the ability of the viaduct leading to MiamiCentral, misconstrue the situation by analyzing whether the structure is capable of holding heavier freight equipment, and says its engineering team "has confirmed … the structures are acceptable for use with both Brightline's and [Tri-Rail's] intended loads.
Tri-Rail's planned launch of service from the station has been delayed since 2017, first by positive train control issues and now by the clearance issues.