WASHINGTON — Three members of Congress have introduced legislation to give Amtrak the ability to take host railroads to court over on-time performance issues.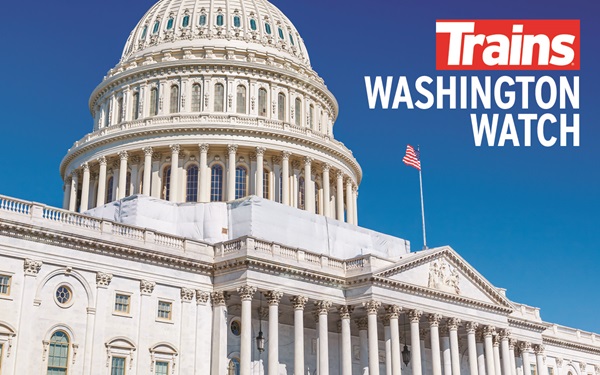 The Rail Passenger Fairness Act, introduced by Senate Majority Whip Dick Durban (D-Ill), Sen. Richard Blumenthal (D-Conn.) and U.S. Rep. Donald M. Payne Jr. (D-N.J.), addresses one of the facets of Amtrak's legislative request to Congress issued on Wednesday [see "Amtrak establishes priorities in wish-list reports …," Trains News Wire, April 29, 2021]. It also comes at a time when the Federal Railroad Administration has set new standards for measuring on-time [see "FRA publishes final rule setting Amtrak performance standards …," News Wire, Nov. 16, 2020] and created a mechanism to address disputes with the Surface Transportation Board [see "Analysis: FRA seeks Amtrak, host railroad scheduling cooperation," News Wire, Nov. 20, 2020].
"The Rail Passenger Fairness Act will improve on-time service for Amtrak riders by better enforcing legal protections for passengers' right to the rails." Blumenthal said in a press release from the three legislators. "Freight railroads are failing to follow the law and provide preference to Amtrak trains on their tracks, delaying passengers all over the country. … when freight railroads don't play by the rules, it inconveniences riders and it hurts our economy."
In the release, the legislators note that 1973 legislation requires operating preference for passenger trains over freight trains, but say freight railroads "continue to ignore their obligation" to do so, with the result that freight traffic is responsible for about 60% of Amtrak delays in recent years. A 2019 report by Amtrak's Office of Inspector General said Amtrak could gain $41.9 million in annual cost savings and revenue with better on-time performance [see "Report estimates costs of Amtrak on-time performance woes," News Wire, Oct. 18, 2019].
"Amtrak thanks Senators Durbin and Blumenthal and Rep. Payne, Jr. for introducing legislation that upholds the rights of our customers to be on time and gives us tools to fight costly delays to Amtrak trains," Amtrak CEO Bill Flynn said in the release.