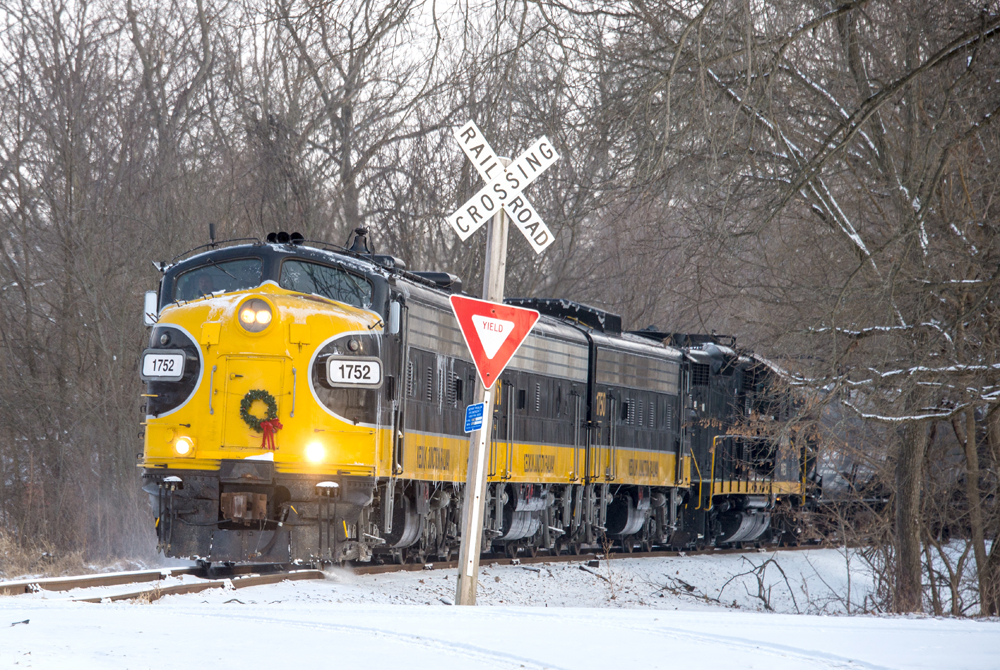 KEOKUK, Iowa — Pioneer RailCorp affiliate Keokuk Junction Railway has sold its popular A-B-A set of former Canadian National FP9s to two different buyers.
FP9A No. 1752 has been sold to Dieselmotive Co., based in Turlock, Calif.; sister FP9A No. 1750, along with F9B No. 1761, have been sold to Gary Southgate, of Battleford, Saskatchewan.
The three units have sat in LaHarpe, Ill., since the the railroad retired them after their final run on June 5, 2019.
Dieselmotive owns a fleet of 100 locomotives. The 1752 will be used on the tourist passenger train operated by Ohio River Scenic Railway, based in Tell City, Ind., which operates on a 22-mile route owned by the Hoosier Southern Railroad.
Dieselmotive vice president Noah McCann said the locomotive is in very good mechanical shape and there are no plans to repaint it. "One of my sayings is paint doesn't pull freight," McCann said. "The scheme still looks very presentable.''
The locomotive was moved to Keokuk in late March to ship via the BNSF to North St. Louis, where it will interchange with Norfolk Southern for the final leg to Tell City, located on the Ohio River at the Indiana-Kentucky state line about 50 miles east of Evansville, Ind.
Southgate, a farmer in Battleford, Sask., told Trains News Wire in a Tuesday phone interview that the purchase of the two Keokuk Junction locomotives is part of a larger project.
"I have been trying to collect equipment to match the look of the Super Continental [Canadian National's transcontinental train] from 1954 to the late 1970s," Southgate said. "I am in the process of moving equipment from the states to a couple locations here.
"I already have two FP9s, 6304 and 6311. I kept the Via Rail Canada numbering system. They are currently stored at the Alberta Railway Museum. My wife Linda and I have been married for fifty years, and we will have them all (F units) painted back to the Canadian National scheme of 1954 and 1955. We want to try and represent the Super Continental train from several years ago."