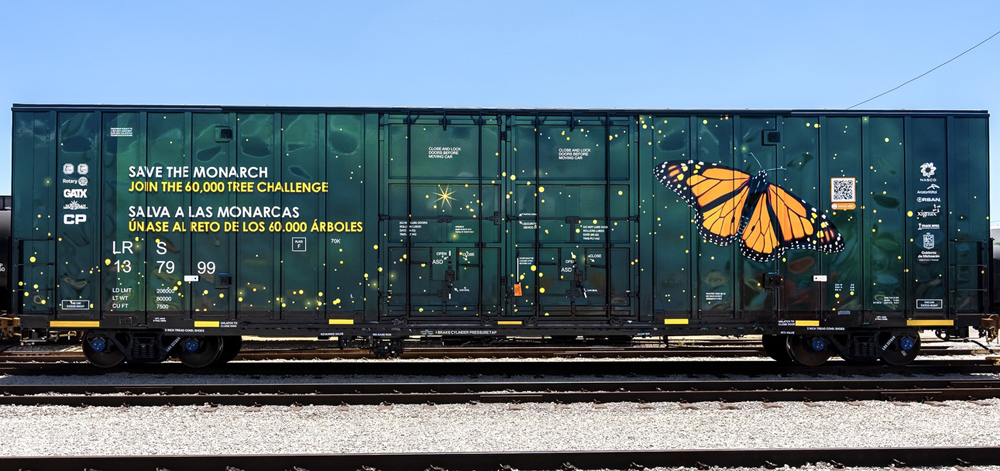 ---
KANSAS CITY, Mo. — Kansas City Southern, Canadian Pacific, and equipment leasing company GATX are among the parties launching an effort to save the monarch butterfly by contributing to its habitat at a preserve in Mexico.
The Save the Monarch Butterfly 60,000 Tree Challenge North American Boxcar Tour aims to raise $100,000 to plant 60,000 oyamel trees, a fir tree that only grows at altitudes of 7,800 to 11,800 feet, at the El Rosario Monarch Butterfly Sanctuary in Michoacán, Mexico. The Monterrey (Mexico) Metropolitan Rotary Club and NASCO, a U.S.-Mexico-Canada trade coalition.
The boxcar for the tour was recently completed at the GATX shop in Hearne, Texas. It features a crowd-funded QR code than can be scanned to make a donation to the effort. The boxcar is scheduled to begin a tour this fall that will include stops in Windsor, Ontario; Chicago; Kansas City, Mo.; Laredo, Texas; and four Mexican sites — Nuevo Laredo in the state of Tamaulipas; Monterrey, Nuevo Leon; San Luis Potosi, in the state of the same name; and Morelia, Michoacán. The tour will conclude at the butterfly sanctuary. Events in coordination with local Rotary clubs will generate awareness and raise funds.
The groups involved in the fundraising effort say the monarch is estimated to have only a 10% chance of survival above the extinction threshold over the next 30 years.
"KCS is proud to work in partnership with CP, GATX, Rotary and NASCO to drive the 60,000 Tree Challenge," KCS CEO Patrick J. Ottensmeyer said in a press release. "In addition, we are installing waystations throughout our U.S.-Mexico network in support of monarch conservation."
"The CP and KCS networks align with the Monarch's annual migration route, providing us with a unique opportunity to help protect and restore critical habitat," said CP CEO Keith Creel. "CP is very happy to join with KCS, GATX, Rotary and NASCO to support and promote the recovery of the monarch butterfly."
GATX CEO Robert C. Lyons said his company "was thrilled to help produce a custom-designed boxcar to celebrate and raise awareness of the journey of the monarch butterfly in addition to making a financial contribution to support the 60,000 Tree Challenge. We are proud to join forces on this innovative environmental initiative."
More information on the 60,000 Tree Challenge is available at the KCS website.