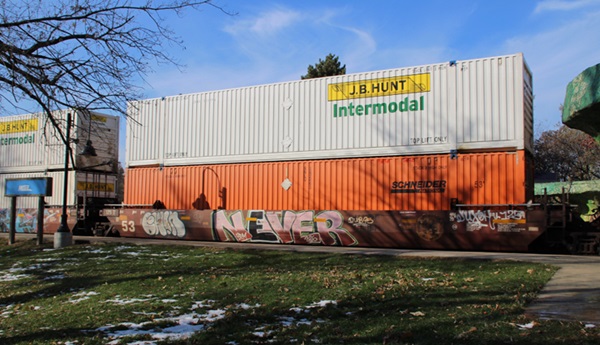 LOWELL, Ark. — Demand for domestic intermodal service exceeds J.B. Hunt's capacity because of slow customer turn times and the reduced velocity of the railroad network.
"Demand for our intermodal capacity remains robust. In fact, demand continues to significantly outpace our available capacity, which remains constrained by rail performance and restrictions in addition to customer detention of our trailing equipment," Darren Field, president of J.B. Hunt's Intermodal division, said on the company's earnings call on Monday.
A shortage of labor — both at intermodal terminals and at customer warehouses — is the major contributor to a record high turnaround time for the company's containers. To encourage customers to unload and load more quickly, J.B. Hunt has instituted accessorial charges and in some cases is restricting capacity to some customer locations.
J.B. Hunt's intermodal volume, which increased 6% in the quarter, was up 9% in the east and 3% for transcontinental loads that originate on partner BNSF Railway.
"We are working very closely with our rail providers and customers to improve our capacity across the network by focusing on reducing the detention of equipment and helping our rail providers reduce congestion across their terminal infrastructure," Field says.
J.B. Hunt relies primarily on Norfolk Southern in the east, but also uses CSX Transportation to reach some locations.
In response to a question from a Wall Street analyst, Field says he does not expect the rail system to melt down despite reduced velocity and periodic capacity limits imposed at some intermodal terminals.
"BNSF and J.B. Hunt are working really well together every day in an effort to expand our capacity and improve velocity," Field says.
The primary challenge on railroads, Field says, is that at some locations employment levels are 5% below where they need to be to handle current volume.
"All of the railroads are very focused on these challenges and they are out addressing them," Field says.
J.B. Hunt's intermodal revenue was up 21% for the quarter, while intermodal operating income grew 26%. The company handled 499,682 loads for the quarter.