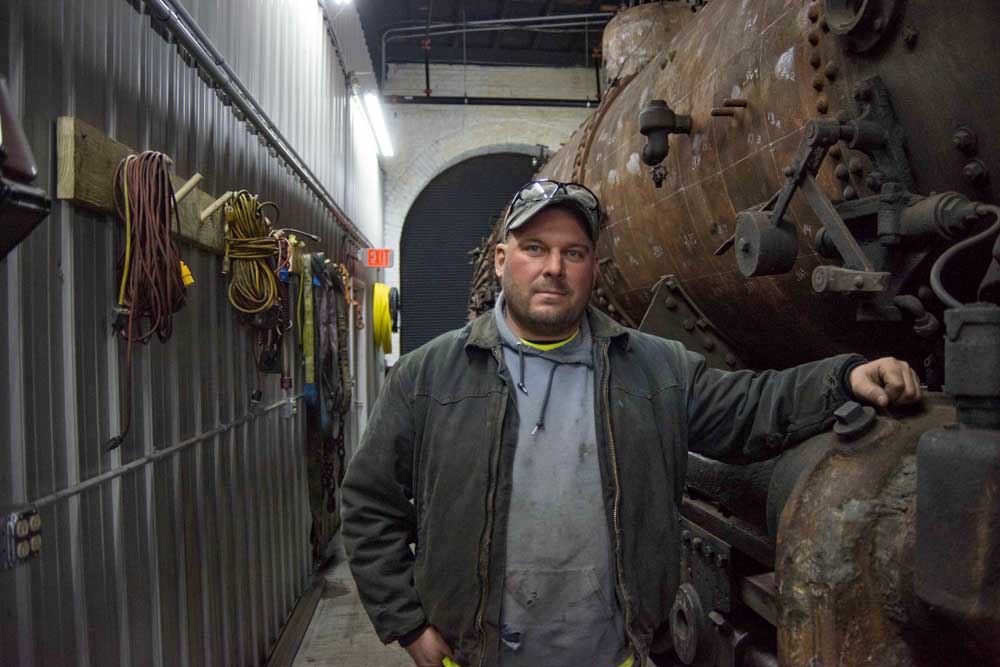 East Broad Top Chief Mechanical Officer Dave Domitrovich found himself in limbo when the COVID-19 pandemic hit in early 2020. Just three weeks from completing a three-month Amtrak locomotive engineers' training school in Wilmington, Del., the pandemic suddenly shut down the program in March 2020.
He'd been notching 98-to-100 scores on tests. He'd just left a 10-year stint at the iconic Strasburg Rail Road in southeastern Pennsylvania, where he'd become the boiler shop supervisor and quality control manager. In that role, he was qualified to certify new and repaired steam-locomotive boilers.
Then, the phone rang. It was Brad Esposito, general manager of the newly revived East Broad Top Railroad in central Pennsylvania. Could he come for an interview for a position as chief mechanical officer?
Attending the interview was his old boss from the Strasburg, Linn Moedinger, who had retired as president of the short line and was now an advisor to the EBT Foundation Inc., which had bought the narrow gauge tourist railroad from the Kovalchick family in February 2020.
"I thought, in one sense, this is absolutely amazing," says Domitrovich, "the other is this is going to be the biggest [challenge] — I equated it with a toy box of broken toys."
He took the job and hasn't looked back. He says, "Everything happens for a reason, when I look back at the whole thing. This is where I want to be. This is my calling."
"I can't stress enough about Linn's mentoring of me, management-wise, in the craft, whether boiler or running gear work, everything," he says. "He's explained the dynamics of working with people. He's a Confucius when it comes to this. He's one generation removed from steam — he learned from the guys who worked for (the Pennsylvania Railroad)."
But Domitrovich's preparation began much earlier. His father and grandfather were American Flyer toy train collectors, as is he. Although raised in the Harrisburg, Pa.-area, his childhood included visits to steel worker and coal miner relatives in Pennsylvania industrial towns like Aliquippa and Morea. Also, he says, "Going to Strasburg was a cheap family outing when I was younger. I have pictures of myself on the pump car when I was 5 years old."
In addition, his family was "big on educational trips, such as going to see [Conrail] taking the K4 [steam engine] off Horseshoe Curve. At the time I thought it was boring, but it shaped my interest."
After graduating from Shippensburg University in 2003, he wanted to be a history teacher, but instead wound up working at a Chevy dealership full-time and for a professional drag racing team part-time. The combination gave him experience in welding, fabrication, painting, and lettering. One of his co-workers at the dealership was Dave Boyer, who also worked part-time at Strasburg and EBT, which led to his job at Strasburg.
Now, at EBT, the 40-year-old Domitrovich enjoys support from management and the board, which includes industry heavyweights Wick Moorman, Henry Posner, and Bennett Levin.
"We've done more in 1 year than the previous 30 years. Everybody on the board is passionate about history and railroads, so when you want to do something, it's no problem."
"It's not a pipe dream," he says. "The buildings, the locomotives, the cars, the tunnels, the bridges — it's going to happen and it's going to happen a lot sooner than anyone thinks."
What is special about EBT? "If you're a history person and you can't get excited about EBT, you're not really a history person," he says. "The passion for the place is insane."