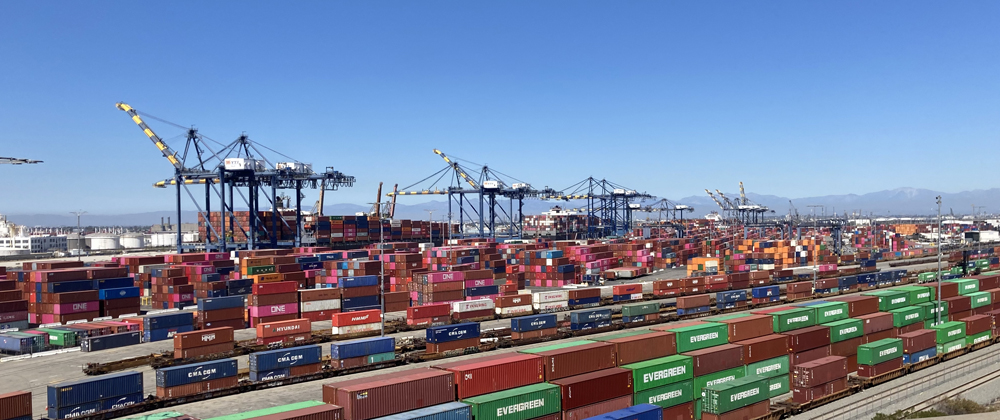 LONG BEACH, Calif. — It will take at least six months to alleviate monumental intermodal congestion that stretches from Asian ports, across the Pacific to U.S. ports, and on to railroads and their inland terminals.
"The intermodal industry is under unprecedented strain … worse than anything I've seen in 41 years that I've been in the business," analyst Larry Gross said as part of a panel discussion on Monday at the Intermodal Association of North America's Intermodal Expo.
The pandemic-related disruption is unique to North America, where consumer spending has risen, and retailers are seeking to keep up with demand and replenish low inventories at their distribution centers and store shelves.
Because of the import boom, a record 59 ships are anchored off the ports of Los Angeles and Long Beach awaiting berth space, says international shipping expert Lars Jensen of Copenhagen-based Vespucci Maritime. Some of the vessels have been anchored in San Pedro Bay for more than two weeks, delaying unloading of more than 400,000 twenty-foot equivalent units, or TEUs, the common measure of international containers.
Yet rail intermodal volume is down 10% from its 2021 peak in May, Gross says, and is now down 7% compared to last year. For July, international intermodal was up nearly 8%, but domestic intermodal, which includes international volumes that are transloaded into domestic containers, was down 6%, Gross says.
"What we really have here is a system starting to … bog down from all the operational constraints, congestion, and lower velocity, shortage of equipment, you name it," Gross says, noting that all links in the supply chain shoulder some of the blame.
"Intermodal volumes are missing a big opportunity at the moment," says Evan Armstrong of Armstrong & Associates. "Truck is picking up the slack."
Much of the volume waiting offshore at North America's largest port complex will eventually land on BNSF Railway and Union Pacific intermodal trains bound for points in the Midwest and Texas.
Both railroads have experienced congestion for months at inland intermodal terminals, particularly in the Chicago area. Shippers have been slow to pick up their containers, and then keep them longer for unloading at warehouses and distribution centers, which has created a shortage of chassis and bottlenecks at intermodal terminals.
BNSF expects to carry record intermodal volume this year and says it has largely worked off its backlog of international containers over the past two weeks. But with another wave of containers coming ashore — and more to come — officials from Union Pacific, Norfolk Southern, and Canadian Pacific all said the intermodal system was in "disarray" around the globe.
Kari Kirchhoefer, UP's vice president of marketing and sales for premium traffic, says the root cause of congestion is a chassis shortage. UP has some rail-owned containers still in storage because there aren't chassis available for them.
UP will be adding several thousand chassis to its fleet in the first half of 2022, she says. UP also hopes to decrease equipment street turn times by installing GPS sensors that will alert shippers when a container has been unloaded and can be returned to the rail terminal.
The chassis shortage likely won't be solved for six to 12 months, says Tim Denoyer, vice president and senior analyst at ACT Research. Tariffs of 200% have been placed on Chinese-made chassis, he explains, and U.S. chassis manufacturers are still ramping up production, which remains 30% below fleet replacement level.
Railroads say their intermodal networks have capacity to handle current volumes, but only if all links in the supply chain are working relatively smoothly.
"Everything depends on speed," says Leggett Kitchin, Norfolk Southern's group vice president of domestic intermodal. "At the current speeds, the box supply is probably tight … To the extent that we can speed up, and the street can speed up, then we'll have capacity to grow into."
Says Jordan Kajfasz, a Canadian Pacific assistant vice president of intermodal sales and marketing: ""From a rail perspective … we're one part of a global chain. And I don't think one part of the chain can't absorb the shock … of a systemic issue."