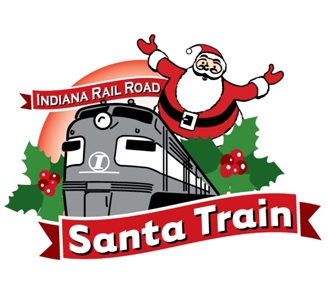 INDIANAPOLIS — After a pandemic cancellation in 2020 and a modified form of operation in 2021, the Indiana Rail Road's Santa Train returns to its traditional format this weekend, making 12 stops over three days Friday through Sunday, Dec. 2-4.
The train's stops will offer guests the chance to visit with Santa and Mrs. Claus, as well as other costumed characters, aboard the train's decorated passenger cars. The event is free and open to guests of all ages, and will also feature coats, hats, and gloves being given away to children in need.
Volunteers and guests alike are looking forward to a more traditional format of Santa Train," says Dewayne Swindall, president and CEO of The Indiana Rail Road Company. "Giving back to the communities in which we operate in such a unique way brings a distinctive joy to our team during the holiday season."
The Santa Train originated in 1989 as a volunteer project of Indiana Rail Road employees.
The Santa Train will begin its 2022 tour by bringing Santa to Bargerville, Ind., Friday at 4:30 p.m. There, events will not be at the train, but at Bargersville's Town Hall, where Santa will be part of town festivities.
The remainder of the Santa Train schedule includes these stops: