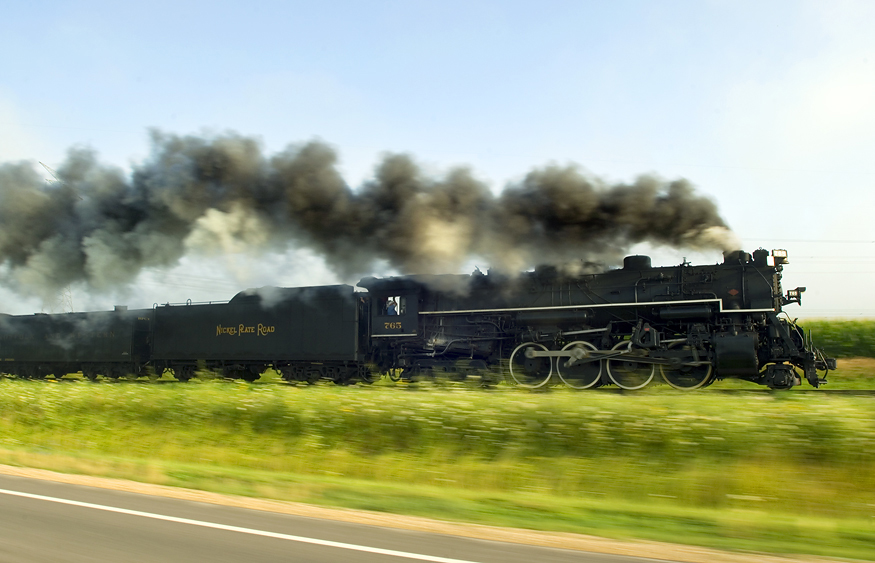 ---
ANGOLA, Ind. — The Ft. Wayne Railroad Historical Society has announced plans for "The Indiana Rail Experience," a series of trips featuring Nickel Plate Road Berkshire No. 765 on the Indiana Northeastern Railroad.
A complete schedule and tickets for the excursions will be available later this month at the Ft. Wayne Railroad Historical Society website.
''We have a multi-year agreement to operate, and this will be the first of several trips based out of Angola, Ind.," says Kelly Lynch, vice president of the Ft. Wayne Railroad Historical Society.
"We are planning at least 12 days this year, with the idea of expanding in the future. It is our desire to make this railroad our regular outing, and to draw people to Northeastern Indiana," Lynch tells Trains News Wire.  "It is a good chance to shine a light on the Indiana Northeastern Railroad and to highlight the role that they play in the community. This has been 10 years in the making; obviously the railroad has been making a lot of investments in the infrastructure."
"Our railroad has helped drive the economy of this region since it was started to support local farmers," Gale Shultz, president of the Indiana Northeastern, said in a Ft. Wayne Railroad Historical Society press release. "We're hoping to not only shine a spotlight on our community with the popularity of the 765, but let the world know that the region and the railroad is open for business."
The 105-mile railroad, headquartered in Hillsdale, Mich., operates in southern Michigan, northwest Ohio, and northeast Indiana, interchanging with Norfolk Southern at Montpelier, Ohio. The railroad dates from 1992, evolving from the Pigeon River Railroad with purchase of portions of the Hillsdale County Railway.
"This multi-year agreement will allow us to offer experiences to our friends and neighbors like never before," Lynch said in the press release. "We could not be more fortunate to work with a local, family-owned organization like the Indiana Northeastern. This partnership will bring joy to thousands of residents and visitors''.
No. 765, a 2-8-4 built in 1944,, was one of 80 NKP Berkshires. The historical society is also nearing completion of restoration work on former Nickel Plate SD9 No. 358. "Our target is to paint the locomotive this summer," Lynch says, "and it will join 765 on the 'Indiana Rail Experience.'"
This is the 50th anniversary of the historical society, based in New Haven, Ind., which has 100 people on its volunteer roster with a core group of 50 or 60 active members.