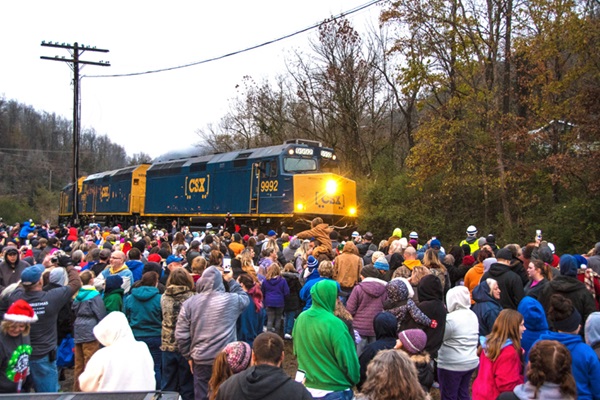 ---
KINGSPORT, Tenn. — The CSX Santa Train will run this year after all.
In a reversal of an earlier decision, the Santa Train Facebook page announced this morning (Tuesday, Sept. 27) that the train will mark its 80th anniversary year by running on Saturday, Nov. 19.
"Feedback and community support, in addition to positive developments regarding staffing, have made it possible for the train to run its traditional route from Shelby Yard near Pikeville, Ky., to Kingsport, Tenn.," the post says. Additional details from the railroad and co-sponsors Food City, the Kingsport Chamber of Commerce, Appalachian Power and Souls4Souls will be released on social media in the days and weeks ahead.
Bryan Tucker, CSX vice president of corporate communications, said in a press release that the Santa Train "is an important tradition, and running the train on its 80th anniversary and beyond was always our hope. … Going forward, our plan is to continue the event in Appalachia. The Santa Train means so much to so many, from the community to our employees. Our hope is to use the Santa Train tradition as a blueprint for community events and holiday trains in other parts of our network as well."
The Kingsport Times News reported last month that the train would not run in 2022, this time because of staffing and supply-chain problems, after being sidelined for two years because of the COVID-19 pandemic [see "CSX Santa Train will not run for third straight year," Trains News Wire, Aug. 23, 2022]. At the time, Bryan Tucker, CSX vice president of corporate communications, said "all of CSX's resources and personnel are needed to help service our customers and keep the nation's economy moving." The gift distribution that is part of the train's trip was to have been handled as a drive-up event at grocery stories along the train's route, as it had been the previous two years.
The Santa Train originated in 1943 on the predecessor Clinchfield Railroad. It last operated on Nov. 23, 2019, with a consist powered by CSX's executive F40PH-2 locomotives [see "CSX Santa Train makes its 77th journey," News Wire, Nov. 25, 2019].