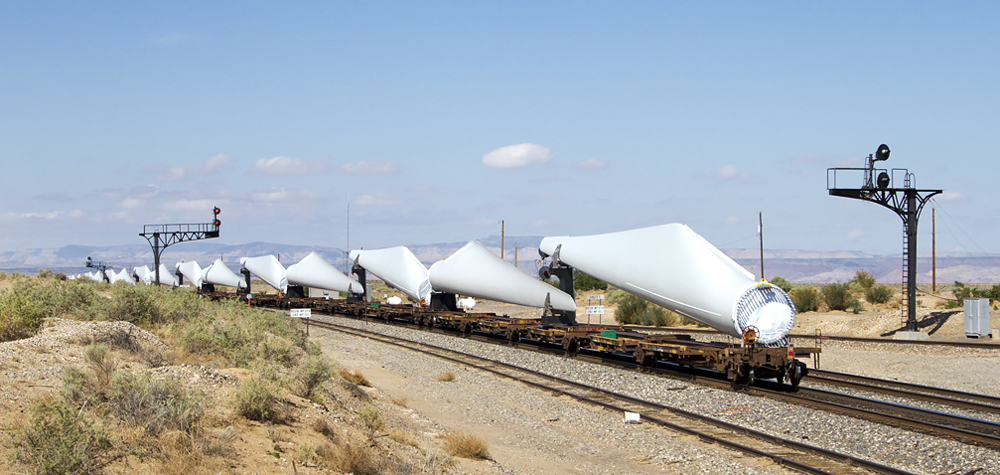 ---
Railroads will not replace each coal hopper with a flat car of windmill blades, but America's commitment to increasing its use of renewable energy is altering the relationship between railroads and energy. Whether through the transportation of raw materials, intermodal, or network capacity, renewables will affect railroads' business because of how it is interwoven in the global supply chain.
Today the U.S. is reliant on fossil fuels for electricity, leaning on natural gas, coal, and other non-renewables for 80% of its energy needs. Renweable energy accounts for 20%, with wind at 9%, hydropower 6%, solar 2%, and biomass at less than 2%, according to recent U.S. government data. The government and companies that do business in America, including railroads, are committed to cleaner, more efficient renewable energy. Railroads will inevitably be integrated into the renewable energy supply chain as it gains more market share.
In 2012, renewables produced 495 billion kilowatt hours of electricity; in the ensuring 10 years, that has increased 60% to 792 billion kilowatt hours. According to the National Renewable Energy Laboratory, wind generating capacity has more than doubled in the past decade, with Texas, Iowa, and Oklahoma leading the nation in wind farms. Today there are more than 70,800 wind turbines.
Windmills are made up of thousands of parts, consisting of steel, fiberglass, resins, or plastics, as well as iron, copper, and aluminum. Each of these raw materials are regularly hauled by freight railroads. Windmill manufacturers have factories across North America to build nacelle and wind turbine blades. General Electric, Siemens, and Vestas are major manufacturers, accounting for roughly 75% of manufactured wind capacity.
Solar panels also use raw materials hauled by railroads, being made from crystalline silicon, copper, and metals. A standard residential 60-cell solar panel, measuring 5.4 feet by 3.25 feet, can include up to 660 grams of silicon. A single railcar carrying 100 tons of silicon would provide enough material for more than 137,000 of these solar panels.
Finished panels can be shipped in boxcars or intermodal containers. This creates opportunity for intermodal rail, particularly for imports, because the U.S. relies heavily on Asia to fill a domestic supply gap, even with Trump-era tariffs imposed on imported solar energy. About 80% of U.S. solar panel installations use panels originating in Malaysia, Vietnam, or South Korea.
Based on this information, one could conclude railroads' relationship with energy suppliers favors fossil fuels; however, it's not fair to say railroads are entirely excluded from the renewable energy movement.
Railroads can financially benefit from renewable energy technology d for applications ideal for solar panels or alternative energy. This is already occurring with wayside infrastructure or battery-powered locomotives. Railroads are also leveraging technology to maximize fuel conservation and being smarter about the energy they consume. These efforts improve operating costs when carload revenues are soft, especially in coal-rich areas of the Class I network.
As big railroads move fewer coal carloads, their networks have surplus capacity to handle new business growth. This allows a sharpened focus on converting truck traffic to rail, the "pivot to growth" in which railroads target carload growth as part of implementing Precision Scheduled Railroading. Attracting more carloads theoretically means fewer carbon emissions from highway trucks, giving railroads an environmental edge over its trucking competitors.
Railroads have been provided the opportunity to change how they conduct business, touting their environmental benefits to an audience increasingly sympathetic to sustainability. This would demonstrate not only the industry's ability to change but resiliency during a time of transitioning priorities.
Railroads won't replace every lost carload of coal, but their success in adapting to will ensure relevancy in a renewable world, hauling raw materials, capitalizing on intermodal, and being smart about operating costs. Renewable energy is a chance for railroads to re-think how they run trains