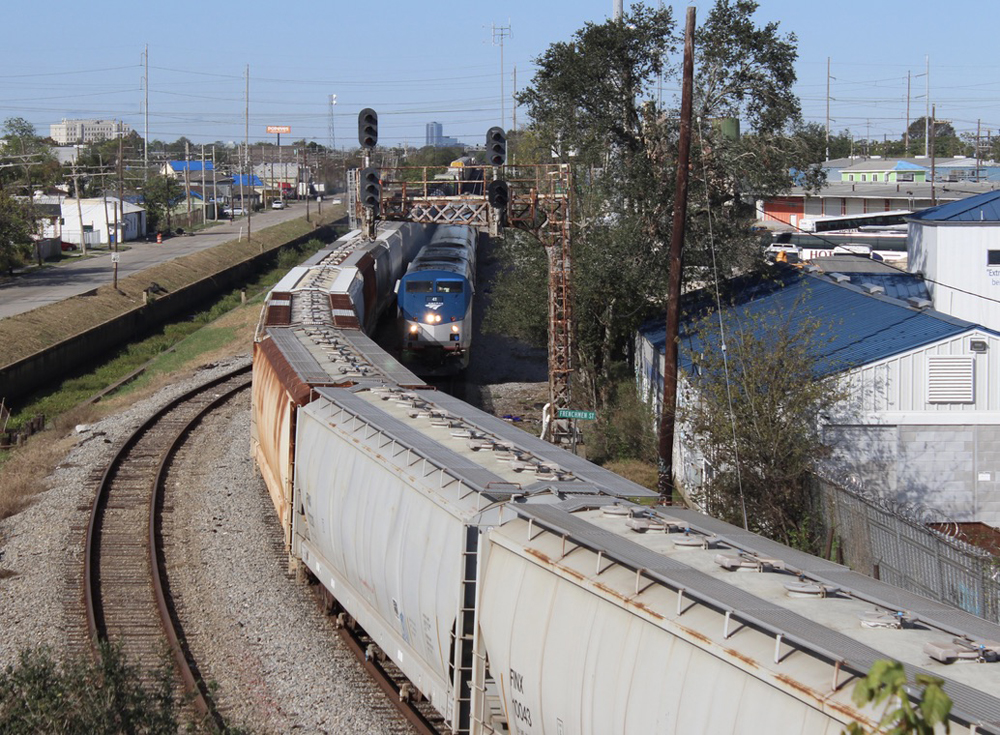 ---
WASHINGTON — The launch of Amtrak Gulf Coast service without infrastructure improvements would cause "immediate and future impairment to freight service that is unreasonable under any definition," CSX Transportation and Norfolk Southern argue in their latest filing with the Surface Transportation Board.
This is the exact opposite of the contention Amtrak makes in its latest STB filing, as well as the essential underlying disagreement in the dispute over the launch of passenger service between New Orleans and Mobile, Ala. The railroads support their claim by citing projected deterioration of freight service, in both the near and long term, using a variety of measures.
The 343-page supplemental evidence filing, posted Friday on the STB website, also argues the burden of proof in the proceeding is on Amtrak as the party seeking a ruling — again, the opposite of Amtrak's contention [see "Amtrak again argues …," Trains News Wire, July 29, 2022]. And it contends that infrastructure projects proposed by the Federal Railroad Administration in 2017, which would cost $193 million to $210 million in 2021 dollars, "do not mitigate a significant portion of the harm to freight rail service" resulting from Amtrak service. It emphasizes that neither the FRA nor the Gulf Coast Working Group addressed impacts on to Norfolk Southern in the New Orleans area, a subject addressed at length during one day of STB hearings in April [see "STB Gulf Coast hearing Day 3 …," News Wire, April 6, 2022.
In another filing posted Friday, the Alabama State Port Authority and its short line, Terminal Railway Alabama State Docks, maintain their contention that Amtrak service will negatively impact the Port of Mobile, calling the Amtrak proposal "a product of Amtrak's exceedingly callous indifference to the Port, and by extension, the State of Alabama, generally, and the Port's operations at Mobile."
CSX, NS stress importance of long-term impacts
The host railroads' filing emphasizes the need to consider the possibility of future impairment, and the statistics it cites make clear why they highlight this aspect. CSX and NS argue that according to their 2021 Rail Traffic Controller model, the addition of passenger trains "will result in a systematic failure in CSXT and NSR's ability to provide freight service based on a modest anticipated growth rate" — with freight delays increased by 20.4%, speeds decreased by 4.5%, dispatching conflicts up 42.8%, and recrews increased by 42.9%.
The filing redacts many of the specific details of the TRC modeling and actual operations, such as train lengths and recrew figures.
Immediate impacts, they say, are also significant, including a 22.7% increase in delays, the same decrease in freight speeds, and a 37.7% increase in recrews. And the railroads say the RTC report "confirms that neither operational changes such as shorter freight trains or revised moveable bridge regulations, nor the FRA identified projects, will mitigate this harm."
The railroads also argue that the Amtrak proposal would not meet the congressional goal of a systemwide average of 60-mph service, which it says matters because "it goes to whether the service is worthwhile at all." The Gulf Coast service would average 42.6 mph, under Amtrak's proposed schedule, they note.
Port says it can't adjust operations, snipes at Amtrak
The 17-page filing from the Alabama State Port Authority notes that STB Chairman Martin Oberman has asked whether freight railroads had done enough to consider operational adjustments before seeking infrastructure improvements. It says that because of service needs of its customers and interchange partners, and CSX's control of the need for the port railroad to use and cross CSX tracks, "the idea that has any true flexibility to adjust its operation to better accommodate Amtrak and avoid freight service impacts on its system [is] unfounded." It further asserts that "if Amtrak or its experts thought TASD reasonably could making operating adjustments, they could have, and should have, offered specific examples to prove the allegation, but they haven't." This is one of the filing's many digs at Amtrak.
Another comes during the Port Authority's lengthy consideration of what constitutes "unreasonable impairment," which includes a suggestion that formal rulemaking might be better address the lack of clarity on this key topic. While this would delay the current procced, the port says, it would provide clearer rules than have been set out by Congress — and adds, "After all, Amtrak's characteristic impatience and sense of entitlement do not count for everything."