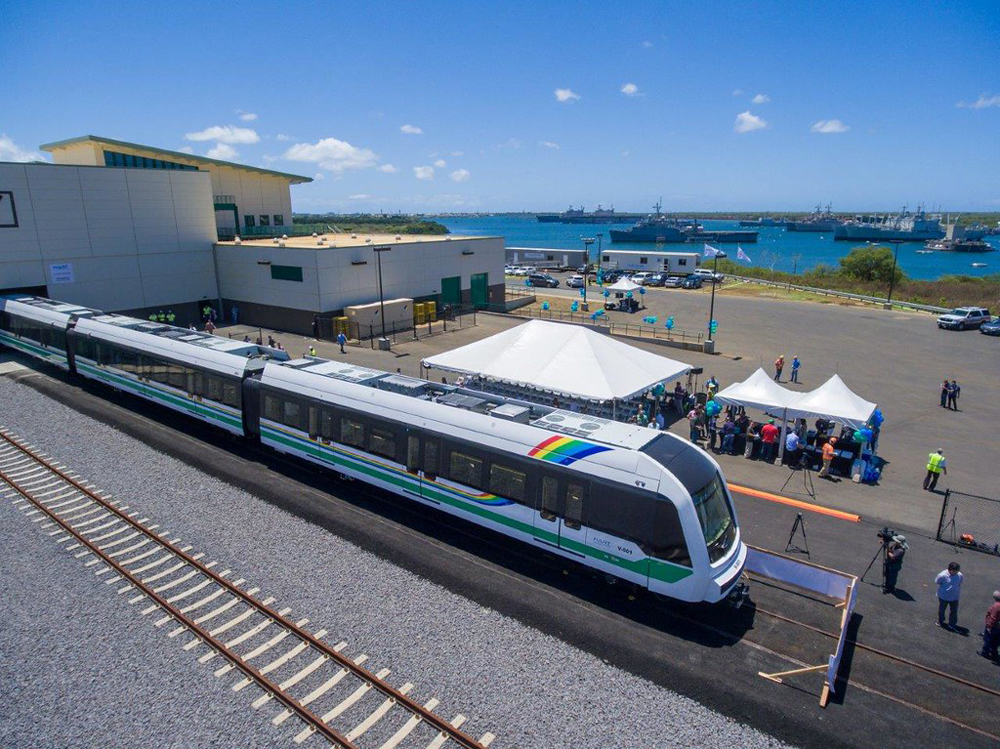 ---
HONOLULU — Honolulu's long-delayed, multi-billion dollar rail rapid transit project is expected to see its first riders this spring. The Honolulu Authority for Rapid Transportation will hand over a 10.8-mile route from East Kapolei station to the Halawa/Aloha Stadium station to the City and County of Honolulu Department of Transportation Services in March or April, HART says.
HART is responsible for construction of the system while the Department of Transportation Services will be responsible for operation and maintenance. Opening is likely to come in May or June.
Originally a 20-mile system with 21 stations and 20 four-car trains traveling from East Kapolei to Ala Moana Center, the line has since been shortened to 18.75 miles with the final stop to be the Civic Center station at the intersection of Halekauwila and South streets in Kakaʻako.
Trains will travel a top speed of 55 mph, with an average speed of 30 mph. HART's original plan, with a route to Ala Moana, estimated 119,600 boardings daily and about 55% of passengers walking or biking to a station. The rapid transit line is being constructed almost entirely on an elevated guideway above street level.
Cost overruns have plagued the project, which — by shortening the route — is now expected to cost about $9.9 billion. Prior estimates for the full route had varied, but reached as high as $12 billion. If the line is finished in 2031 as planned, it will be eleven years late; original estimates had the line finished in 2020.
The remainder of the system is projected to open in two additional segments, a 5.2-mile section to Middle Street in early 2025 and a 4-mile portion to Kakaako in March 2031.
— Updated with several corrections or clarifications on Jan. 24 at 9 a.m. CST; additional details on cost clarified at 5:15 p.m.