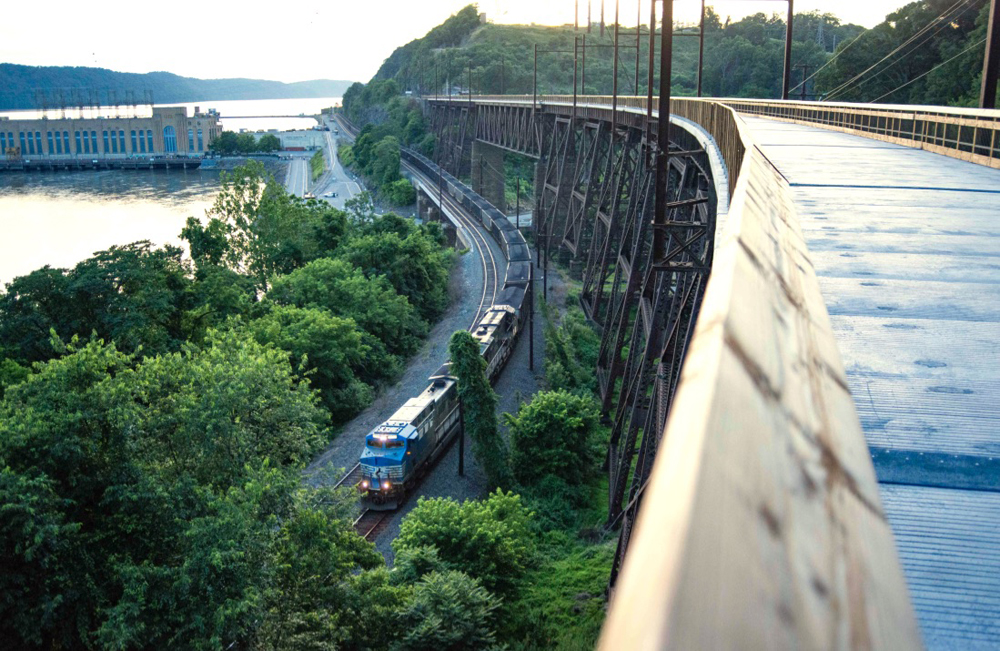 ---
SAFE HARBOR, Pa. — Where electric-powered freight trains once rumbled high above the Susquehanna River en route between the East Coast and Midwest, hikers, bikers, and runners now catch breathtaking views of soaring bald eagles from the 150-foot-high Safe Harbor trestle.
Opened earlier this month to public use as part of the planned 29-mile-long Enola Low Grade Trail, the bridge was restored at a cost of $9 million in federal, state, local, corporate, and private-citizen funding. Spanning the Conestoga River, a tributary of the Susquehanna, the quarter-mile-long curving steel bridge offers a panorama that includes the Safe Harbor Dam and hydroelectric plant, which generates some of the 12,000-volt AC power that Amtrak uses to energize catenary for electric locomotives on its Keystone and Northeast corridors.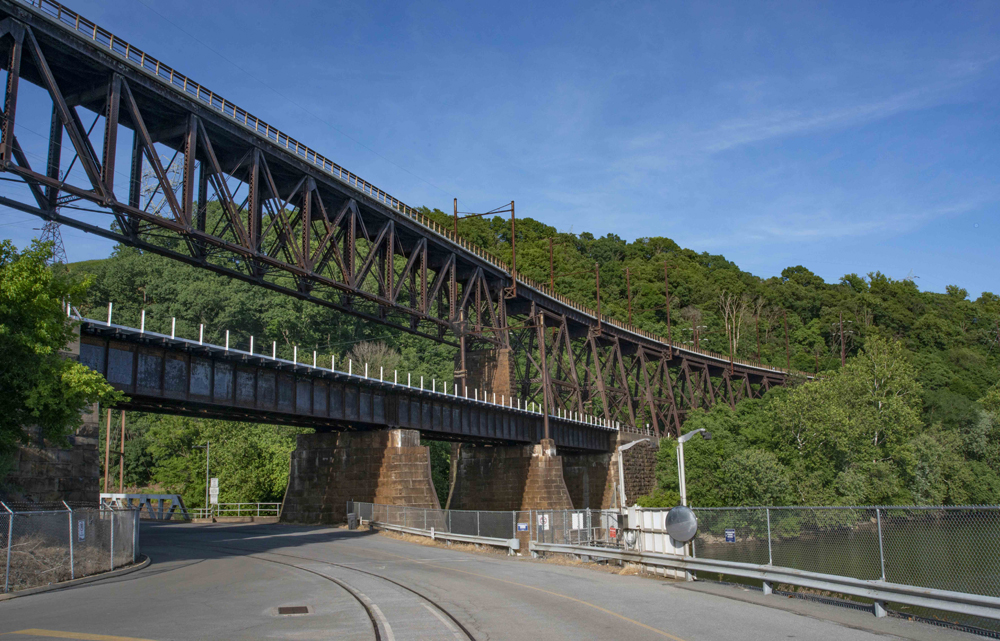 Listed on the National Register of Historic Places, the Safe Harbor bridge was a centerpiece of the Pennsylvania Railroad's double-track Atglen & Susquehanna Branch, also known as the Enola Low Grade line, part of an extensive early-20th-century, low-grade, freight-only bypass route to manage a flourishing volume of business.
Integral to the plan was the construction of PRR's 4-mile-long Enola Yard near Harrisburg, Pa., which, together with other connecting PRR lines, anchored the west end of the A&S route. The bypass and the yard were built under the same management — PRR Chief Engineer William Henry Brown and contractor H.S. Kerbaugh, Inc.
In 1989, changing economics and a de-emphasis on Enola as a classification yard led successor Conrail to divert all freight traffic onto a former Reading Co. route and to abandon the A&S. Ownership went first to Norfolk Southern, and then to seven contiguous townships along the right of way.
Officials estimate that use of the trail will jump from 70,000 persons a year to 100,000 as a result of the Safe Harbor bridge opening, and even more when the nearby Martic Forge bridge, damaged by arson in 2018, is restored later this summer. Ultimately, the Enola Low Grade Trail is expected to connect with others to create an 80-mile corridor stretching from Philadelphia to Columbia, Pa., says Mike Domin, a planner with the Lancaster County Planning Commission.
Trail opened in stages

With segments of the trail opened earlier, closing the gap was a major hurdle, Domin says:  "Safe Harbor Bridge was a huge challenge to making this happen – 150 feet high, a quarter-mile long, and $9 million to do both the engineering and restoration."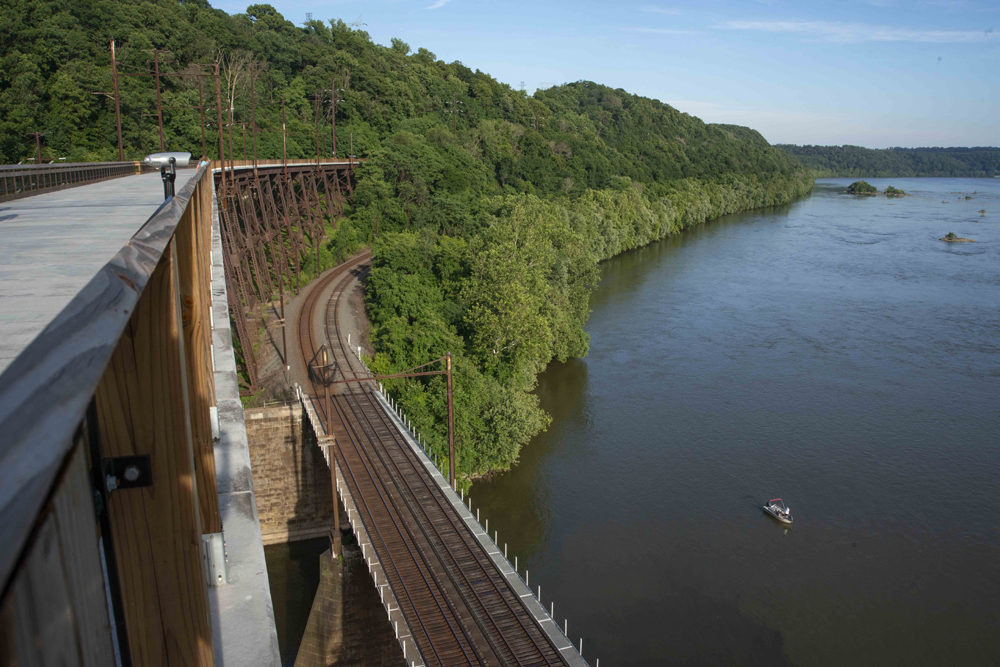 Money wasn't the only obstacle. When elected board members of the seven local municipalities — Manor Township, Conestoga Township, Martic Township, Providence Township, Eden Township, Bart Township, and Sadsbury Township — acquired the right of way from NS, many fought the concept of a rail trail.
"We were opposed by most of the municipalities," Domin says, but over the span of 30 years, opinions softened as the composition of elected boards turned over. Also, he says, "People got used to [the idea]. People heard about experiences in other communities, and said, 'This is a good idea.'"
As segments were opened, Domin says, "Support grew, and grew stronger as each section was finished." Opening of the Safe Harbor link comes none too soon, he says.
"Lancaster County has over 550,000 [residents] who are looking for recreational opportunities," he says. "Our other rail-trails are getting very, very crowded, and this will take pressure off other recreational facilities in the county."
Other trails in the region use portions of the former Reading Co.'s Reading & Columbia Branch, and 14 miles of a former Pennsylvania Main Line Canal towpath, now known as the Northwest River Trail.
Running south from Columbia. Pa., the A&S line split at Creswell, where PRR's Columbia & Port Deposit Branch, also known as the "Port Road," diverged and paralleled it for 5 miles to Safe Harbor, but at an increasingly higher elevation. When the two lines reached the Safe Harbor crossing of the Conestoga River, the A&S bridge was 92 feet higher than the Port Road bridge, but they shared common masonry stonework.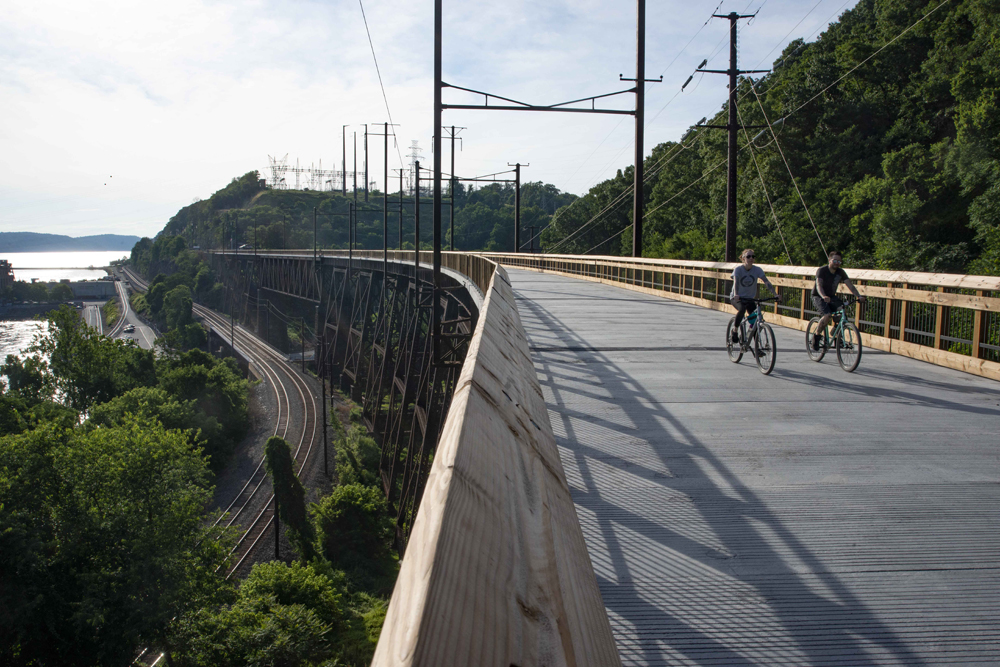 The A&S line then turned east toward Philadelphia and New York, while the Port Road continued south at river level toward Perryville, Md., and a junction with what is today's Amtrak Northeast Corridor.
The metal elements of both bridges at Safe Harbor were fabricated by the Pennsylvania Steel Co. of Steelton, Pa. The showpiece of the upper structure is a 300-foot-long pin-connected Pratt deck truss, with riveted plate-girder viaducts on steel trestle bents on either side. The north approach comprises nine spans totaling 480 feet, while the south approach comprises 17 spans totaling 780 feet, for a total length of 1,560 feet. Ad Crable, a longtime columnist for Lancaster Newspapers Inc., described the assemblage as an "Erector-set-looking bridge."
On the lower level, the NS Port Road Branch remains active, handling trains bound for Wilmington and Reybold, Del. (general freight, crude oil, and ethanol), and Baltimore (general freight, export coal, and intermodal traffic). Most of these trains run at night because of Amtrak's curfew that limits freights mostly to a 10-p.m.-to-6-a.m. window on the Northeast Corridor.
As a result, it's rare for users of the trail – open from dawn to dusk – to see much rail activity below them. Exceptions are extras such as ballast trains, hi-rail inspections or heat patrols, or rail geometry trains, which NS typically dispatches over the line during off periods of regular freight-train usage.
Line's construction was a major undertaking

The A&S was designed to divert slow, heavy freights from the original line, laid out in the 1830s by the state-owned Philadelphia & Columbia Railroad. Despite the generally level Amish farmland through which it passed, the line included steep grades at Paoli, Gap, and Elizabethtown.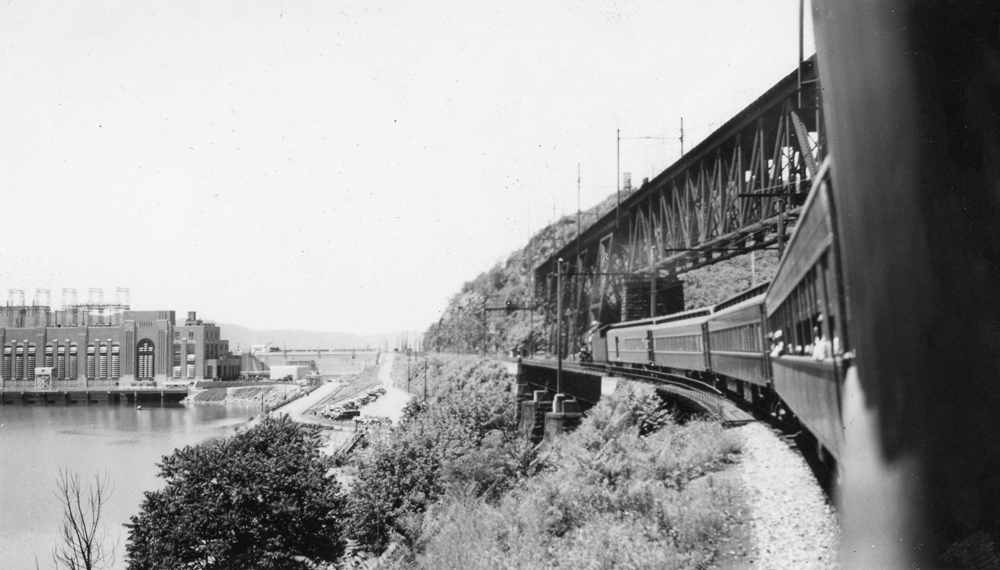 A massive undertaking at the time, its construction involved "over 3½ years, $19.5 million, and reportedly more than 200 lives [lost]," according to the late historian Fred Abendschein, whose seminal 1993 article in the Journal of the Lancaster County Historical Society is still a go-to source.
The line was completed in August 1906, soon after the opening of Enola Yard in 1905. PRR electrified the line in 1938, after which it was used by GG1 streamlined engines and P5a locomotives (both box-cab and streamlined versions), and later, by boxy General Electric E33 and E44 freight motors.
Successors Penn Central and Conrail continued to use the line, but a major change came in 1981, when Conrail ended all electric operations. Conrail then decided that the A&S was redundant, abandoning it in 1989 in favor of the former Reading Co. Harrisburg-Reading-Philadelphia main line and a Reading-Lehigh Valley routing to the New York metro area.
According to historian and retired Conrail official Abram Burnett, the last revenue train to pass over the Safe Harbor bridge was a mixed-merchandise freight, Conrail symbol PIMO (Pittsburgh [Conway Yard] to Morrisville, Pa. [near Trenton, N.J.]) on December 19, 1988. It left Enola at 1:02 p.m. behind CR units 6459-6482 (SD40-2s), 7743 (a GP38) and 1612 (a GP15-1), pulling 77 loads and 57 empties for a total of 10,455 tons. The crew consisted of engineman (PRR term for locomotive engineer) Gerald R. Clark and conductor Nicholas A. Rizzio.