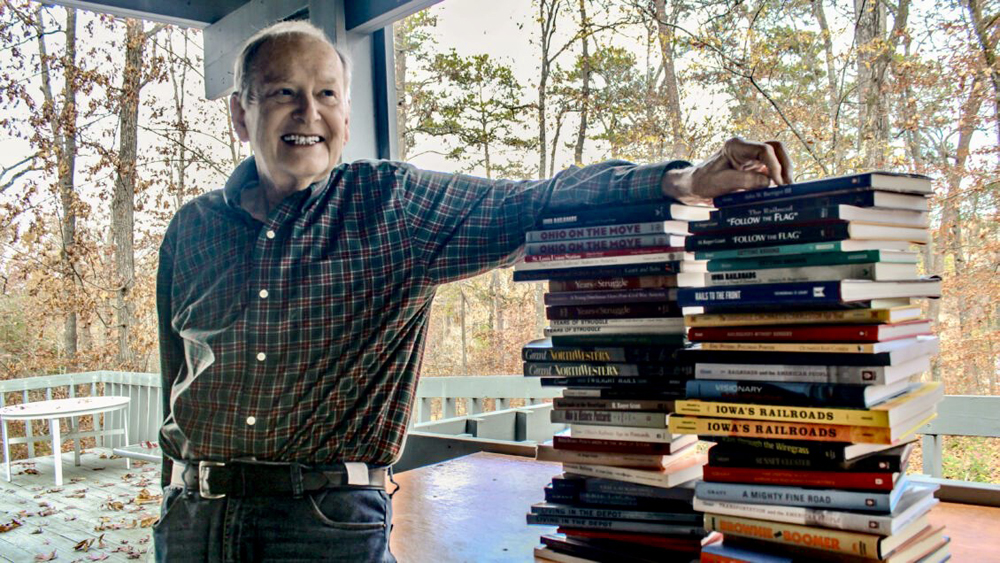 ---
It is possible that no railroad author was as prolific, nor as wide-ranging in his interests, as H. Roger Grant. "If there is a chapter of railroad history that this scholar hasn't researched, we don't know what it is," wrote Trains Editor Jim Wrinn in the magazine's 75th anniversary issue in November 2015. "Grant makes railroad history relevant to new generations."
Grant, a leading professor of transportation history and the author of more than 40 books, died Nov. 17, 2023, in Clemson, S.C., where he taught at Clemson University. He was 79. The cause was a heart attack.
For Thomas Hoback, founder of the Indiana Rail Road and a colleague of Grant's as advisor to Indiana University Press, the loss to the field of railroad literature is profound. "Roger's vast knowledge of railroad and transportation history was extraordinary," says Hoback. "His years of research also gave him an uncanny perception of what defined exceptional railroad leaders."
Grant's books, most often for university presses, cover nearly the full spectrum of American railroad history, from biography (Jervis Langdon, John W. Barriger III) to comprehensive company histories (Rock Island, Chicago & North Western) to studies of railroads' impact on the culture (the role of the station agent, the joy of railroad postcards) to wartime railroading.
In his monumental 2013 volume "Railroads and the American People," Grant considered the social impact of during the years 1830-1930, a model he followed 6 years later with "Transportation and the American People," covering not only railroads but also canals, stagecoaches, airlines, and buses. Both were published by Indiana University Press, where he was an advisor for its "Railroads Past and Present" book line.
Grant also had a fondness for electric traction, borne of his youth in Albia, Iowa, and manifested in his 2016 book "Electric Interurbans and the American People," which again focused more on the social impact of its subject rather than nuts-and-bolts technology. Penn State's John Spychalski called it "a lucid synthesis of an industry's rise, demise, and impacts on its myriad stakeholders."
Grant was born in Ottumwa, Iowa, on Nov. 28, 1943, and grew up in Albia, an idyllic south-central Iowa town served at various times by several granger railroads, as well as two interurban carriers. Childhood gave him a deep attachment to railroads in the Hawkeye State, reflected in several of his books with Iowa connections.
He earned a Bachelor's degree in 1966 at Iowa's Simpson College, which in 2002 named him Doctor of Humane Letters. Grant received his Ph.D. in history from the University of Missouri in 1970, taught at the University of Akron from 1970 to 1996, then became a professor at Clemson, where he served as the Kathryn and Calhoun Lemon Professor of History, a position he held until his death. He was noted for his insights and analysis of the Populist-Progressive era in the U.S.
In 2005, Grant also was the Maxwell C. Weiner Distinguished Professor of Humanities at the University of Missouri-Rolla, now known as the Missouri University of Science & Technology.
An active member of the railroad history community, Grant served on the board of directors for the Lexington Group in Transportation History, the Center for Railroad Photography & Art (CRPA), and the John W. Barriger III National Railroad Library in St. Louis. In 1999, the Railway & Locomotive Historical Society awarded Grant its "George W. and Constance M. Hilton Book Award" and in 2005 its "Gerald M. Best Senior Achievement Award." He was a life member of the venerable Akron Railroad Club.
Grant was an active and animating participant in numerous conferences and meetings sponsored by such organizations as Lexington Group, R&LHS, and the CRPA, as well as academic gatherings. He loved a friendly debate, delivering his thoughts and opinions with characteristic generosity and humor. He reveled in the fellowship.
"Roger had an unfailing sense of humor," recalls Hoback. "In working through manuscripts for IUP, we were able to work through different points of view but it was often his rapier wit that helped close those occasional disagreements over content."
Grant's stature as a historian was confirmed by retired Smithsonian Institution curator and author John H. White Jr., who once wrote: "Is it necessary to comment on an established author such as Roger Grant? Heavens, he is a fine scholar and writes better than Hemingway."
Grant, who was in his 27th year at Clemson, had planned to retire at the end of the current semester. He is survived by his wife, Martha.
Information on services and memorials for H. Roger Grant is pending.