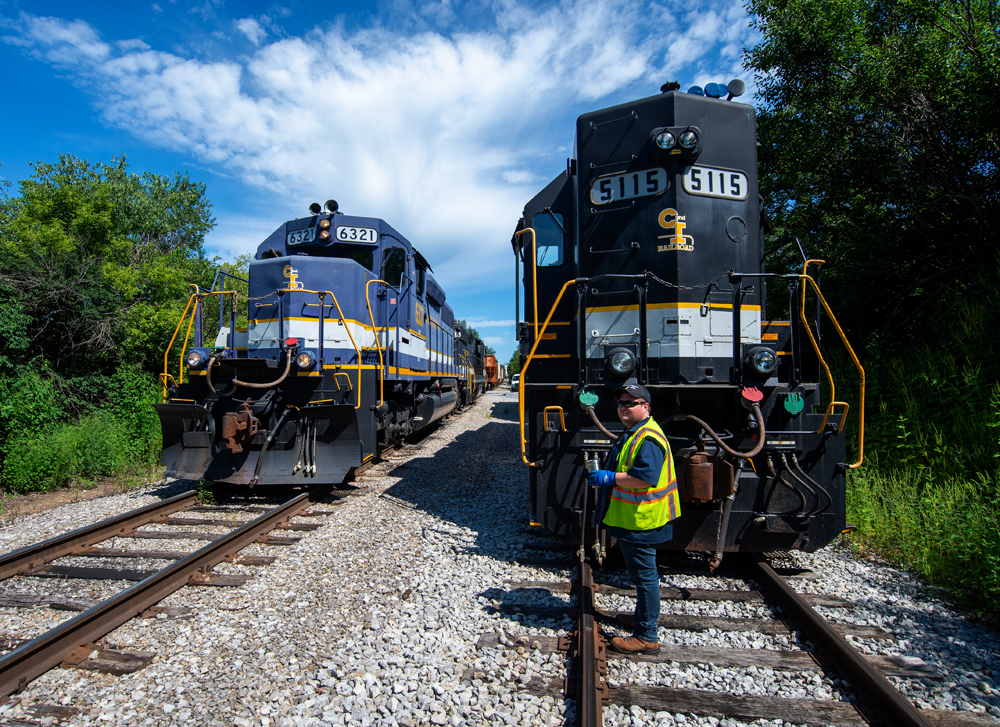 ---
JACKSONVILLE, Fla. — Gulf & Atlantic Railways will acquire three railroads operating in Illinois, Indiana, and Ohio — the Chesapeake & Indiana, Vermilion Valley and Camp Chase — from Midwest & Bluegrass rail, the company announced Monday.
The railroads involved are:
— The Chesapeake & Indiana (CKIN), a 28-mile line in northwest Indiana, with connections with Norfolk Southern and CSX Transportation and a rail-truck transload facility at La Crosse, Ind. The railroad, nicknamed the "Chicken" by railfans in a reflection of its reporting marks, has an eclectic locomotive roster that has made it a favorite of photographers.
— The Camp Chase (CAMY), operatiing 15 miles in the Columbus, Ohio, area. It interchanges with NS and CSX, and offers rail-truck transload.
— Vermilion Valley (VVRR), which connects with CSX in Danville, Ill., and extends 10 miles from the Illinois-Indiana state line to Olin, Ind., and also offers rail-truck transload.
Vermilion Valley's locomotive shop at at Olin, off the former Peoria & Eastern Railway's Indianapolis-to-Pekin line, has turned out several notable restorations and repaintings. These include a former Erie Mining Railroad F9, No. 4210; a former Southern Railway GP38-2 in a Southern paint scheme, and twin SD40-'s in a sharp blue livery. Another Southern-painted unit,  former Duluth, Missabe & Iron Range SDM No. 815, reportedly has been sold.
Midwest & Bluegrass had acquired the three operations from Indiana Boxcar in September 2020. Indiana Boxcar still owns several units leased to the railroads.
"We look forward to continuing the safe, customer-focused operations of these railroads, which we believe are complementary to our existing business," Gulf & Atlantic CEO Ryan Ratledge said in a press release. "The high-quality leadership at Midwest & Bluegrass has done a tremendous job of enhancing these lines and preparing them for growth. We are eager to begin working with the solid group of professional railroaders who will soon join the Gulf & Atlantic team."
Cassie Dull, G&A's chief commercial officer, told Trains News Wire the acquisitions "will further diversify our business — this includes our customer base, geography, services provided, and partnerships with Class I railroads. These railroads provide a strong foundation for continued, successful growth.
"We are excited for the transaction to close so we can spend time with our new team members and focus on a safe and seamless transition that positively benefits all stakeholders – employees, customers, and the communities."
Gulf & Atlantic owns two other railroads, the 430-mile Florida, Gulf & Atlantic and the the 228-mile Grenada Railway, operating from central Mississippi to Memphis, Tenn.
Gulf & Atlantic and its partner, Macquairie Infrastructure Partners, had notified the STB of the purchase agreement in a March 22 filing, saying that "Gulf & Atlantic will bring significant financial strength and management expertise to the operation of the three railroads."
The sale trims the Midwest & Bluegrass roster from five railroads to two. The company retains the Youngstown & Southeastern Railroad and the Transkentucky Transportation Railroad.
— Trains editor David Lassen contributed to this report.