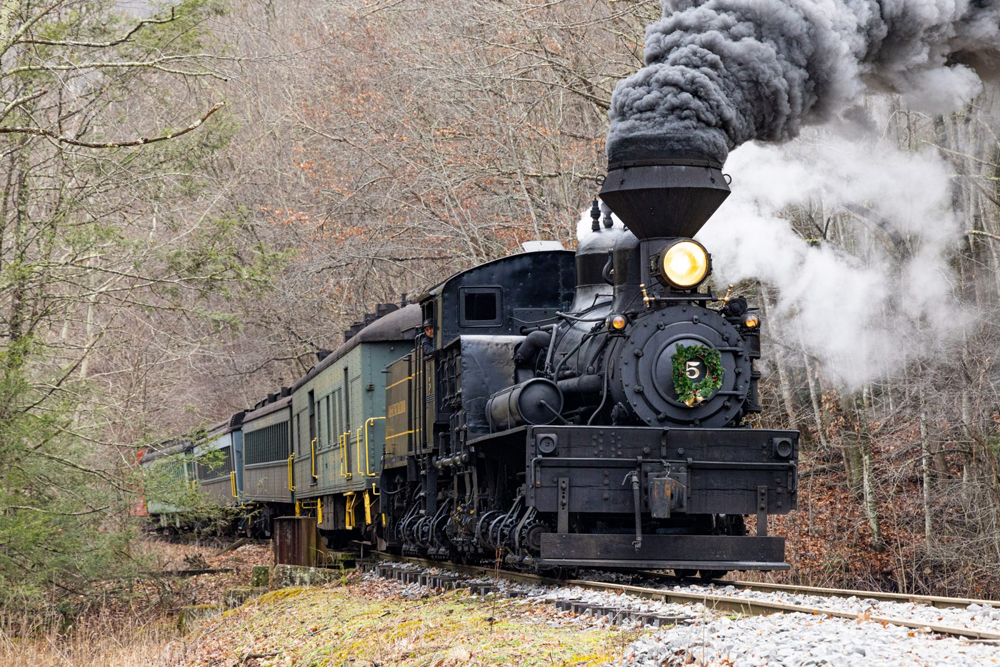 ---
ELKINS, W.Va. — The inaugural run of Durbin & Greenbrier Valley Railroad's Greenbrier Express operation is set for Saturday, May 13, the railroad has announced.
The initial run on the recently reopened, 15-mile Cass-to-Durbin remnant of the Chesapeake & Ohio Railroad's Greenbrier Subdivision quickly sold out. Regular service will begin the following Saturday, May 20.
Durbin & Greenbrier Valley CEO John Smith says plans for the inaugural run call for a 10 a.m. departure from Cass. The train will feature doubleheaded geared steam locomotives, lunch for everyone on board in Durbin, two photo run-bys, and a special gift for all passengers. Should any seats become available, ticket prices (which do not include taxes and fees) are $109 for adults, $107 for seniors, $105 for active military and veterans, $89 for children ages 4 to 11, and free for those 3 and under.  More information is available online or by calling 304-636-9477 weekdays between 9 a.m. and 5 p.m.
The regularly scheduled Greenbrier Express trains will also depart Cass at 10 a.m. and will feature one of Cass Scenic Railroad's geared steam locomotives. Lunch will be served in Durbin. The 30-mile round trip will take approximately 5 hours. Ticket prices range from $59 for children ages 4-11 to $79 for adults; with senior and military discounts; prices increase by $10 beginning Sept. 13. For more information, visit the Greenbrier Express page of the Durbin & Greenbrier Valley website or call 304-636-9477 weekdays between 9 a.m. and 5 p.m.