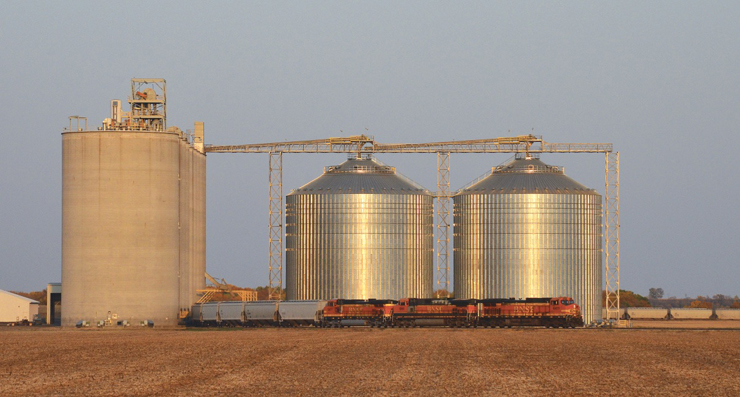 ---
WASHINGTON – The trade group representing grain producers says severe delays on BNSF Railway, Norfolk Southern, and Union Pacific have forced its members to shut down flour mills as well as feed mills that produce food for livestock.
The National Grain and Feed Association outlined the rail service problems in a letter posted to the Surface Transportation Board website on Friday – and blamed them on crew shortages related to Precision Scheduled Railroading.
"At rail origins, NGFA members are unable to purchase grain from farmers because they are full while awaiting loaded trains to be moved out by the railroad," the group's CEO, Michael Seyfert, wrote to federal regulators. "Conversely, at rail destinations, NGFA members have run out of grain and have been forced to shut down flour mills and feed mills and cut off sales to customers while awaiting grain deliveries."
In some cases, livestock producers lack alternatives to rail-hauled grain shipments.
"In an effort to continue service for customers during the rail service disruptions, NGFA members have done as much as possible to keep animals fed, but the ability to stretch resources is exhausted and growing more tenuous with each additional day of service delays," Seyfert wrote.
An NGFA member ran out of feed while awaiting a train that sat at origin for seven days due to lack of train crews. Another spent $3 million on alternative transportation to try to keep animals fed over the past month.
"NGFA understands that a variety of circumstances have contributed to the rail service disruptions, but we believe the impact is much more drastic and prolonged due to rail carrier decisions to overly adopt certain principles of precision scheduled railroading and due to significant reductions in crew numbers," Seyfert wrote.
Grain trains spent an average of 18.4 hours dwelling at origin on BNSF, according to the latest data reported to the STB for the week ending March 18. An average of 11.2 grain trains were held per day for lack of power, crews, or other reasons. Some 965 loaded and 811 empty grain hoppers had not moved in 48 hours or more. The delays appeared to be most severe in North Dakota, where 6,092 grain car orders were 11 or more days past due.
"During the past few months, frequent extreme weather, particularly across our North Region, coupled with major service interruptions in Southern California and on our Southern Transcon route through the Southwest and into the central plains have significantly impacted our ability to effectively align available resources with freight volumes," BNSF said in a statement. "These issues along with ongoing global supply chain disruptions due to impacts from the COVID-19 pandemic have strained resource availability in multiple locations and resulted in reduced productivity and excess railcar inventory."
BNSF is hiring 1,000 train crew members this year and currently has 300 conductors in training, the railroad said in its latest service advisory. BNSF also has seen a significant improvement in crew availability since adopting a new attendance policy in February. BNSF remains the lone Class I railroad to not adopt Precision Scheduled Railroading.
Grain trains averaged 53.74 hours of delay at origin on NS, with an average of four trains held per day. Some 423 loaded grain hoppers, and four empties, did not move for 48 hours or more on NS.
"We know our service is not where our customers expect it to be," NS said in a statement. "A tight labor market continues to contribute to our challenges with crews, and demand remains high. However, we are making strides in improving."
The railroad has a record number of conductors in training, is offering hiring bonuses, and has doubled bonuses in areas where it is particularly short of crews.
UP's average grain train dwell at origin was 28 hours, with 24 trains per day held for lack of crews, power, or other reasons. Some 238 loads and 200 empties had not moved in 48 hours or more. And in Nebraska, where the problems seemed to be most severe, 1,590 grain car orders were delayed by 11 days or more.
"We are committed to supporting our customers and moving forward together amid the ongoing supply chain and labor challenges, which we are actively working to address," UP said in a statement.