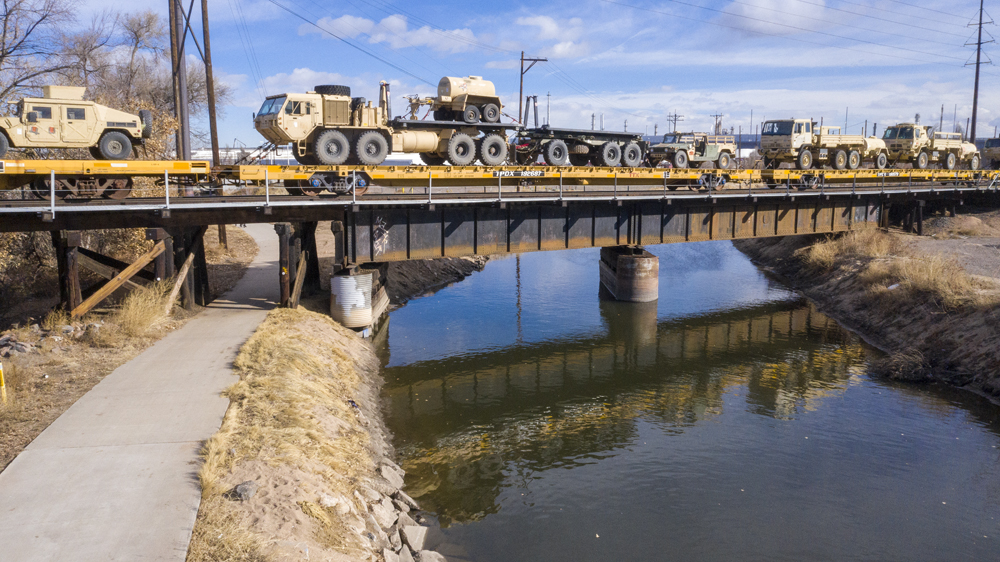 WASHINGTON — The U.S. Army needs to act to ensure it is able to move equipment by rail in case of a large-scale mobilization, the Government Accountability Office says in a report issued earlier this month, and also needs to address widespread track issues with Army-controlled rail lines.
A summary of the report is here, with the full report available here.
The report says the ability of the Army to move equipment by rail — which involves about two-thirds of the equipment needed when a unit is called into action — is in question following the 2015 reduction of its rail personnel by 70% to a single unit, the 180-person 757th Expeditionary Rail Force. This unit plans, assesses, and coordinates rail movements. While the Army once trained operating crews, it elected to end that training, relying on civilian crews for U.S. rail service and host-nation operators for overseas movements.
But as a stopgap, the unit continued to provide operating crews if needed, and demand for those services increased even as the number of available operators in the unit decreased. While the Army has assessed its equipment needs for a large-scale mobilization, the report says, it has not determined the number of crews it would need, or if the rail unit would be able to able to meet those needs.
Crew needs could be extensive with a mass mobilization. A 2020 simulation found deployment from a single fort for a large-scale deployment would require more than 2,200 railcars in three days, with more than 600 cars to move a single Armor Brigade Combat Team.
The Army also has 60 facilities where it is responsible for approximately 1,100 miles of track. The GAO report found that inspectors have found more than 550 miles of that track is closed to traffic due to defects, and some of this track has been closed for several years, despite Department of Defense standards that require it to be repaired as soon as practical. As examples, it cites track issues at Fort Campbell, Ky., where the last known track inspection had occurred in 2010, and a 2018 inspection at Fort Bragg, N.C., that found previously identified track issues and violations had not been addressed. The Army has also not fully implemented a program for quality assurance of rail repairs.
The GAO is making three recommendations to the Secretary of the Army:
— Determine the number of crews it needs for a large-scale mobilization and compare that to its existing capabilities to meet demand.
— Determine the risks associated with the number of crews required for such a mobilization, and take action to mitigate those risks.
— Implement a quality-assurance program for Army rail lines, addressing inspection, waivers for track use, repairs, prioritization of rail improvements, and reporting of updated track conditions.