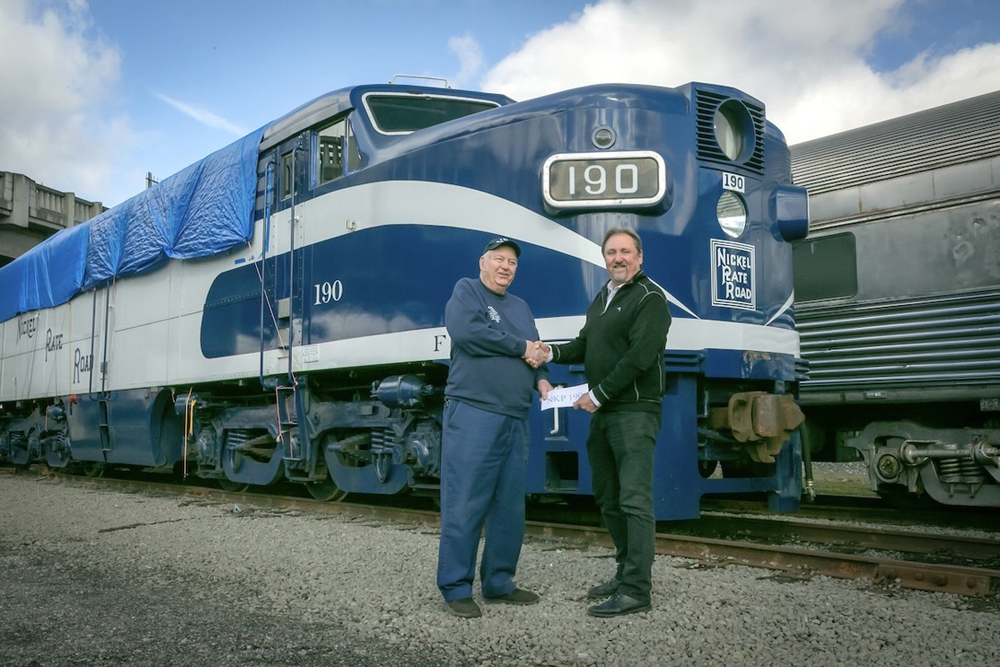 ---
BATAVIA, N.Y. — The move of a preserved Alco PA locomotive from Oregon to its new home at Genesee Valley Transportation's shops in Scranton, Pa., is tentatively slated to begin in April, although exact plans have yet to be finalized, GVT President Michael D. Thomas says.
Thomas, speaking Sunday with Trains News Wire, said no concrete schedule is in place, but planning is well under way.
"We've been talking with BNSF and Norfolk Southern, and we have rates in place to move it," he says. "And there are certainly things that have to be done in order to move the locomotive. We'll have to stencil it, which we'll do and we'll do it well — we're not going to take a spray can and spray it. And the tags have already been prepared for it.
"We will have somebody who will be following it from Portland all the way east," Thomas says. "So it's just a matter of aligning the schedule of our person who's going to follow it. … It will move in regular freight. It moved to Spencer [for the Streamliners at Spencer celebration in 2014] without any issues. But we want to make sure we have a set of eyes on it at all times.
"I'm sure once it leaves the Oregon Rail Heritage Center, we'll be able to follow it on Facebook."
Thomas says GVT has a good idea what it will take to bring the locomotive up to operating condition.
"We know that the prime mover runs," he says. "The electrical system should be okay. It needs a couple of modifications that need to be made because of the prime mover that was put in it.
"Of course, there will always be unexpected things, but our people have a tremendous amount of experience with Alco locomotives, and I'm very comfortable that our mechanical staff will be able to get it into good operating condition. It's not going to be a month; it's going to take some time to get it ready. But I have no doubt we'll be able to do that." Genesee Valley is, of course, known for the Alco-centric rosters of its railroads, the Delaware-Lackawanna; Mohawk, Adirondack & Northern; Lowville & Beaver River; Falls Road Railroad; and Depew, Lancaster & Western [see "More than Alcos," Trains Magazine, December 2021].
Addressing a question widely asked by railfans, Thomas says any thought of changing the locomotive's current Nickel Plate Road paint scheme is "a decision for another day.
"The locomotive is in beautiful condition. [Prior owner Doyle McCormack] did a beautiful job on the exterior, doing the body work and repainting it, and we have no plans at this point to do anything with the paint or any kind of body modifications, either. Right now, that's a decision that's so far down the road we haven't even considered it."
Thomas also said there are no immediate plans for GVT to run excursions that would give the general public a chance to ride behind the locomotive.
"Our plans are to use it for special excursions and special use in the Scranton, Pa., are, and in northeast Pennsylvania," he says. "We haven't reached out to anybody else about what we'll do with it. But we'll certainly use it for our executive trains and our customer, shipper specials on our Delaware-Lackawanna.
"We'll be using it on special occasions. It's really a special locomotive."
Genesee Valley announced it had acquired the PA, built for Santa Fe and later operated by Delaware & Hudson, from preservationist McCormack earlier this month [see "Genesee Valley Transportation acquires PA …," News Wire, March 2, 2023]. At the time, Thomas and Charlie Monte Verde, GVT's vice president of strategic planning, said the company had long talked with McCormack about its interest in the diesel. Thomas said Sunday that the actual completion of the transaction happened in short order.
"The stars aligned in the last month," he said. "I was in San Francisco and I received a call from a colleague and friend who said, 'You really should talk to Doyle,' and I reached out to him while I was there. And we chatted, and he indicated that he was looking to find a home for it, and we were able to come to terms in a matter of two or three days. … When we decided he was ready to sell, that's when we talked, and it came together very quickly."
Acquisition of the unit has personal meaning for Thomas.
"I grew up in New Jersey, and I rode behind the PAs when I was in high school," he says. "I remember riding a triple-headed PA trip from Wilkes-Barre to Oneonta [N.Y.] and return. I got on the train at Cherry Street in Scranton, which is a piece of track that we now operate.
"If you would have told me in 1977 when I was riding this train that 40 years later, I'd have a PA and we'd be operating that piece of railroad, it would have been unfathomable."