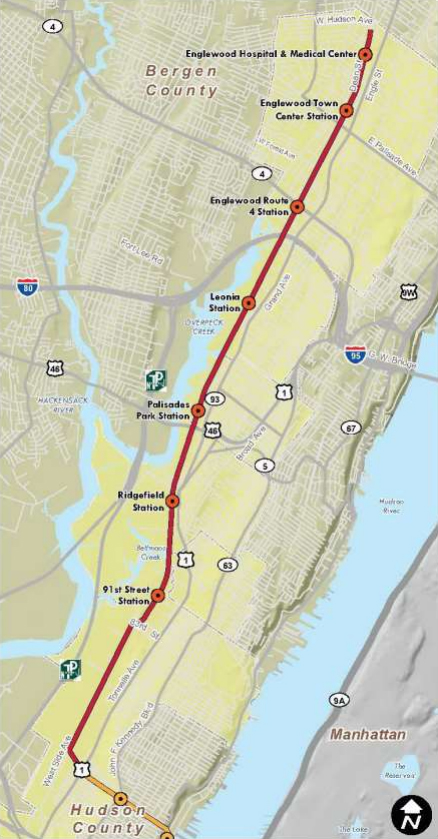 NEWARK, N.J. — NJ Transit plans to extend its Hudson-Bergen light rail line by 9 miles into Bergen County face a potential two-year delay after the Federal Transit Administration rescinded plans to act on the project's Environmental Impact Study, saying additional information is needed.
The FTA's decision to rescind its "Notice of Intent" for what NJ Transit calls its Northern Branch Extension was published in the Federal Register on Tuesday. It says that decision is based on "all-encompassing changes" to design and environmental impacts that have occurred regarding matters such as floodplains, stormwater management, traffic and parking, and air quality. The original report was completed in 2007; three supplemental drafts have been completed since, the most recent in 2018.
NJ.com reports NJ Transit spokesman Jim Smith said the additional work on the environmental report could take up to two years. Smith also said much of the original supplemental draft version of the document is still relevant and can be used as a starting point for a new report.
State officials expressed outrage over the decision, which followed a five-year wait for the FTA to review the latest supplemental version of the draft environmental statement. New Jersey Gov. Phil Murphy — noting that the FTA is asking for more information on this project, while other federal officials have turned down a state request for further environmental study on a state of New York plan for congestion pricing for drivers entering Manhattan — called the situation "a complete double standard" in a statement.
"USDOT claims to want more mass transit," Murphy said in the statement, "but is putting up random roadblocks left and right."
The 17-mile, 24-station Hudson-Bergen currently runs from Tonnelle Avenue in North Bergen to two endpoints in Bayonne, N.J., connecting with PATH trains at two locations and with NJ Transit commuter rail at Hoboken Terminal. The planned extension would run north from Tonnelle Avenue, following West Side Avenue, then use CSX Transportation right-of-way to reach Ridgefield, Palisades Park, Leonia, and Englewood, N.J. In 2017, NJ Transit said the extension was projected to add 24,740 weekday trips to a system that was then averaging about 52,000 weekday trips.