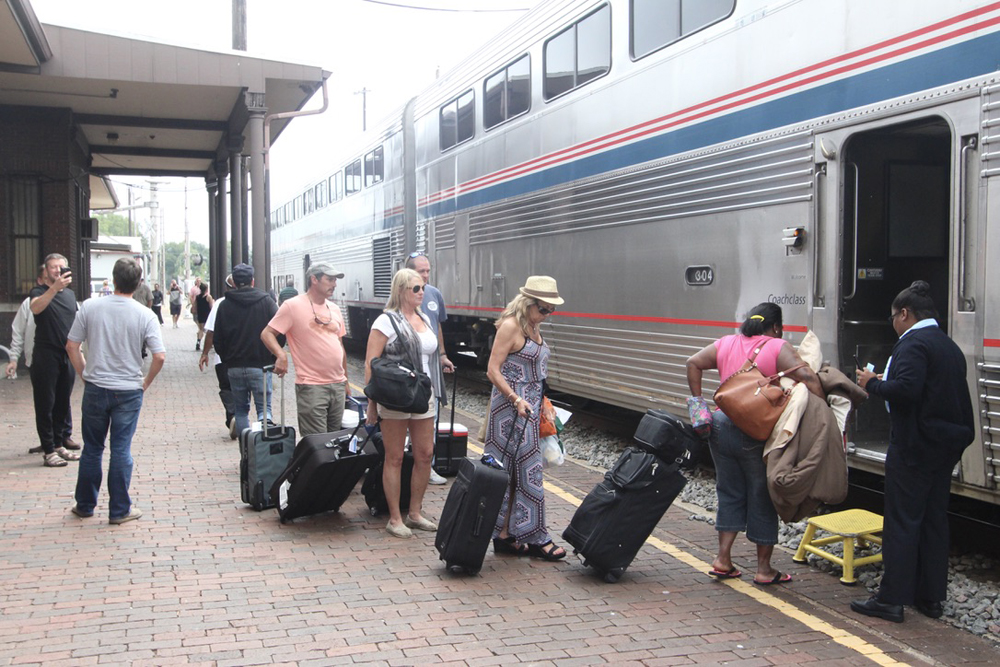 ---
WASHINGTON — The Federal Railroad Administration has published a surprisingly detailed summary of regional forums held during the past month in which the agency solicited opinions regarding the public's interest in strengthening Amtrak's national network.
As part of Amtrak's reauthorization, 2021's Infrastructure Investment and Jobs Act tasked the FRA to conduct a study that would evaluate restoring previously discontinued long-distance routes; establishing new service to cities not currently served by Amtrak; and converting the triweekly Cardinal and Sunset Limited to daily operation.
In materials shared with those attending six regional meetings held in Washington, Chicago, Denver, and Jackson, Miss., the agency went a step further by first dissecting ridership of Amtrak's existing long-distance trains operating in each region. Those PowerPoint presentations, and suggestions offered by attendees, are now available at the FRA's "Long-distance service study" website.
Using 2019 data, the wealth of information revealed about Amtrak service within each region includes:
— Distribution of trip length by distance for both coach and sleeping-car passengers;
— The top 10 boarding stations by class;
— Top connection stations;
— Larger and smaller markets served at night, by train and direction of travel;
— Customer on-time performance by train;
— The top 10 station pairs involving a region's stations, by volume of annual trips;
— The top 10 station pairs involving or between small communities.
(Story continues below)
---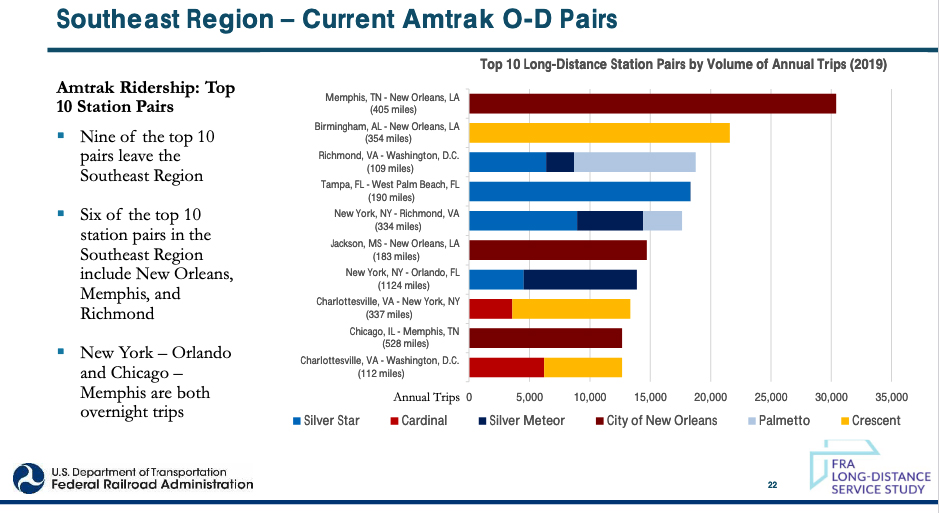 ---
Interestingly, Greenwood, Miss., on the City of New Orleans route, accounts for 8,100 annual trips spread among three destinations: Chicago, New Orleans, and Homewood, Ill.
The FRA materials also take a stab at measuring travel potential between city pairs, whether or not Amtrak currently operates any trains serving them. For instance, the Southeast presentation reveals a preponderance of north-south automobile travel from nearby states into Florida.
The "mural exercise" section within each region reproduces what is characterized as a "Brainstorming and discussion of routes, service changes, and markets" that took place in response of the information that the agency furnished. One of the suggestions in the Southeast was extending the daytime Palmetto from its current endpoint of Savannah, Ga., through Jacksonville to Orlando and Tampa, Fla., as a means of capturing more travelers. During the 1990s, Amtrak did exactly that by creating the Silver Palm, a train that once also served Miami. The Silver Star was rerouted to include Tampa when the Palm was cut back to Savannah (as the Palmetto) in a cost-cutting move.
It remains to be seen how the FRA will translate working group suggestions into a meaningful action plan that prioritizes preferred investments. At this stage, there was no analysis of track conditions on potential routes or the willingness of railroads to participate. Except for BNSF Railway, each of the six Class I hosts of Amtrak trains participated in at least one of the six sessions.
The agency is accepting feedback no later than March 17, 2023 (at contactus@fralongdistancerailstudy.org ) before it develops a short list of routes in the spring, prioritizes them this summer, and develops "final recommended actions" in the fall. What happens after that is unclear, given the fact that there is no funding specifically devoted to resurrecting a long-distance route.
Since the Passenger Rail Investment and Improvement Act of 2008 created the 750-mile demarcation between short- and long-distance service, Amtrak management has taken the position that it was not free to add or subtract from the 15 long-distance trains running when that legislation was enacted. The fact that Congress asked the FRA to conduct the study indicates that lawmakers are not necessarily satisfied with the status quo.
Though Trains News Wire will continue to analyze each region's presentations and working group comments, one national statistic stands out: 62% of passengers on long-distance trains travel 400 miles or less. There is no reason those passengers should be treated any differently than travelers riding state-supported or Northeast Corridor service.