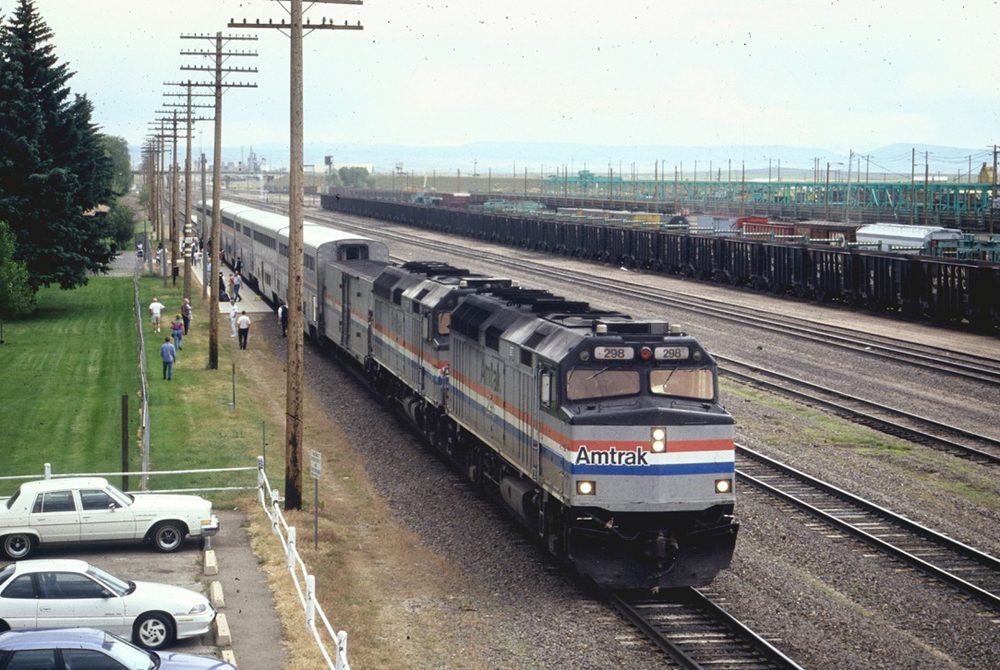 ---
WASHINGTON —The Federal Railroad Administration has launched a website for comments leading to an evaluation of long-distance service Amtrak had previously discontinued, as well as its two current triweekly routes, the New Orleans-Los Angeles Sunset Limited and the New York-Washington-Cincinnati-Indianapolis-Chicago Cardinal.
The "Amtrak Daily Long-distance Service Study" site, which began operation Oct. 28, now only describes the FRA's mission to examine the possibility of resurrecting routes dropped when faced with federal budget reductions. Cutbacks, additions, and reroutings occurred throughout Amtrak's history, but pivotal cancellations came in two groups, in October 1979, and May 1997:
October 1979:
— Floridian: Chicago-Nashville-Jacksonville-Miami/Tampa;
— National Limited: New York-Pittsburgh-Columbus, Ohio-Indianapolis-St. Louis-Kansas City;
— Lone Star: Chicago-Wichita-Oklahoma City-Ft. Worth-Dallas/Houston;
— North Coast Hiawatha: Chicago-St. Paul-Bismarck-Billings-Missoula-Spokane-Seattle.
May 1997:
— Desert Wind: Salt Lake City-Las Vegas, Nev.-Los Angeles;
— Pioneer: Denver-Boise-Portland, Ore.,-Seattle.
Other notable long-distance discontinuances were the New York-Philadelphia-Chicago Broadway Limited in September 1995 (though the Pittsburgh-Youngstown-Chicago segment, over CSX's former Baltimore & Ohio route, was resurrected as an extension of the New York-Pittsburgh Three Rivers from 1996 until 2005), and the Sunset Limited east of New Orleans, after the route was repaired following damage inflicted by Hurricane Katrina in August 2005.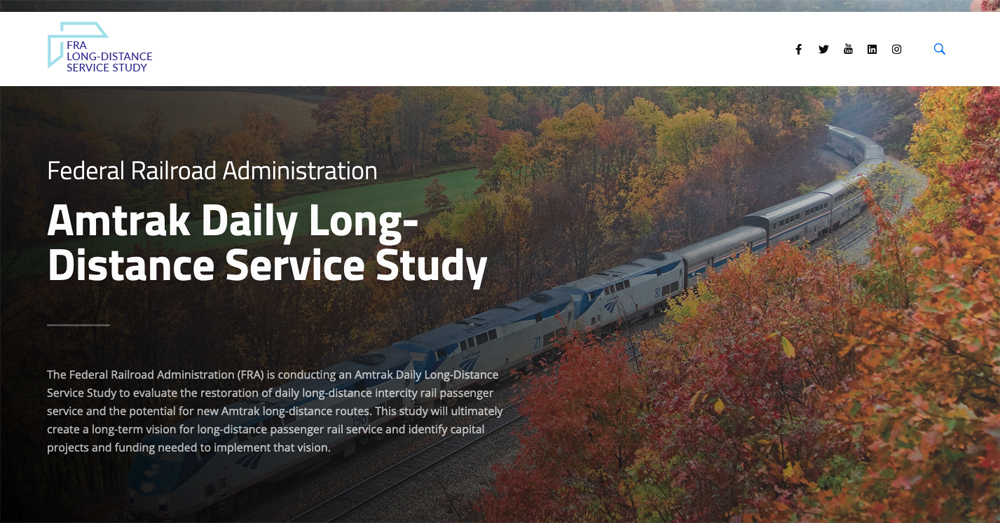 Historical "routes that qualify" information has yet to appear on the site, though it does begin to list evaluation criteria prescribed by Congress in Infrastructure Investment and Jobs Act legislation:
— Link and serve large and small communities as part of a regional rail network;
— Advance the economic and social well-being of rural areas of the United States;
— Provide enhanced connectivity for the national long-distance passenger rail system;
— Reflect public engagement and local and regional support for restored passenger rail service.
Significantly, lawmakers made it a point to have the FRA oversee the process, rather than Amtrak management.
Section 210 of 2008's Passenger Rail Investment and Improvement Act had required Amtrak to come up with ways it could improve each long-distance route. Reports developed by Brian Rosenwald's in-house analytical team showed how financial performance and ridership of both the Cardinal and Sunset Limited would substantially benefit from daily operation, while detailing the equipment manipulations to make that happen. But Amtrak's management under president Joe Boardman and the company's board of directors — most of whom still serve in that capacity today — never acted on the recommendations after a perfunctory inquiry about cost to the host railroads. Rosenwald was subsequently forced out.
Of the previously discontinued routes, advocacy groups have been actively engaged in lining up regional support to resurrect the North Coast Limited and Pioneer, though key segments of those trains' original route (into Butte, Mont., and Boise, Idaho, respectively) have been abandoned or severely downgraded.
That fate especially applies to large swaths of the Floridian's many former routes through Indiana and the National Limited's irreplaceable ex-Pennsylvania Railroad main west of Pittsburgh across Ohio.
The site notes, "Over the next year, we'll be engaging with and listening to stakeholders, including transportation and rail partners, federally recognized tribes, and communities as we evaluate how to better connect people with long-distance rail services. This is the first time that many communities, partners, and stakeholders will be included in a study of this magnitude, and we are committed to forming diverse and inclusive groups in every region."
It isn't clear how a completely intact route with clear marketability like the Desert Wind's through Las Vegas, Nev., might be prioritized without a groundswell of grass-roots interest. After all, the major weakness that led to its 1997 downfall is that Amtrak management had reduced it to three times per week.   
FRA spokesman Cory Gattie tells Trains News Wire that the study will also evaluate potential new long-distance routes. He says, "FRA's initial engagement with stakeholders was at the [American Association of State Highway and Transportation Officials] Council on Rail Transportation Conference last month in Kansas City. Moving forward, we intend to post further engagement opportunities on the project website as the study progresses." Those activities are expected to continue through 2023, as the agency evaluates the practicality and financial feasibility of resurrecting discontinued routes.