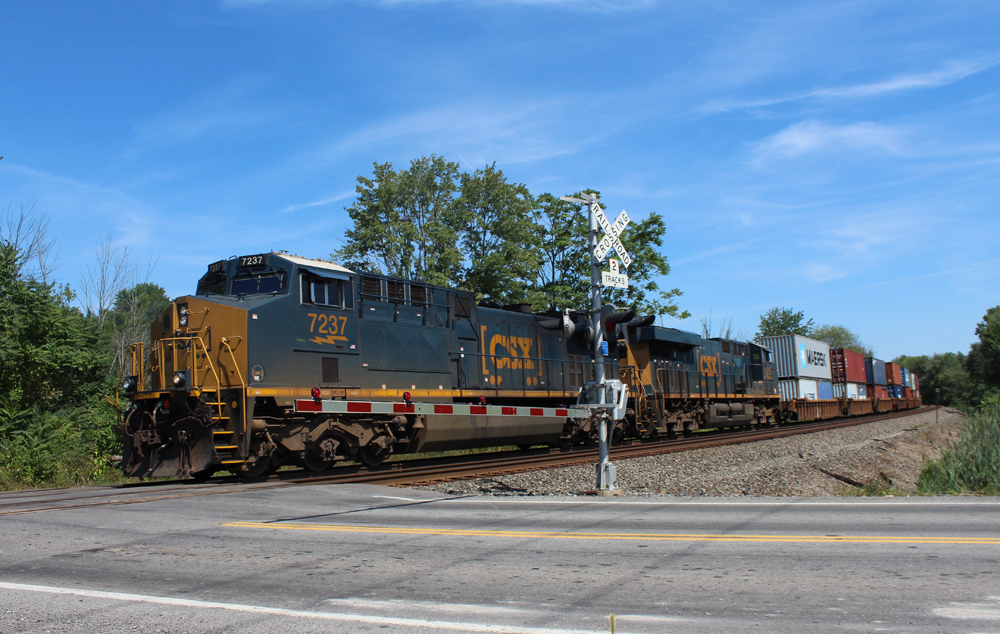 ---
CHICAGO  — Railroads have to mend frayed relationships with customers, employees, Congress, and regulators, CSX Transportation CEO Joe Hinrichs told a shipper conference last week.
"At best we have strained relations with every single key stakeholder except investors. And most of our key stakeholders hate us," Hinrichs says he told CSX management shortly after becoming CEO last fall. "We're seeing that play out. We're at an inflection point in this industry."
Hinrichs, who joined CSX in September, brings customer perspective to the railroad because he previously served as CEO of Ford Motor Co. and spent decades dealing with railroads. "We never felt like we were ever important," Hinrichs says. "And Ford — you might have heard of it — it's a pretty big company. And if the railroads didn't think Ford was that really important, how does everyone else feel? This fundamentally has to change."
Shippers have not felt that railroads prioritize service. "If we're going to change and actually talk about profitably growing the business, it starts with setting our customers first. And that's not the reputation our industry has," Hinrichs says.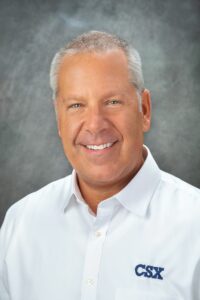 A key step to putting customers first is treating employees well, Hinrichs says. "We're a service business. You cannot run a healthy good service business without your employees being engaged and feeling motivated to serve. And frankly, our industry has not provided that environment for our employees, certainly not at CSX, historically," he told the North American Rail Shippers conference on Thursday.
A number of recent factors have helped perpetuate that negative relationship over the past several years, including implementation of Precision Scheduled Railroading, the pandemic, protracted and contentious labor negotiations, and tension over paid sick leave.
Hinrichs says he's committed to building a better relationship with the railroad's employees because it's the right thing to do and because good service requires it. "And that's what we've been focused on," he says.
Hinrichs has visited 41 sites across the railroad in the eight months he's been on the job. The unannounced visits allow him to listen to employees. "The reality is that's how you get to know what's on people's minds, what's really bothering them, and have a conversation," Hinrichs says.
Employees expressed frustration with CSX's harsh attendance policy, the lack of raises and paid sick time, and other matters. "All those things were very loud and clear," Hinrichs says.
CSX has amended its attendance policy, the national contract provided raises, and CSX and most of its unions have reached agreements regarding paid sick time. The railroad also has held employee family days at various locations across the system.
CSX received 3,600 written comments as part of its latest employee survey. Hinrichs read every one of them in order to understand what employees are feeling and to continue to make progress on improving the management-labor relationship.
"We've made a lot of progress in a pretty short period of time but we're nowhere near where we need to be or want to be," Hinrichs says. "We will stay focused on employees and customers. Shareholders will win. We had record service levels in the first quarter. And we had record profits in the first quarter. They're not at odds with each other if we do it right."
Hinrichs credits employees for the dramatically improved service levels at CSX, noting that intermodal customers named CSX the top railroad in a Journal of Commerce survey.
"This is what employees are doing for us because we are trying to change the culture," Hinrichs says.
Railroads used to be a low-profile industry, Hinrichs says, but that's changed due to events of the past few years and the animosity that railroads built up with stakeholders. "And now it's coming home to roost," he says.
Congress was not happy it had to resolve the labor contract stalemate last fall, Hinrichs says, and was not pleased with the industry's refusal to include paid sick leave despite fat profit margins. Rail labor unions successfully used social media to control the narrative, which prompted the media to amplify their messages, which in turn attracted more attention from Congress. When the disastrous Norfolk Southern derailment occurred in East Palestine, Ohio, in February, Washington was ready to pounce on the industry, Hinrichs says.
"If there's a lesson to be learned … it's that you cannot treat all your key stakeholders poorly and expect there's not ramifications at some point in time," Hinrichs says.
The Surface Transportation Board, which has been critical of railroad service since the onset of the pandemic, should challenge the industry to improve its service, Hinrichs says. "I agree that we should have higher expectations for our service levels," he says.
Some on Wall Street have questioned how CSX's focus on employees and customers would affect its profit margins. But Hinrichs says that's the wrong way to look at the issue.
"What's it costing us to have our employees not motivated, our employees mad, our employees quitting and leaving?" Hinrichs asks. "Or we hire new employees, we do all the work to train them, we bring them in, they go to the yard, and the guys say, 'Why are you working here? They treat you like crap, you should leave. And by the way, they want to get rid of you.' "
The key to attracting and retaining employees is creating a better relationship with existing workers, Hinrichs says. While CSX's employee attrition rate has improved, Hinrichs says it's still nowhere near where it should be.
"That's the environment that we have had. And we have to break out of it. We have to break out of it because if we don't serve our customers better, we don't have the right employees, we don't have a sustainable culture where people want to work in the railroad like they used to, we're not going to ever profitably grow," Hinrichs says. "And we need to grow for the economy, for society, for the climate, and for our own expectations around returns for our shareholders."
In an interview, Hinrichs said he's pleased with the progress CSX has made over the past eight months. The railroad has improved relationships with customers, Amtrak, the Surface Transportation Board, and rail labor leaders, he notes, and the employee relationship is on a better footing.
The biggest negative surprise upon joining the industry, he says, was the number of battles the railroad faced on multiple fronts. "What surprised me was how just much negativity there was focused on us from all angles," he says. "But we went to work on it. All you can do is be part of the solution."
The deal CSX reached with Amtrak to provide service on the Gulf Coast between Mobile, Ala., and New Orleans improved relations with Amtrak and the STB, Hinrichs says.
Hinrichs says service improvements further improved CSX's relationship with the STB, which has removed CSX from the expanded performance metrics data reporting that's still required of BNSF Railway, Norfolk Southern, and Union Pacific.
The biggest positive surprise for Hinrichs? "I've been very impressed with the caliber and talent we have at CSX," he says.