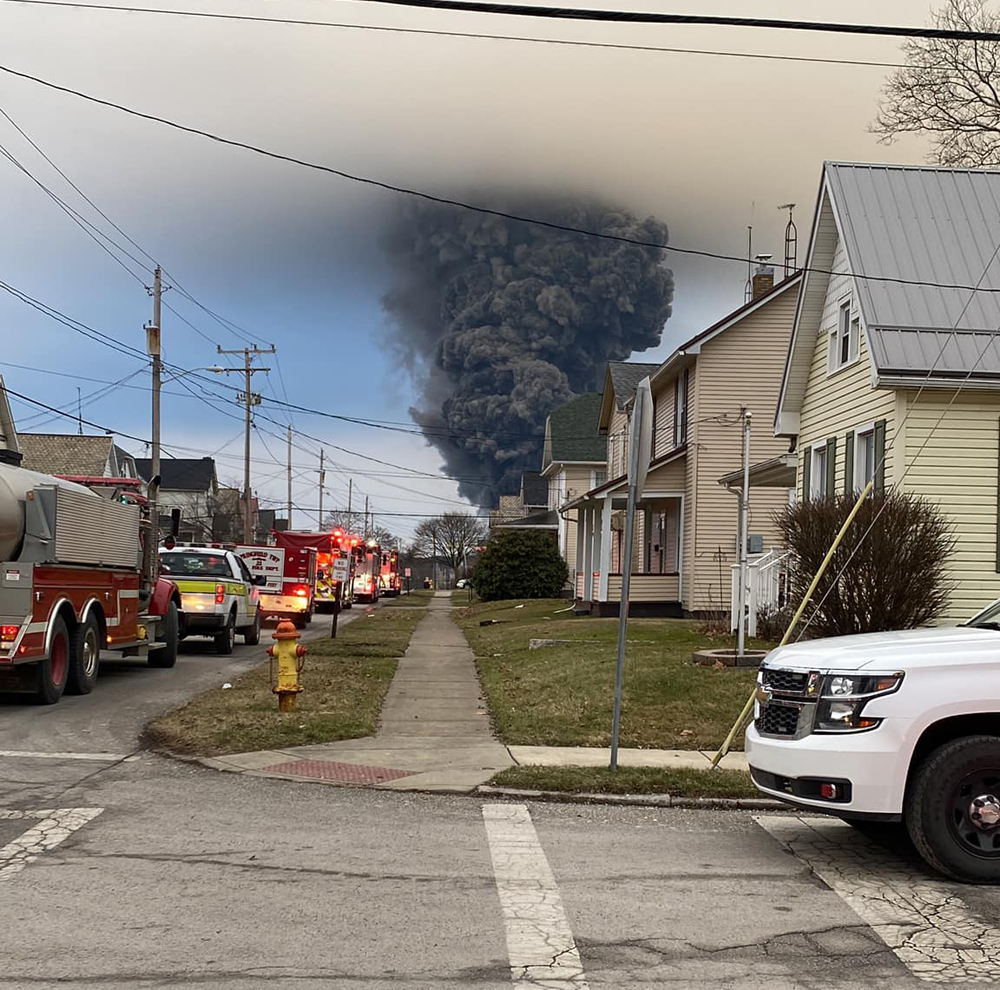 EAST PALESTINE, Ohio — The first lawsuit has been filed in the wake of last week's derailment of a Norfolk Southern train and the subsequent fire and evacuation.
WFMJ-TV reports residents and a business owner in the evacuation area have filed a class-action civil liability suit in U.S. District Court against Norfolk Southern, alleging negligence, nuisance, and trespass as a result of the 50-car derailment that occurred Feb. 3 and led to an ongoing evacuation.
Harold Feezle says in the complaint filed Tuesday that the derailment forced him to close his business, which the station has identified as a used-car dealership, while residents David and Susan Scheufele say they were evacuated from their home, with David Schuefele suffering injuries from toxic chemicals and fumes from the crash site.
The suit from a Cleveland personal-injury law firm alleges the derailment was caused by NS negligence in operation of the train and defects in the track and one or more rail cars. It asks a judge to allow others to become plaintiffs if they lived within two miles of the accident site and were forced to evacuate or were exposed to toxic substances.
The station also reports that pet owners living within a mile of the derailment were allowed back into the evacuation area briefly by members of the Ohio National Guard to pick or check on pets left behind, although there is still no timeline for a full lifting of the evacuation order. Officials continue to conduct monitoring within a one-mile radius of the derailment site, and will offer optional testing within homes for those who want it, according to James Justice of the U.S. Environmental Protection Agency. "At this time, we don't know what decontamination or cleaning will be needed until that happens," Justice said.
After a Tuesday press conference that reportedly became testy with repeated questions when the evacuation would end, East Palestine Mayor Trent Conaway made a plea for patience, according to the Business Journal Daily of Youngstown.
"We're a small little Ohio town. We're doing the best we can," Conaway said. "Frustration levels are high for everyone. Everyone is tired. …
"I hate that we had to put residents out of their homes. Nobody likes that. Please be patient. We're working diligently. Hopefully by [today] we have some answers. I can't promise anything. I just beg of you to just give us some time. We're working this out as soon as possible."