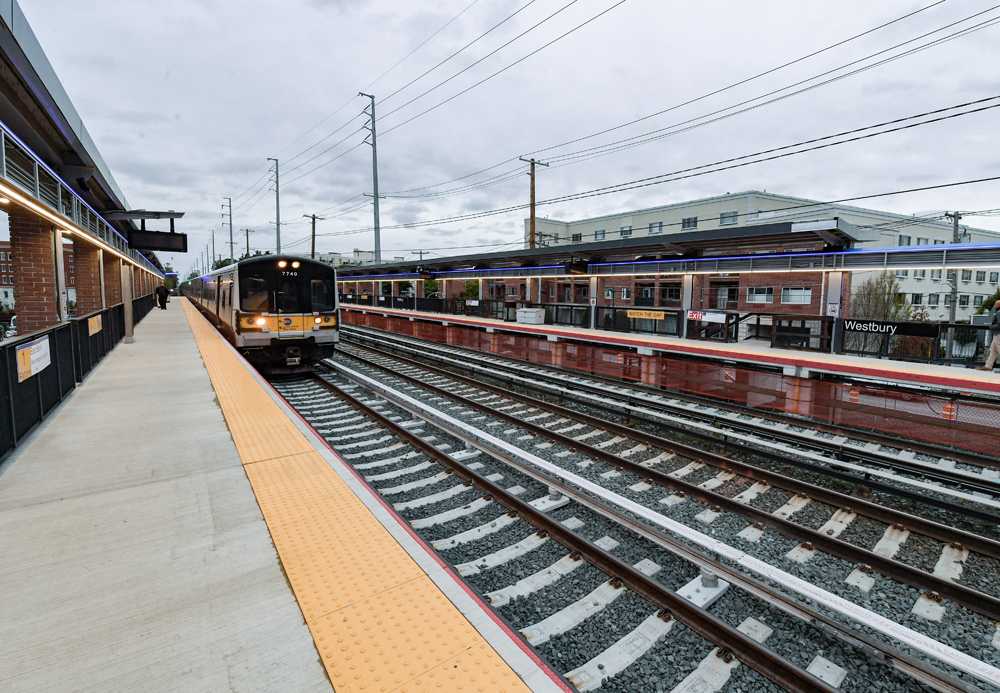 ---
WESTBURY, N.Y. — The Long Island Rail Road opened the third and final segment of its Third Track project on Monday, completing the capacity expansion on 9.8 miles of its main line between Floral Park and Hicksville, N.Y.
In a press conference in Westbury following a ceremonial ride from Hicksville with officials including Gov. Kathy Hochul, Metropolitan Transportation Authority CEO Janno Lieber touted the project as having been completed on time and $100 million under its $2.6 billion budget, "thanks to design-build contracting and many other new and innovative project management strategies. … It shows that the MTA can deliver on its promise to bring megaprojects faster, better and cheaper."
Completion of the triple-track segment of main line, four years after work began, sets the stage for a 41% increase in LIRR service later this year when the commuter railroad begins its East Side Access service to Grand Central Madison, the new station concourse below Grand Central Terminal.
"The completion of the historic Third Track project connects commuters with a more resilient and flexible railroad with frequent service, modern stations, ADA accessibility, and more travel opportunities for Long Islanders and vistors," Hochul said in a press release.
The new track is the southernmost of the three on the right-of-way and will be used for eastbound trains. Its first segment opened Aug. 15 between New Hyde Park and Merillon Avenue [see "News photos: Operations begin …," Trains News Wire, Aug. 16, 2022], with the second, to Mineola, opening on Aug. 30 [see "Long Island Rail Road opens second section …," News Wire, Aug. 31, 2022]. With all of the track in service, only minor station work remains to complete the project in its entirety.